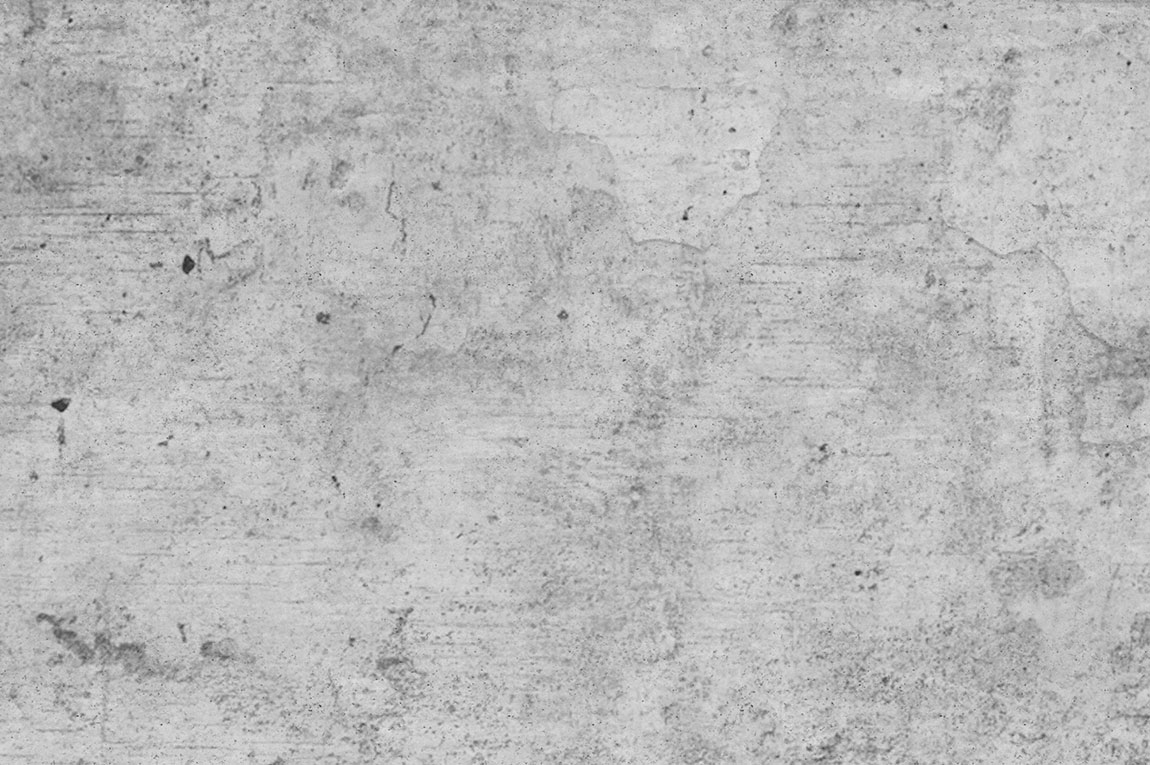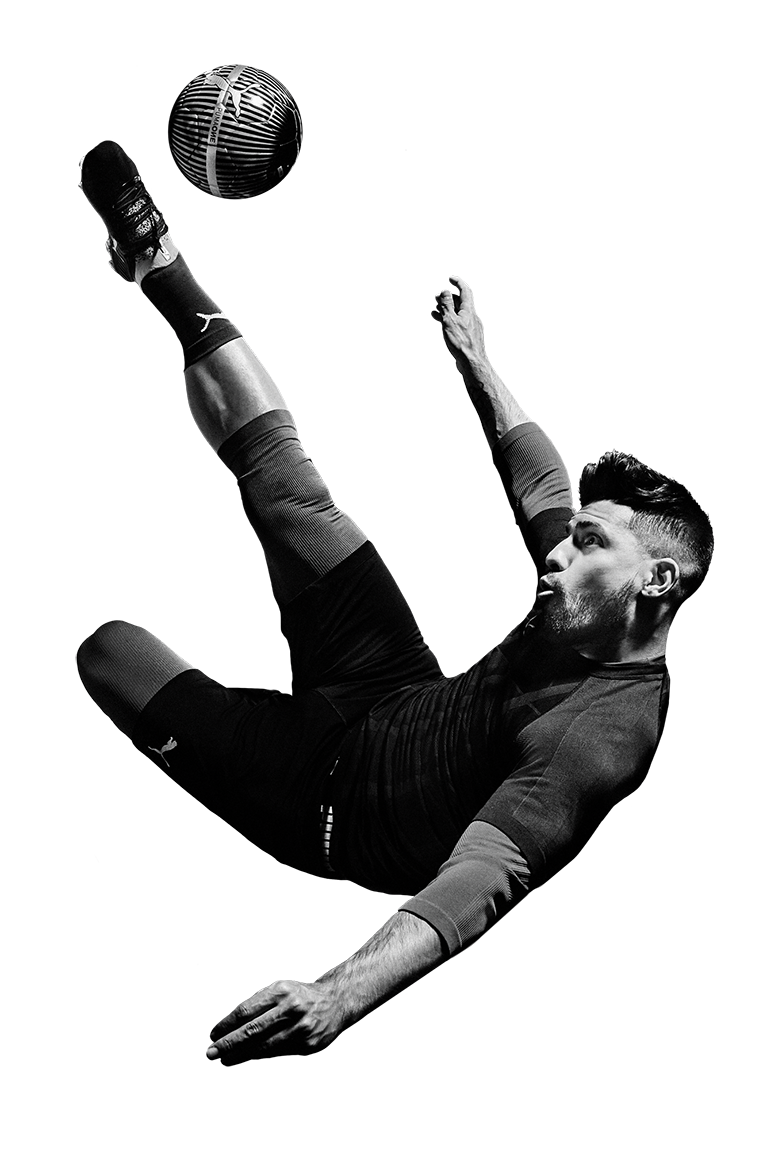 PRODUCT
A GOLDEN YEAR FOR PUMA'S FOOTBALL TEAMS AND PLAYERS
2017 was a success story for PUMA teams all over the globe. Cameroon's victory at the African Cup of Nations was a great way to start the new year, which also marked the 20th anniversary of PUMA's involvement in African football. Some of the world's most prestigious football trophies were won by PUMA teams this year: Borussia Dortmund won Germany's DFB Cup, while Arsenal FC once again claimed the FA Cup – its 13th win – making it the outright most successful team in the competition's history. In the Americas, Mexico's Chivas claimed the 2017 Liga MX Clausura title and Argentina's Independiente celebrated victory in the Copa Sudamericana. PUMA teams completed a clean sweep of all three major honors in Japanese football: Kawasaki Frontale won the J1 League, while Cerezo Osaka were the Emperor's Cup and the J.League Cup winners.
PUMA's roster of individual players also produced outstanding performances in 2017. Arsenal striker Olivier Giroud was awarded FIFA's Puskás Award for the year's best goal thanks to his stunning scorpion kick against Crystal Palace. Argentinian striker and PUMA athlete Sergio Agüero became Manchester City's all-time leading goal scorer, celebrating his 178th goal against SSC Napoli in the Champions League. To honor Sergio's performance PUMA has supplied him with special edition PUMA ONE Gold boots.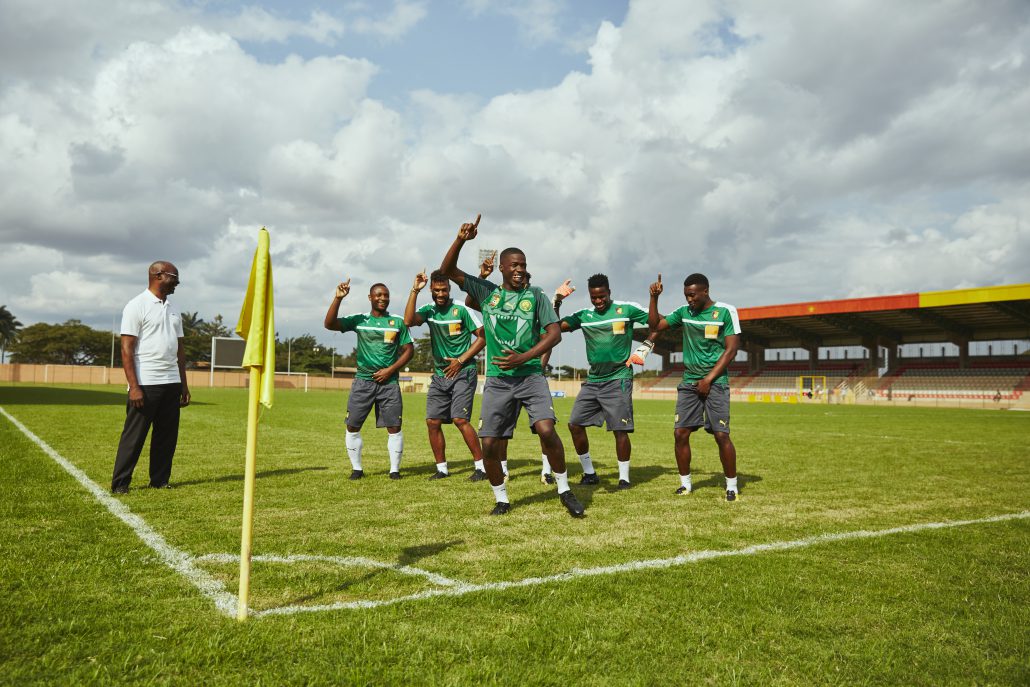 Our PUMA athletes in women's football need not fear comparison with their male counterparts. As one of the top sponsors in women's football, PUMA supplied kit to four winners of the European championship in the Netherlands and five members of the Team of the Tournament. One of them was Denmark captain, Pernille Harder, who was also runner-up in the vote for the UEFA Women's Player of the Year. She was followed in third place by fellow PUMA athlete and Germany captain Dzsenifer Maroszán. Austria, a PUMA team, reached the semi-finals of this year's European championship. Another highlight was Chivas' women's team, who added an important trophy to their cabinet by winning the Mexican championship.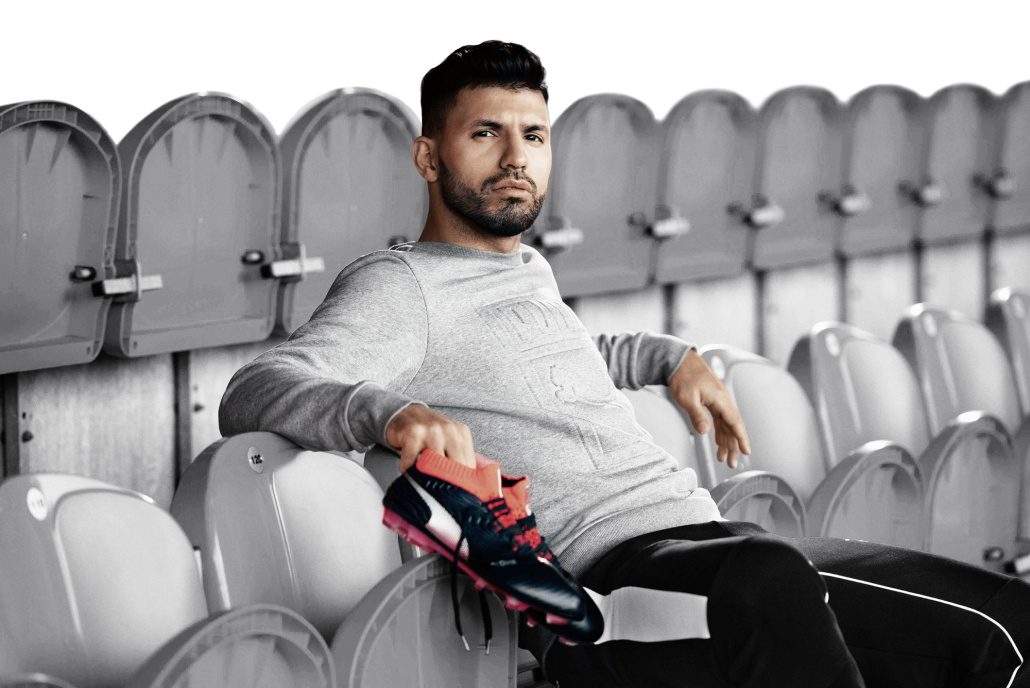 TWO EXCITING NEW FOOTBALL FOOTWEAR FRANCHISES
In terms of products, PUMA has further strengthened its position as a football brand by introducing two brand-new football footwear franchises: PUMA ONE and PUMA FUTURE.
With the PUMA ONE, PUMA delivered a football boot that meets all sorts of needs for all sorts of players. To develop this special boot, PUMA consulted top players like Sergio Agüero, youth academy players and selected consumers. The combination of an engineered evoKNIT sock with an ultra-lightweight Pebax outsole and an extra soft leather adorning the upper shoe led to a boot that had a great FIT, helped them to move FAST and gave them more FEEL on the ball.
Toward the end of the year, we launched the PUMA FUTURE football boot, incorporating NETFIT technology, PUMA's latest innovation for running shoes, in the upper. The PUMA FUTURE is the first football boot with a truly customizable fit, allowing players to truly stand out with their own unique lacing designs.
2018 OUTLOOK
With the upcoming World Cup in Russia and several prestigious clubs joining PUMA in 2018/19, we can look forward to an exciting year. Our four partnered national teams – Switzerland, Uruguay, Senegal and Serbia – along with our outstanding roster of individual players will ensure that the brand is highly visible on World Cup pitches. As of the 2018/19 season, Olympique de Marseille and A.C. Milan, two of the world's most famous football clubs will join the ranks of our partnered football clubs. Not to forget five-time German champions and historic PUMA partner Borussia Mönchengladbach coming back to the family. Those three teams will be reinforcing our presence in the European football leagues: the French Ligue 1, the Italian Serie A and the German Bundesliga respectively.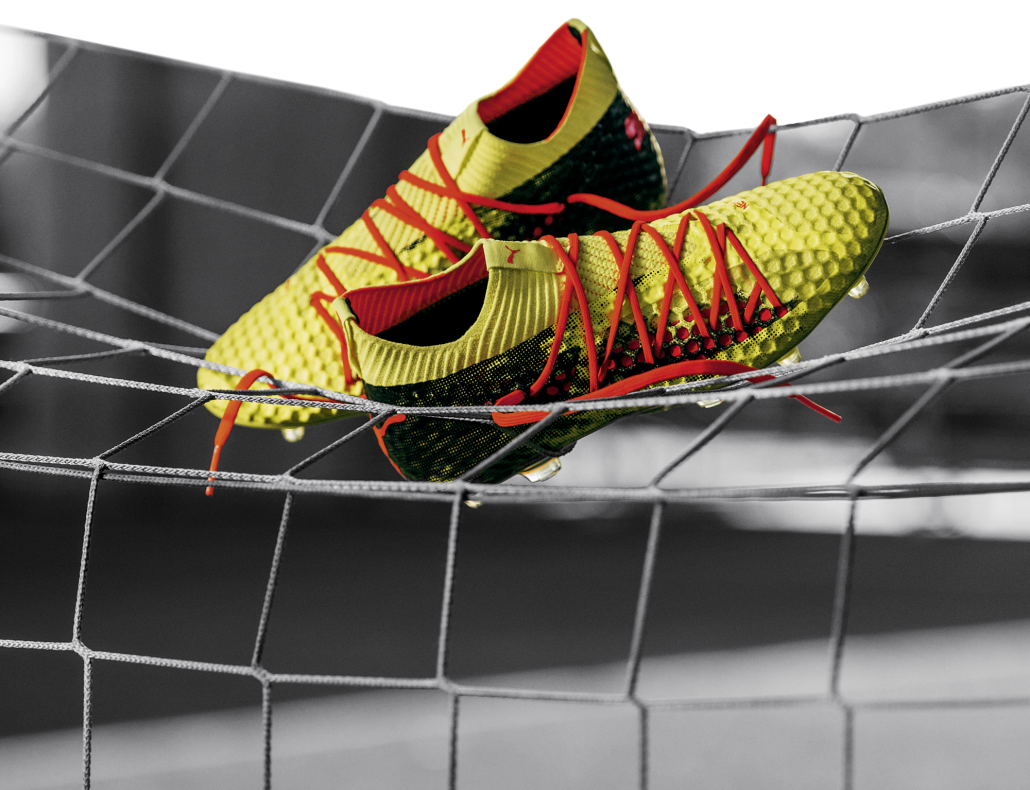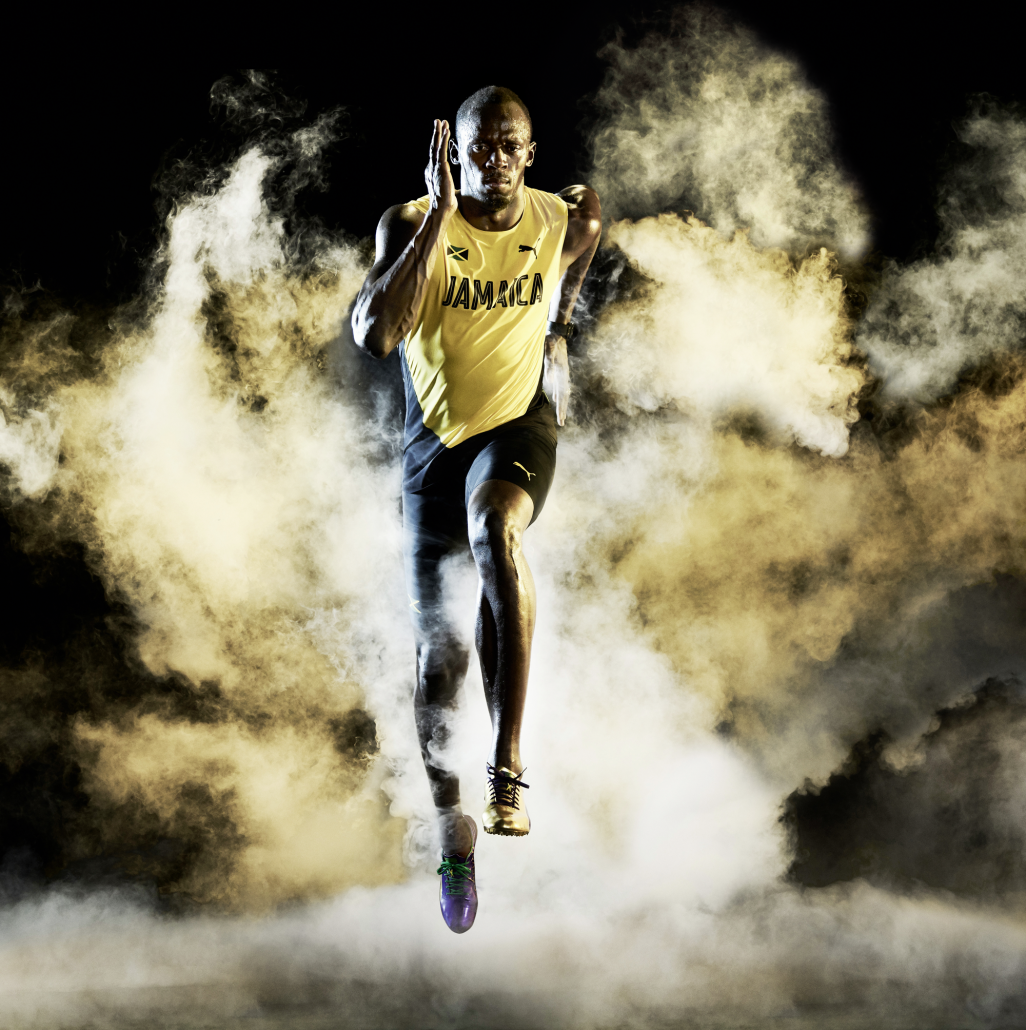 2017 IAAF WORLD CHAMPIONSHIPS
A major highlight for the brand was the 2017 IAAF World Championships in London, where our PUMA athletes delivered remarkable performances. This championship will live long in the memories of all sports fans, as it also marked the end of Usain Bolt's unparalleled career. Even though the sprinting legend did not bow out with a much-deserved win, he was still the star of the Championships, receiving standing ovations and glowing media coverage after his final race. Other PUMA athletes also shined during the competition, one of them being Frenchman Pierre-Ambroise Bosse, who won gold in the 800 meters. With a total of nine partnered federations and 108 athletes competing in London, PUMA enjoyed high visibility in almost every race, enhancing our reputation in track & field equipment.
THE NETFIT TECHNOLOGY
PUMA has added a brand-new piece of technology to its running shoes by introducing its revolutionary NETFIT range of footwear. With its infinitely custo­mizable lacing options, NETFIT provides unrivaled lock-down and a shoe that is unique in its appearance, individuality and functionality. The innovative technology was introduced at a star-studded event in New York and unveiled by the world's fastest man himself, Usain Bolt.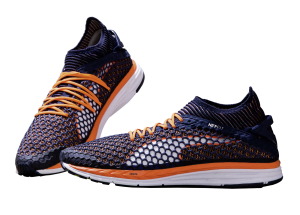 NETFIT 
The NETFIT technology offers infinite lacing options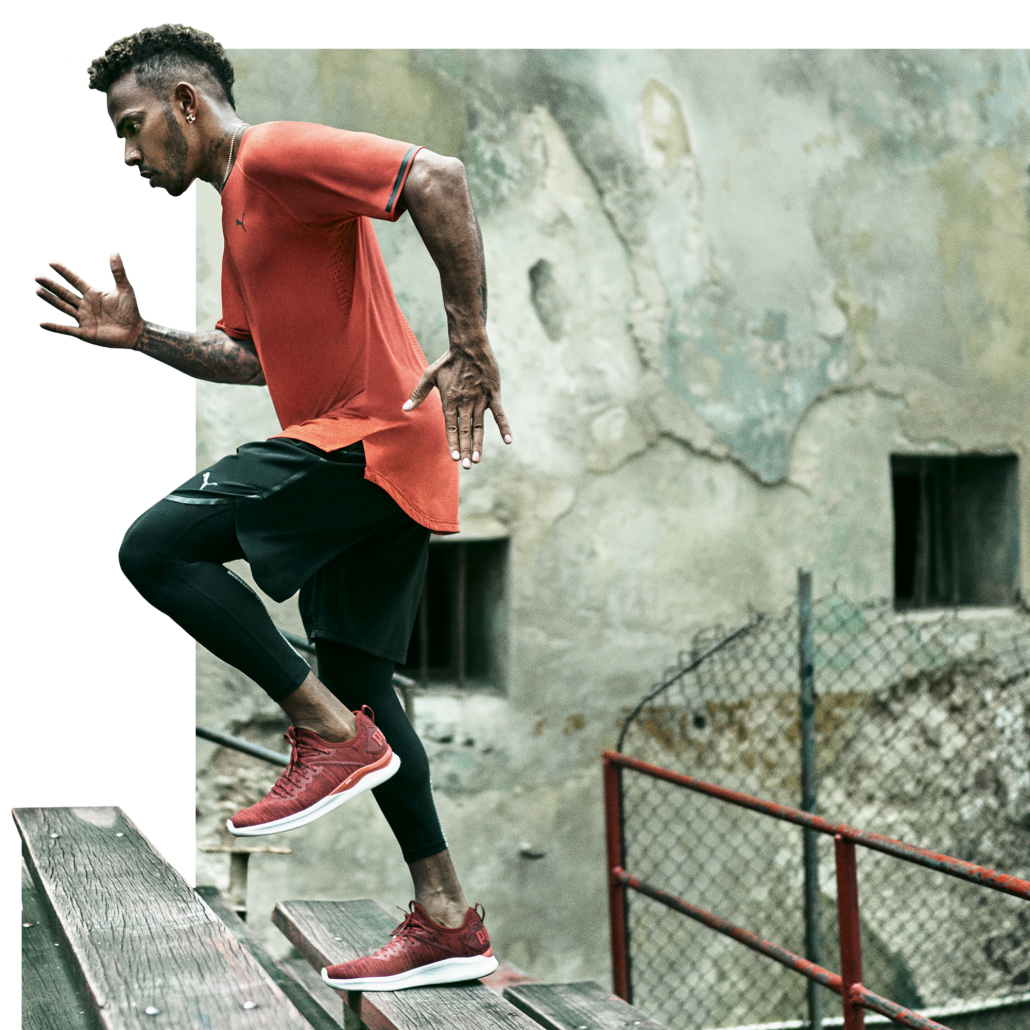 24/7 WITH LEWIS HAMILTON
As the latest addition to the PUMA family, Lewis Hamilton spearheads the Men's Training business. With the 24/7 campaign PUMA redefines its performance philosophy in a time when workouts are no longer constricted to the gym. The four-time FIA Formula One World Champion is, with his endless travels and busy schedule, a great example of just how important it is to have a wardrobe that performs everywhere from the gym to the street. He shows that the city itself can be the gym, track and stage, all day, every day.
WELCOME SELENA!
Last September, PUMA announced a long-term partnership with singer, actress and producer Selena Gomez. Selena and PUMA are the perfect match, not only because she embodies PUMA's brand values, but also because of her powerful influence over young women, her integrity, hustle, and drive to succeed. She works with the brand to design products and create marketing campaigns that not only show-case our brand, but also help and enhance our Women's segment. For Autumn/Winter '17 Selena Gomez presented PUMA's training shoe PHENOM, a fashion-­forward and high-performance training shoe designed for women who need to power through their workouts and their days, just like Selena.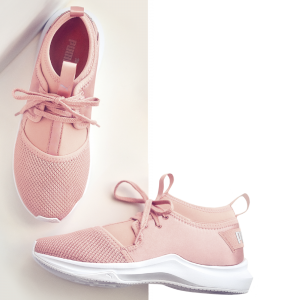 PHENOM Satin Lo EN POINTE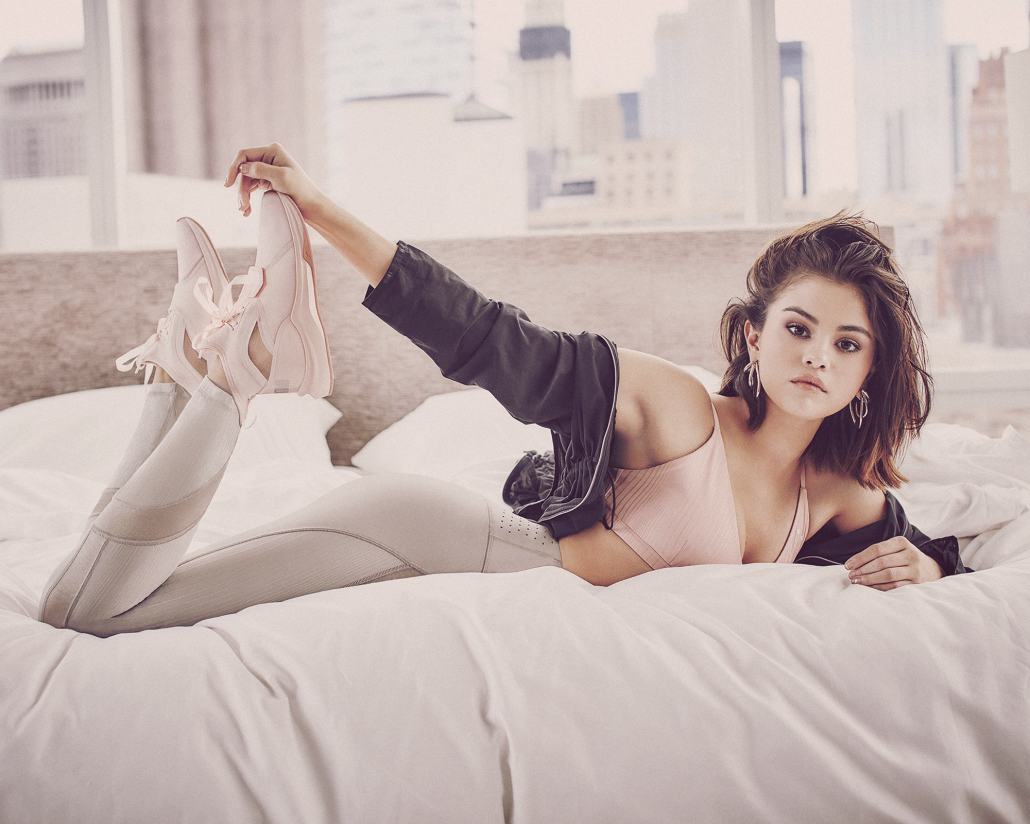 JAMMING
PUMA's brand-new JAMMING shoe with NRGY beads is one of our newest technologies, providing high levels of comfort and energy return. The JAMMING trainer comes with beads in the sole that move freely, making it the perfect shoe for those who change the game, by embracing challenges and finding their own way to tackle. The beads shift in the transparent membrane of the shoe as you move, which creates a new and fresh look as well as ensuring perfect support every step of the way.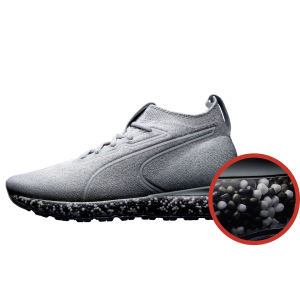 JAMMING
The NRGY beads in the sole provide high comfort and energy return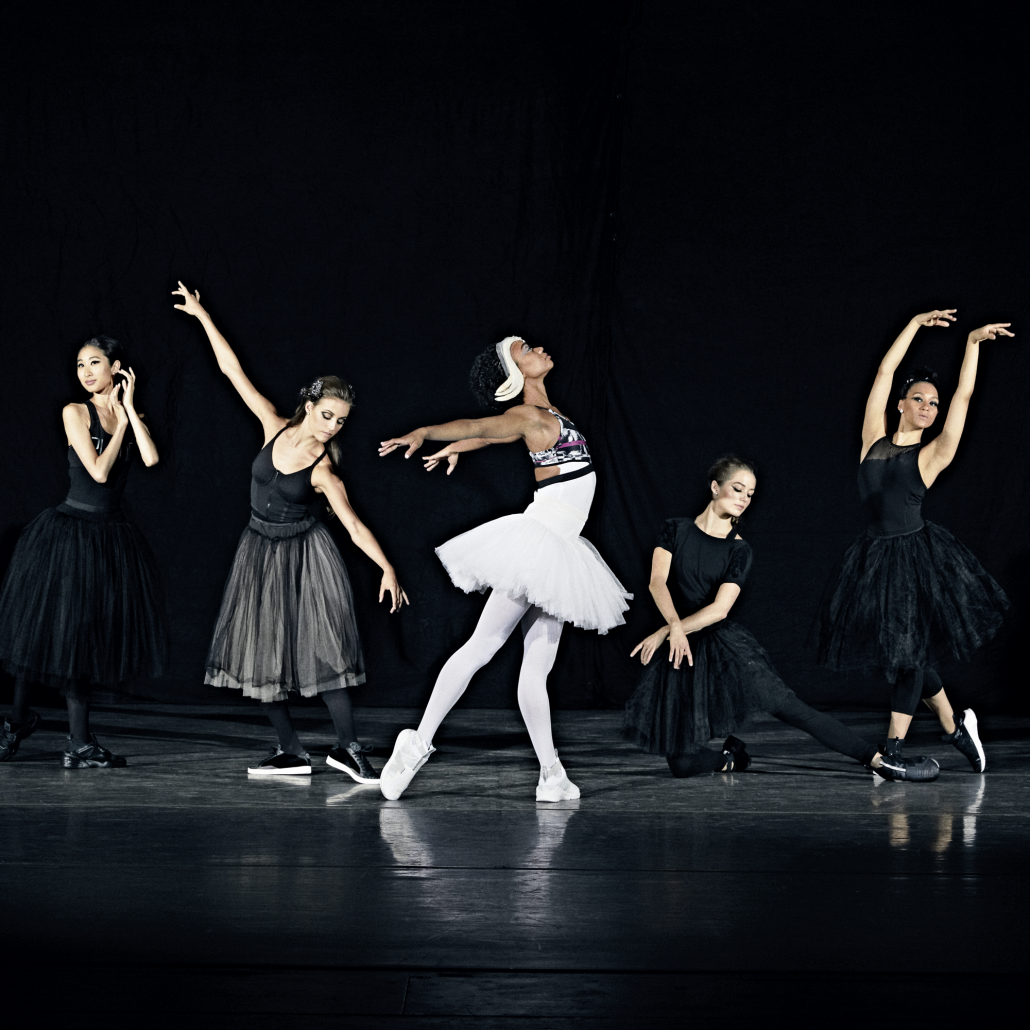 DO YOU FEATURING THE NEW YORK CITY BALLET
In 2017, PUMA continued its commitment to inspire women everywhere to stay true to themselves with this season's follow up to the brand's DO YOU campaign featuring the dancers of the New York City Ballet with two exquisite collections – SWAN PACK and VELVET ROPE. The freedom of self-expression and the strength and grace of the ballet were the inspiration for the SWAN PACK collection, bringing together the fiercest Sportstyle and Training styles from PUMA with Swan Lake inspired details. The tech-infused VELVET ROPE collection featured Sportstyle and Training pieces that carry a commanding confidence in any setting, while its metallic and velvety textures added a touch of luxury.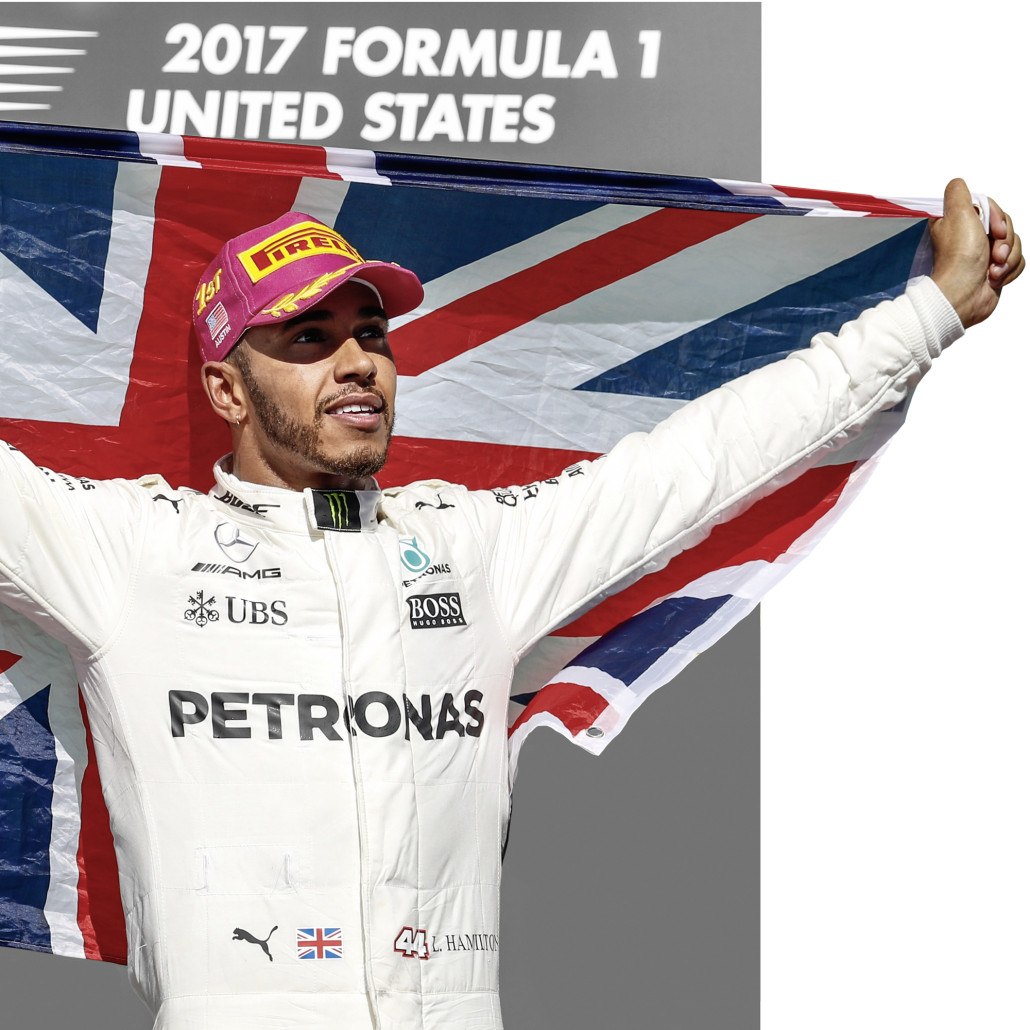 PUMA's year in motorsport was again Forever Faster, given it supplied the world's fastest teams and drivers. As a company with a long motorsport history, PUMA develops ultra-high-performance racing equipment including lightweight race suits and fireproof footwear, giving drivers the confidence and safety they need to perform on the track. Today, PUMA Motorsport is a proud partner of Formula One and DTM, alongside other motorsport series including NASCAR and IndyCar. Fusing our partners DNA into progressive PUMA language, we develop high-level Lifestyle product ranges for motorsports fans around the world.
NO ONE IS FASTER THAN THE CAT
PUMA can look back on an extraordinary Formula 1 season marked by the clear dominance of its partnered teams Mercedes-AMG Petronas, Scuderia FERRARI and RED BULL RACING, who claimed the top three places in the Constructors' Championship. MERCEDES-AMG PETRONAS' driver and PUMA brand ambassador Lewis Hamilton won the Driver's World Championship title for the fourth time in his career, carving his name in the pantheon of motorsport greats. A winning team for years, PUMA and MERCEDES-AMG PETRONAS announced an extension of their working relationship that has seen them claim multiple titles since 2012.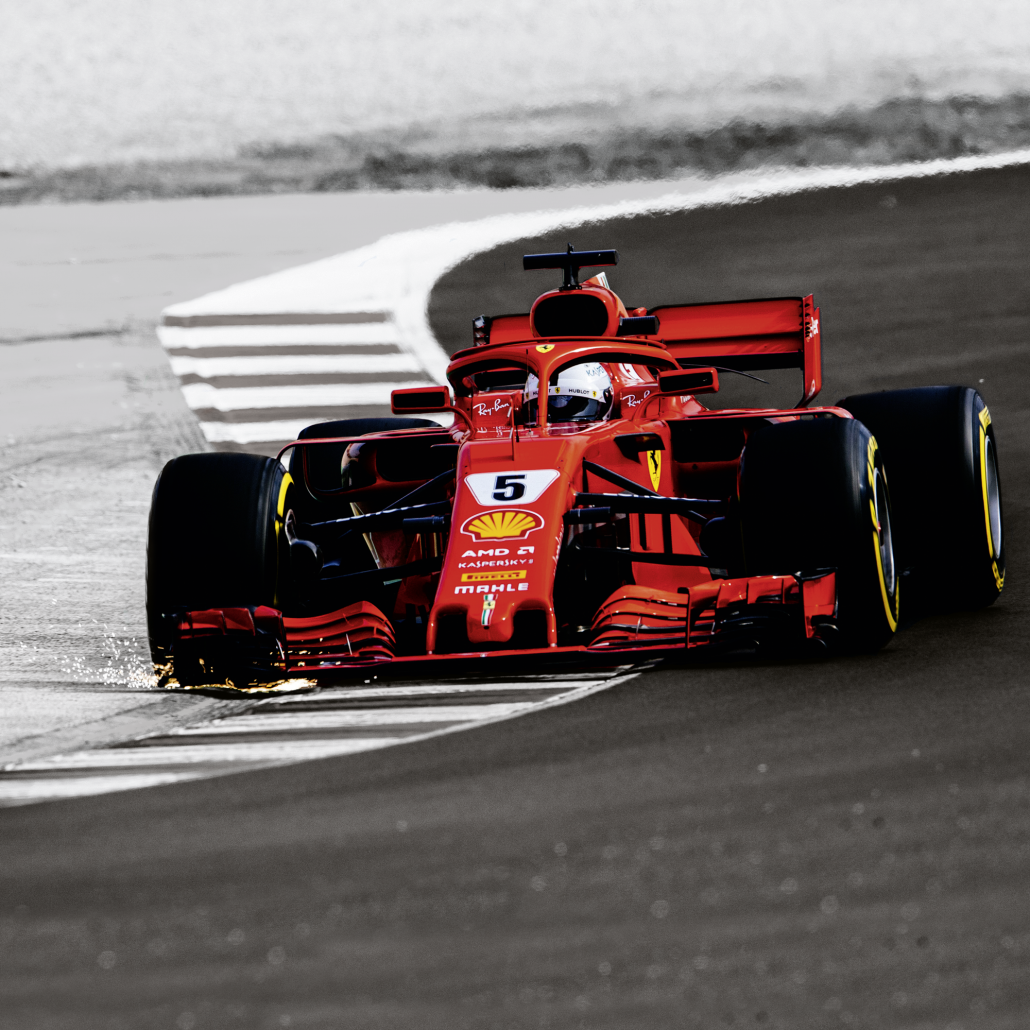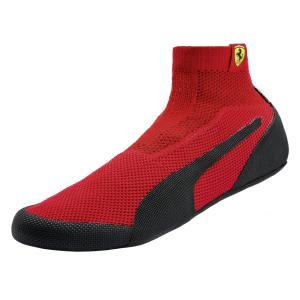 PUMA's F1 shoe of the futuret
PUSHING THE BOUNDARIES OF DESIGN & TECHNOLOGY
PUMA again pushed the boundaries of product design and racewear technology by unveiling the award-winning evoKNIT Driver Pro, the first super-light and fully knitted racing shoe in history with the look and feel of a sock. Besides long-lasting comfort, its flame-proof Nomex construction delivers the protection the driver needs. Personally tested by four-time Formula One World Champion Sebastian Vettel, PUMA is further developing the F1 shoe of the future.
2018 OUTLOOK
Stay tuned for another Forever Faster year with PUMA in motorsports. 2018 will bring exciting product launches such as the Evocat Lace and the RCT jacket, which adopts to the climate challenges and keeps the body in perfect temperature. Not to forget the stylish replica collections for the World's most prestigious teams MERCEDES AMG PETRONAS, RED BULL RACING, Scuderia FERRARI and BMW MOTORSPORTS.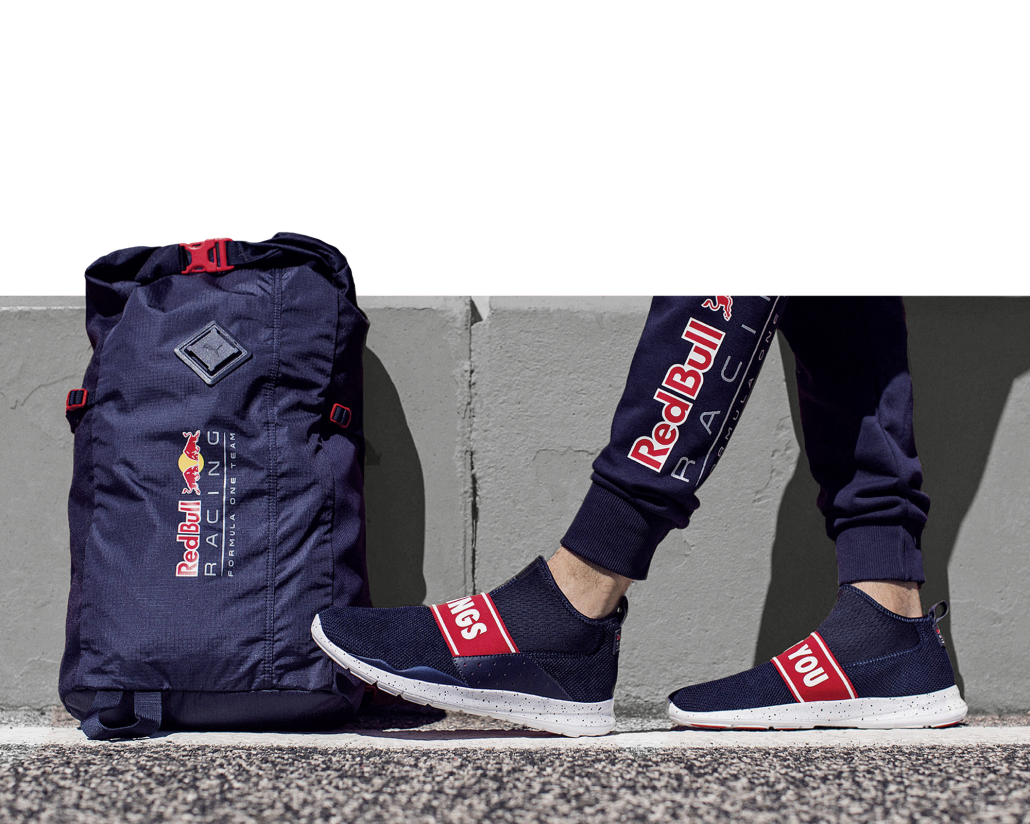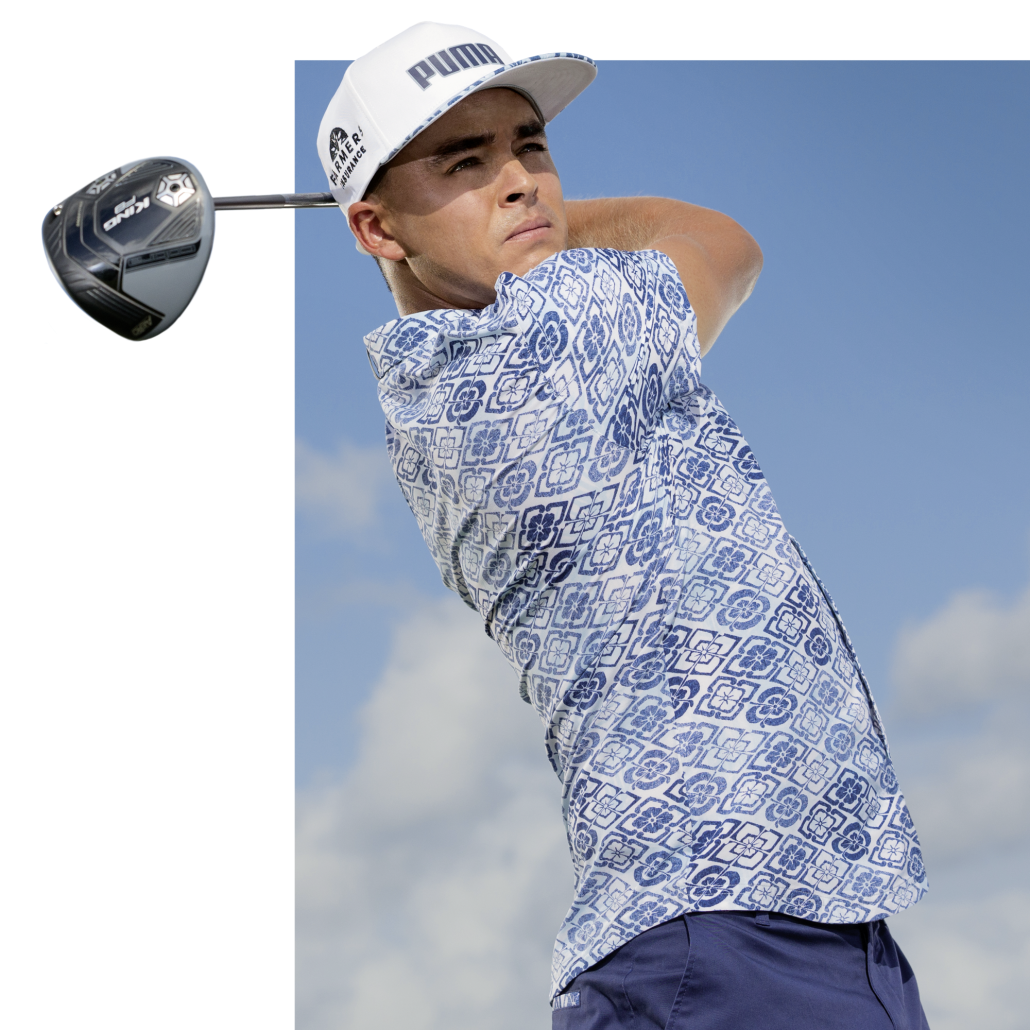 COBRA PUMA GOLF DELIVERS PERFORMANCE AND STYLE
In 2017 PUMA Golf delivered on-trend, performance-ready golf apparel, footwear and accessories that gave golfers stylish, high-performance gear on and off the course. As for COBRA Golf, the brand introduced high-tech, truly game-changing equipment designed for golfers of all levels. With its varied range, COBRA PUMA Golf supplied a full 360-degree package of innovative products and fashion-forward styles that promotes the enjoyment of the game, helping golfers play with confidence and style.
A ROSTER FULL OF STYLE AND TALENT
Throughout the year, COBRA PUMA Golf's Tour players, including Rickie Fowler, Lexi Thompson and Bryson DeChambeau, continued to add excitement to the brand, providing Tour-level validation for our key products. Fowler's 2017 included a win at the Honda Classic, ten top-10 finishes and a more recent, record-breaking win at the 2017 Hero World Challenge. Meanwhile, Lexi Thompson celebrated a win at the Kingsmill Championship and the Indy Women in Tech Championship before rounding off the season by taking the Vare Trophy for best scoring average on the LPGA Tour and capturing the season-long Race to the Globe.
THE FIRST SMART DRIVER
Innovation continued to be at the forefront of all COBRA Golf products as the brand teed-off 2017 by introducing the KING F7 line up, including the first Smart Driver and the first set of ONE Length irons. The KING F7 ONE irons feature identical-length irons that have been re-engineered for 7-iron length and weighted throughout the set; they are designed to provide golfers with optimum performance, distance, forgiveness and control for every shot. COBRA's KING F7 smart driver also featured COBRA CONNECT Powered by Arccos, the award-winning connected golf system that helps players of all skill levels make smarter, data-driven decisions. Embedded electronic sensors in the grip automatically record the distance and accuracy of every shot so golfers can track their improvement round-to-round.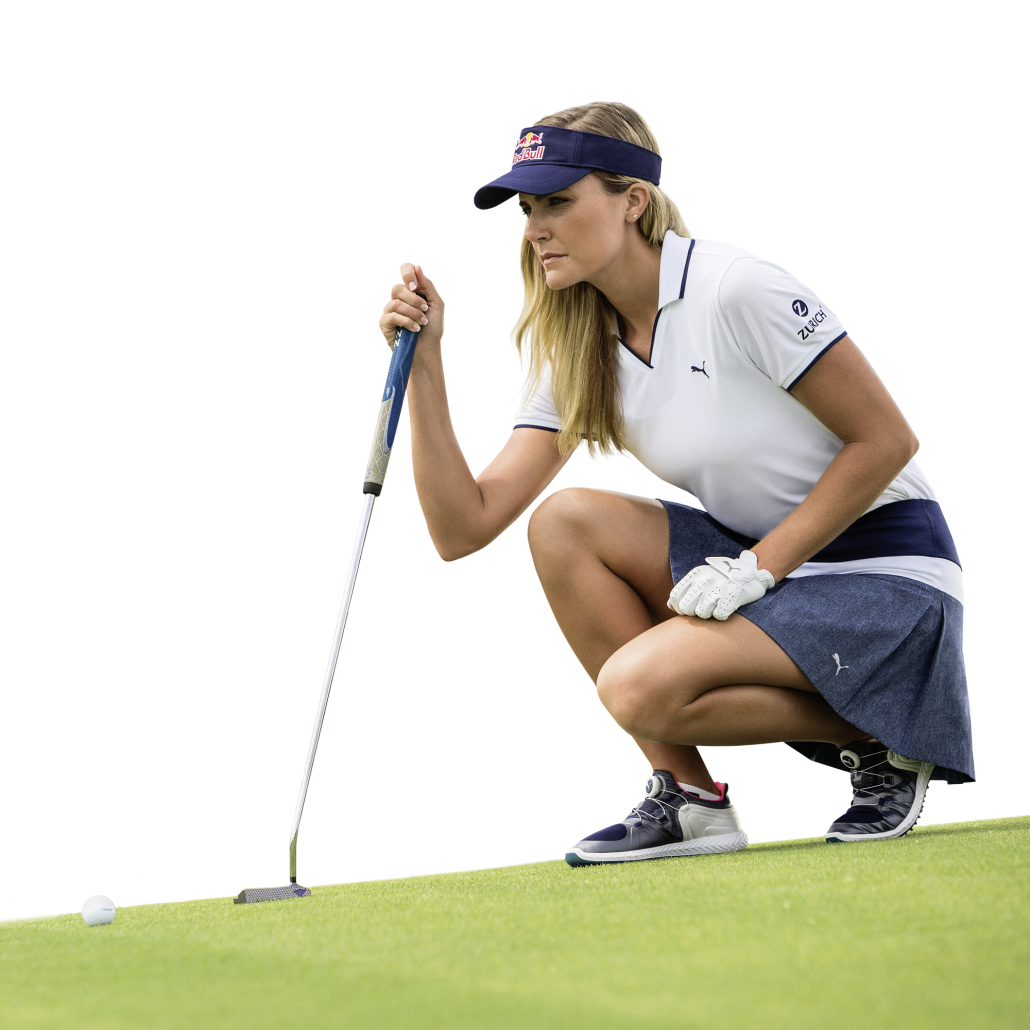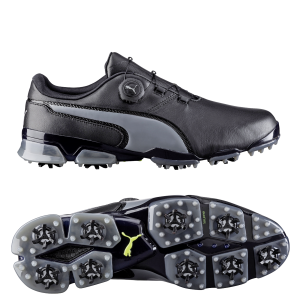 TITANTOUR IGNITE
The Laceless DISC Closure System provides a fully custom fit
ON-TREND & PERFORMANCE READY
Our Spring/Summer '17 Collection showcased a completely revamped men's pants collection, offering excellent moisture management, new, improved fit, a rebalanced pattern, curved waistband for comfort and mechanical stretch for maximum range of motion. As for footwear, PUMA Golf introduced the new TITANTOUR IGNITE DISC collection – a premium, comfortable and solid range for men, women and juniors. The footwear collection utilized PUMA's revolutionary DISC closure system, combining it with its popular IGNITE foam to provide unparalleled comfort and performance throughout all 18 holes.
2018 OUTLOOK
COBRA Golf will continue to introduce breakthrough technologies in 2018, with buzz and excitement surrounding innovative equipment including the KING F8 line up, which will feature the first ever CNC Milled Face and the first fully connected set of golf clubs. PUMA Golf is on track to continue making a splash in the footwear category and in apparel too, with new PWRADAPT golf shoes and PWRSHAPE technology in its women's apparel.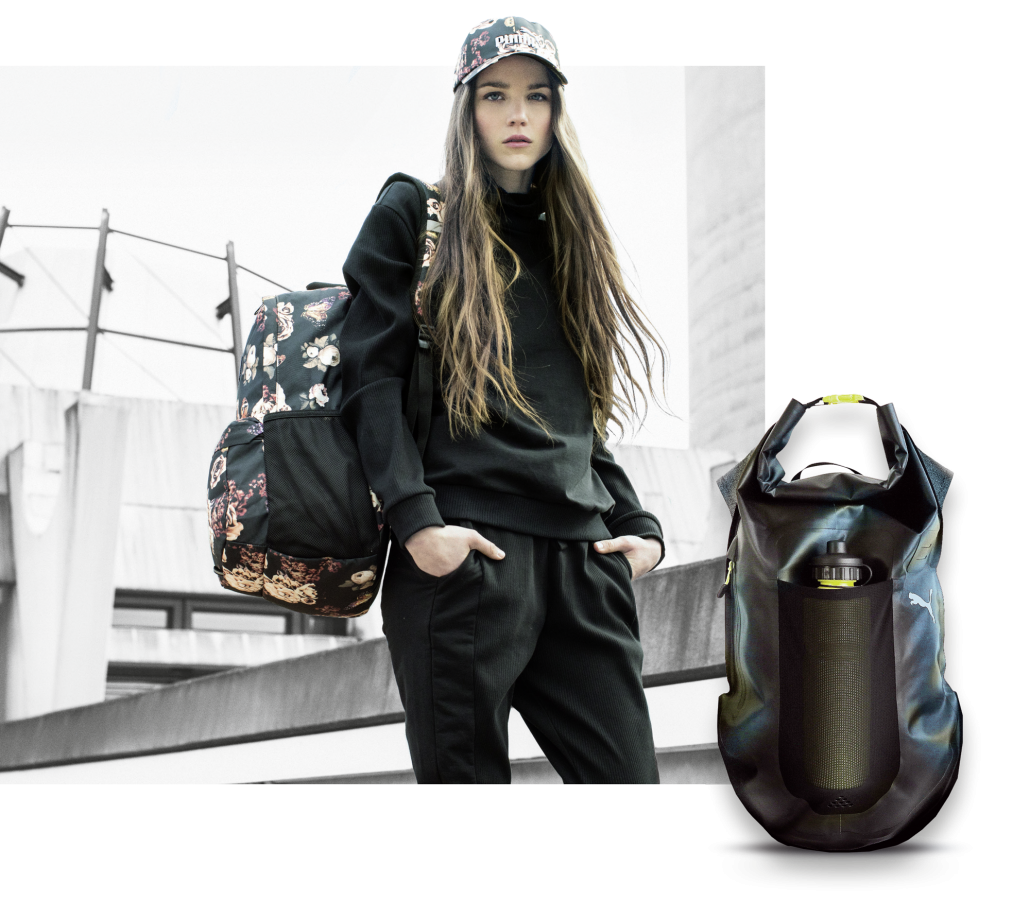 PUMA'S ACCESSORIES BUSINESS UNIT COMPLEMENTS THE BRAND'S PRODUCT RANGE ACROSS ALL CATEGORIES IN ALL DISTRIBUTION CHANNELS WITH A STRONG AND VARIED COLLECTION COVERING SPORTSTYLE CORE, PRIME & SELECT, RUNNING, TRAINING AND MOTORSPORT.
Aiming to deliver a strong, desirable stand-alone bag and headwear range, PUMA's accessories stand for quality, creativity and innovation. One of the segment's primary business drivers is its comprehensive and tiered BACK TO SCHOOL range, which is highly competitive in terms of both features and price.
THE WEEKND AND RIHANNA DRIVE SPORTSTYLE FORWARD
In 2017, PUMA launched its first accessories collection in collaboration with The Weeknd reinforcing the importance of male lifestyle consumers. The media coverage and publicity helped PUMA expand its lifestyle inline backpack range to cater for this segment.
FENTY PUMA by Rihanna accessories continued to amaze the audience with two new seasonal collections. One of the most popular items in the FENTY University collection, a bear backpack, was sold out within minutes.
DRIVING PERFORMANCE INNOVATION
In the Accessories category PUMA cleaned up at the awards, winning both a Red Dot and an iF Award with the FERRARI TRANSFORM BACKPACK and WINTERIZED RUNNING BACKPACK. Headwear continued to be an important brand-carrying category, and one in which a variety of innovative performance details and features are offered.