PUMA GROUP ESSENTIAL INFORMATION
COMMERCIAL ACTIVITIES AND ORGANIZATIONAL STRUCTURE
The company operates as European corporation, PUMA SE, with Group headquarters in Herzogenaurach, Germany. Our internal reporting activities are based according to three regions (EMEA, the Americas and Asia/Pacific) and three product segments (footwear, apparel and accessories). A detailed description of the various segments can be found in section 25 of the Notes to the Consolidated Financial Statements.
Our revenues are derived from the sale of products from the PUMA and COBRA Golf brands via the wholesale and retail trade, as well as from sales in our own retail and online stores. We market and distribute our products worldwide primarily via our own subsidiaries. There are distribution agreements in place with independent distributors in some countries.
As of December 31, 2017, 108 subsidiaries were controlled directly or indirectly by PUMA SE. Our subsidiaries carry out various tasks at the local level, such as sales, marketing, product development, sourcing and management. A full list of all subsidiaries and an affiliated company can be found in section 2 of the Notes to the Consolidated Financial Statements.
PUMA aims to become the fastest sports brand in the world. For this reason, PUMA has been executing a turnaround strategy over the past few years, which is focused on five priorities: brand heat, a competitive product range, a leading offer for women, improved distribution quality and organizational speed. Positive feedback from retail partners around the world, better sell-through as well as improved financial results in 2017 confirm that PUMA is on the right track.
PUMA's brand draws strength and brand heat from its unique heritage in sports and its high credibility in the latest Lifestyle trends. The brand is associated with some of the greatest sports legends: Pelé, Maradona, Tommie Smith, Boris Becker, Lothar Matthäus, Linford Christie and many more. Today PUMA continues to strengthen its position as a sports brand through partnerships with some of the most elite ambassadors: the world's fastest man and athletics legend Usain Bolt, star striker Antoine Griezmann, golf stars Lexi Thompson and Rickie Fowler, Arsenal FC, Borussia Dortmund and the Jamaican and Cuban Olympic Federations. PUMA has also developed a unique way of working with cultural and fashion icons to connect with young trend-setting audiences. This has made PUMA one of the hottest sports and fashion brands for young consumers. The partnership that PUMA entered into with Rihanna in 2014 defined a new way for cultural influencers and brands to interact. In recent times, PUMA has been capitalizing on this success and has partnered with other global stars such as model Cara Delevingne, artists The Weeknd and Big Sean and most recently Lewis Hamilton and Selena Gomez.
Also on the product side, PUMA looks back at a unique history full of innovations, designs and products that continue to influence the sports and sports lifestyle industries to date. This includes the Brush Spikes shoe from 1968, the lightest ever football shoe (EvoSpeed SL 2015) and the first ever co-lab of a sports brand with a fashion designer (PUMA x Jil Sander, 1997). One of PUMA's greatest design icons, the SUEDE will celebrate its 50th anniversary in 2018. Today, PUMA continues to sharpen its design principles and is introducing some of the industry's most eye-catching but also commercial styles such as the FIERCE, the CREEPER, the TSUGI and the BASKET HEART, some of its bestsellers in 2017. For PUMA, innovation is at the heart of product design. PUMA's proprietary midsole material IGNITE achieves the highest energy return of all running shoes. The individual lacing system NETFIT as well as JAMMING, the first ever midsole made of freely moving eTPU pearls, are two of the most recent examples.
Women are a priority for PUMA. Not only are women increasingly participating in athletic activities worldwide, but they are also trendsetters in taking inspiration from athletic wear for their everyday wardrobe. Building on PUMA's fashion credibility and sports authenticity, as well as a profound understanding of the modern female athletic consumer, PUMA has positioned its offer for women "where the gym meets the runway." The women's business has further strengthened the brand in 2017 and clearly outgrown other product segments. With its overproportionate market share among women, PUMA is uniquely positioned to capitalize on this growing segment within the global sportswear market. In 2017, PUMA continued with its DO YOU campaign, strengthening its commitment to inspire women everywhere to stay true to themselves, featuring Cara Delevingne, the dancers of the New York City Ballet and many other inspirational women. With the PHENOM, launched with Selena Gomez toward the end of the year, PUMA laid the foundations for another women's footwear bestseller in 2018.
PUMA has continuously improved the quality of its distribution and expanded its presence in key sports performance and Sportstyle accounts around the world. PUMA remains dedicated to strengthening its relationships with key retailers by being a reliable partner for them and by maximizing PUMA's contribution to their business. It is a clear objective for PUMA that retail partners make money with our products. Improved sell-through has been helping PUMA to gain more shelf space in our partners retail stores in 2017. Furthermore, PUMA continued to upgrade its owned-and-operated retail store network with further openings and refurbishments. PUMA also worked on the relaunch of its eCommerce presence www.PUMA.com into a more modern and mobile-­friendly format, which initially went live in Europe in June last year.
Operationally, PUMA continued to make progress in key areas including further enhancements of PUMA's International Trading Organization, which manages global order and invoice flows centrally, the roll-out of a new product development system, further standardization of ERP systems and improvements to the overall IT infrastructure. In 2017, for example, a self-developed integrated product development system was introduced to replace existing individual solutions. This simplified and accelerated cross-­departmental collaboration between design, product development and product management as well as sourcing, while increasing flexibility.
In addition to these five priorities, social, economic and environmental sustainability remains a core value for PUMA. In 2017, PUMA expanded its strategic partnership with the Better Work Program of the International Finance Corporation (IFC) and the International Labor Organization (ILO). The program, whose aim is to limit audit fatigue and promote long-term solutions to problems surrounding fair labor standards, now involves 76 active PUMA suppliers in Vietnam, Cambodia, Indonesia and Bangladesh.
PUMA's partnership with IFC was further enhanced with the start of the implementation phase of the Vietnam Improvement Program (VIP), which aims to improve energy efficiency and the use of renewable energy in the apparel and footwear supply chain. Several major industry peers joined the VIP program together with PUMA. This sent a unified message to often shared suppliers to start working on reducing their impact on climate change.
The hard work, the dedication to the PUMA brand and the consistent focus on implementing the Forever Faster corporate strategy contributed significantly to the very positive business development in 2017. This development confirms PUMA's commitment to reaffirming its strategic goals and continuing its dedication to becoming the fastest sports brand in the world.
PRODUCT DEVELOPMENT AND DESIGN
Designing, developing, selling and marketing footwear, apparel and accessories, PUMA is one of the world's leading sports brands. Since 1948, PUMA has been producing the most innovative products for the fastest athletes on the planet. The brand has established a reputation for fast and innovative product designs in its Performance categories such as Football, Running and Training, Golf and Motorsports. In addition, PUMA offers a Sportstyle range of innovative performance and sports-inspired products as well as classic silhouettes. With its Sportstyle designs PUMA reaches out to women and men alike who seek authentic style rooted in sports.
In line with our mission statement Forever Faster, we aim at giving athletes the necessary advantage to reach their full potential and express themselves through their own style of play. Their equipment should enable them to reach their full potential. That's why PUMA is constantly working on innovative technologies and developing new products that meet the high demands of our top athletes and consumers alike. The PUMA brand is driven by four values: brave, confident, determined and joyful. These values motivate us to grow beyond ourselves and to be credible and authentic with our know-how and sporting history as a brand and also with our pro­ducts, thus enabling us to experience appreciation.
For us, sport is lifestyle. We believe in the fusion of sport and style, aiming to make our products desirable through their ability to meet both performance and stylistic needs. The design of our products involves tenacious attention to what lies ahead while being guided by the consistent visual language, reflecting the most defining moments of the PUMA legacy. To achieve this, PUMA's Global Creative Director, Torsten Hochstetter and his design teams ensure a coherent design language for all our collections, organizing the product responsibility within our global business units and regional design centers.
In 2017, we further improved our product offering, focusing on our design clarity with clear seasonal creative directions, while introducing innovative technologies and more commercial products. The improved financial results and sell-through performance along with the continued positive response of our retail partners and customers demonstrate that PUMA is on the right path.
A major highlight of 2017 was the introduction of PUMA's new, uniquely customizable lacing system NETFIT, a technology that offers infinite performance and style options. NETFIT shoes were first spotted at the IAAF World Championships in London, where they were worn by our world class athletes. The NETFIT technology allows runners to fully adapt to their individual needs based on foot shape and running style. At the same time, it allows its consumers to express their individual style through various lacing techniques. NETFIT has been extended into the Sportstyle category as well as our football shoes 365 NETFIT and FUTURE.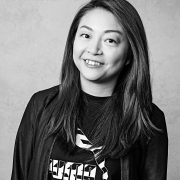 "The 'DO YOU' campaign was the most powerful women's statement in 2017. Cara Delevingne's attitude of staying true to herself has been a unique influence in my life and work. She taught me to always be fearless when making decisions."
In the Teamsport category we introduced two completely new football boots. PUMA ONE suits all aspects a player needs – FIT. FAST. FEEL. Under the mantra Play Perfect we have combined the best and latest technologies to support technical players with the ideal equipment. PUMA FUTURE, which will hit stores in early 2018, is designed for those players that change the game in an instant, those that play with instinct and invent play on the pitch. It is first football boot with a truly customizable fit thanks to our proprietary NETFIT technology.
With our Run The Streets concept, we have offered products that cross the line between performance and style. We launched the IGNITE evoKNIT, IGNITE Limitless and the new Sportstyle franchise TSUGI. All of them feature PUMA's proprietary IGNITE midsole technology, but at the same time they have a progressive fresh look inspired by urban culture and street style.
In our Women's category, we have continued our successful DO YOU-campaign around celebrities such as Cara Delevingne, the New York City Ballet and Selena Gomez by introducing new feminine styles. BASKET HEART, a classic silhouette with a unique feminine touch was one of the best-selling shoes of the year and a big driver behind our women's footwear business. New footwear styles for 2018 such as MUSE and PHENOM began hitting stores late last year with promising early results. One highlight on the women's apparel side was the VELVET ROPE collection, which featured tech-infused Sportstyle and Training pieces for women with the perfect mixture of performance and luxury, sport and fashion.
The much-hyped FENTY PUMA by Rihanna line returned with two new seasonal collections, which were celebrated by the global fashion crowd. Once again, FENTY PUMA by RIHANNA made waves and fused luxury and sport in a way that only Rihanna and PUMA can. At the Paris Fashion Week, PUMA's women's Creative Director presented FENTY University – a rebellious and daring collection for Autumn-Winter '17, paying homage to the kids gone rogue, who hit honor roll and serve detention in style. While for her Spring-Summer '18 collection, presented in New York, Rihanna continued to play with gender-fluid silhouettes and oversized shapes paired with sexy bodycon styles. The very successful FENTY CREEPER was released in new styles and colorways, while the FENTY PUMA BOW was searched for on the internet every seven seconds in March, making it the most wanted sneaker of 2017.
Research and product development at PUMA mainly comprises the areas of innovation (new technologies), product design and model and collection development. The research and product development activities range from the analysis of scientific studies and customer surveys through the generation of creative ideas to the implementation of innovations in commercial products. The activities in research and product development are directly linked to sourcing activities.
As of December 31, 2017, a total of 894 employees were engaged in research and development/product management (previous year: 888). Expenses for research and development/product management totaled € 98.5 million in 2017 (previous year: € 93.7 million) of which € 53.4 million (previous year: € 52.0 million) were related to research and development.
THE SOURCING ORGANIZATION
Sourcing refers to the central management of the purchasing of products for PUMA and the Group's own brand, COBRA. All necessary sourcing functions of the Group are merged in PUMA Group Sourcing (PGS).
PUMA International Trading GmbH (PIT), PUMA's globally active trading company which has its head office in Herzogenaurach (Germany), is the Group company mainly responsible for PUMA Group Sourcing. PIT coordinates product sourcing from independent manufacturers by sourcing products itself from the manufacturers and selling them to PUMA distribution subsidiaries or supporting PUMA distribution subsidiaries directly in the local sourcing of products via local manufacturers. In addition, through its service companies in Hong Kong, PIT manages cooperation with suppliers worldwide and also oversees the production processes at the sourcing sites in China, Vietnam, Bangladesh, India, Turkey, South Africa, Brazil and Mexico. Hedging is also centralized at PIT. The centralized control of these processes guarantees a high degree of transparency within the supply chain, reduces sourcing complexity and creates efficiencies through largely automated processes.
PGS's worldwide production network, which is the main focus of PIT's efforts, helps to optimize the supply chain by working with independent manufacturers. The aim is to offer an optimum service so as to meet global requirements for service, quality and safety, along with environmental and social aspects in the supply chain. Under the six core principles of partnership, transparency, flexibility, speed, simplicity and effectiveness, the central sourcing responsibility allows for continuous improvements with regard to sourcing costs, sourcing flexibility and the necessary delivery reliability. This guarantees distribution subsidiaries high-level service and a sustainable production and supply chain.
PUMA's sustainability function (Corporate Sustaina­bility Department, formerly PUMA SAFE) was successfully integrated into the PGS organization in 2016. This ensures that social and environmental issues and standards of good corporate governance are integrated into day-to-day sourcing activities. The service companies in Hong Kong that are managed by PIT are mainly responsible for compliance with PUMA's own standards and statutory standards.
In 2017, further operating improvements could be implemented in sourcing, in particular with regard to the centralization and standardization of processes and systems. In this way, PIT has also acted as a central import company for EU countries since the start of the year, in addition to its tasks previously described. Sourcing effectiveness could subsequently be further increased. Provided it made sense from an economic and sustainability perspective, local sourcing was expanded further in some markets, for example in Mexico, so as to be able to react even more flexibly to market developments. Furthermore, 2017 saw the successful continuation of the innovative financing program for PUMA suppliers. This program, which was financed by the World Bank and BNP Paribas and which has received a number of awards, allows for receivables of the suppliers from goods delivered to PUMA to be paid more quickly provided they meet the sustainability criteria. As a result, financial scope was created for new investments for suppliers. In addition, the program for suppliers also acts as a financial incentive for complying with its standards regarding ecology, labor law and society, as well as continuously improving them.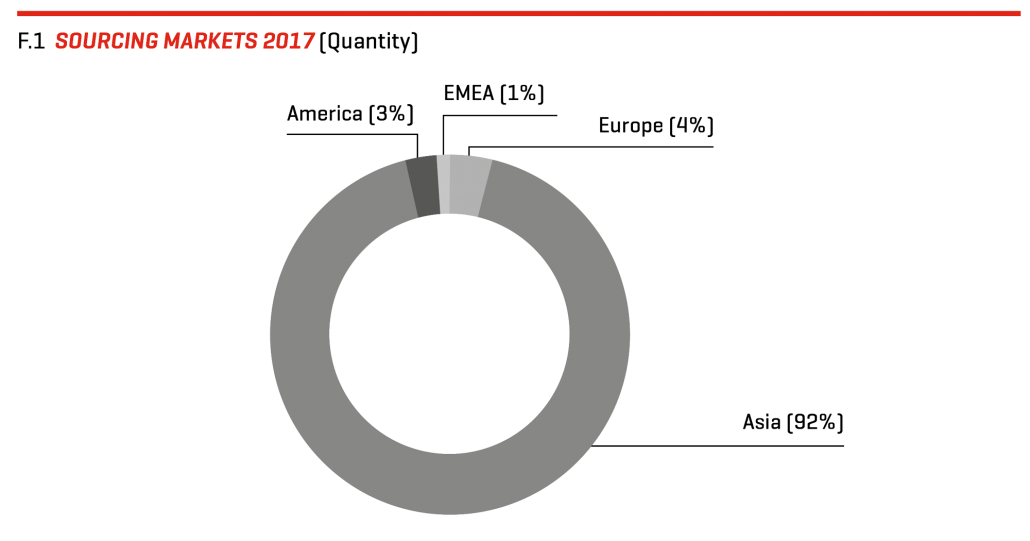 During the financial year 2017, PGS worked with 160 suppliers in 34 countries via PIT. PIT's supplier base has therefore largely remained stable. The strategic cooperation with long-term partners was one of the key competitive advantages in 2017, ensuring stable sourcing in continuing turbulent market conditions.
Asia remains the strongest sourcing region overall with 92% of the total volume, followed by Europe with 4%, America with 3% and Africa with 1%.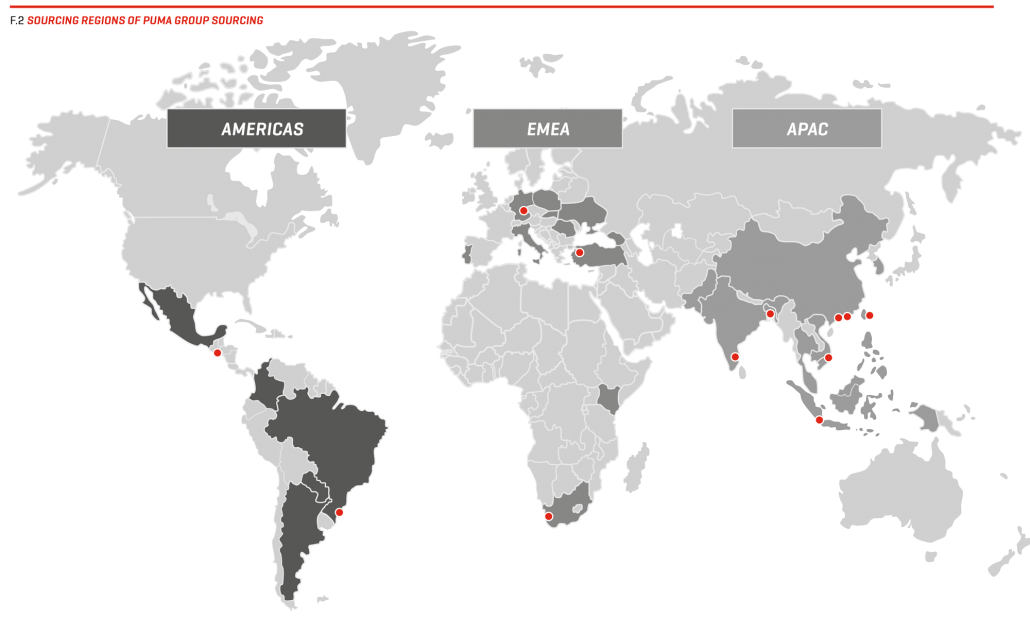 As a result, the six most important sourcing countries (89% of the total volume) are all located on the Asian continent. Once more, Vietnam was the strongest production country with a total of 32%. China followed at 24%, an increase of 1 percentage point from 2016. Cambodia was in third place at 13%. Bangladesh, which focuses on apparel, is in fourth place at 10%. Indonesia, which focuses on footwear production, produces 6% of the total volume and is in fifth place. India is in sixth place at 4%.
Rising wage costs and macroeconomic influences have continued to influence sourcing markets in 2017. This increases the need to take into account the risks of these factors when allocating production. This is a crucial Component of our sourcing strategy so as to ensure the secure and competitive sourcing of products and, furthermore, to successfully manage the increasing sourcing volumes due to the positive company development.
The global number of employees on a yearly average was 11,389 employees in 2017 compared to 11,128 in the previous year. The increase mainly results from the higher number of the company's own retail stores.
Personnel expenses in 2017 increased overall by 11.4% from € 493.1 million to € 549.1 million. On average, personnel expenses were € 48.2 thousand compared to € 44.3 thousand in the previous year.
As of December 31, 2017, the number of employees was 11,787, compared to 11,495 in the previous year. This represents a 2.5% increase in the number of employees compared to the previous year. The development in the number of employees per area is as follows:
TALENT RECRUITMENT AND DEVELOPMENT
Our employees represent the core of our business. In order to continue to expand our position in the market, it is essential that we have highly qualified and motivated personnel. Our recruitment strategy allows for external talent to be recruited in advance, appropriate to the target group, via various channels, including in particular through proactive direct conversations, thereby boosting our workforce.
This year we introduced Workday, one of the leading human capital management systems, across the world. This software includes all personnel processes and functions such as recruiting, talent, performance and absence management, time recording and payroll accounting in the USA and Canada, meaning that all information relevant to human resources is available on a single platform.
In addition to the performance assessment and time agreement, a systematic succession plan is created as part of talent management. Talent available in the company is identified in the annual employee interviews. Our aim is to individually develop our employees, even in an international environment and at the same time successfully and sustainably keep them loyal to our company as they are an important factor for success. As a central component of current competitiveness, long-term loyalty from motivated and competent employees allows us both as a company and as an employer to maintain a dynamic environment and to be able to keep up with market changes.
The continuous professional and personal development of our employees also ensures that our workforce has the necessary skills to ensure steady growth and market expertise. In our efforts to provide adequate entry-level and development opportunities to talented individuals at all levels, in addition to the range of different training and dual-track (combined work-study) programs, we also promote the systematic training of our professionals and managers. The range of training we provided includes a number of training courses and workshops, both online and off­line and standardized or personally tailored to individual needs. The continuous development of our PUMA training offers guarantees that our employees have at all times innovative and diverse opportunities to add to their qualifications, build on existing know­ledge and acquire new skills. This approach helps employees achieve their personal goals and helps the company achieve its goals as well.
In particular, we also offer a large number of seminars with the aim of developing employees and managers over the longer term, giving them the opportunity to apply their newly acquired knowledge in practice between the individual modules and then to discuss this with other seminar participants. Our internal leadership program, ILP, consisting of several modules, was expanded by the ILP2 seminar series. Management was therefore given new instruments to be able to manage the company better in a world changing at increasingly greater speed and to be able to manage its employees in an even more strategic and effective manner. The topic of mindful leadership was of particular focus. Management was made aware of its own stress patterns and learned mindfulness-based methods to actively combat stress and construct suitable alternative actions. Learning mindful communication supports clear thinking and being able to act in a more conscientious fashion.
Our new SPEED UP2 personnel development program was successfully continued this year. A group of top talent received intensive preparation for the next step in their careers by taking on interdisciplinary projects and tasks, target training courses, mentoring and coaching in addition to job rotations. Increased visibility to upper management, the creation of cross-function cooperation and establishing a strong network are also important components of this program.
We at PUMA offer our employees a targeted and competitive compensation system, which consists of several components. In addition to a fixed base salary, the PUMA bonus system, profit-sharing programs and various social benefits and intangible benefits form part of a performance-based compensation system. We also offer long-term incentive programs for senior management levels that honor the sustainable development and performance of the business.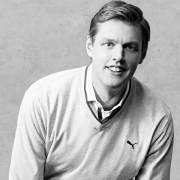 "Since I work on the Women's segment from the strategy side, for me one of PUMA's greatest achievements in 2017 was our con­tinued growth in the Women's market. It is always fun to see how great teamwork can lead to disruptive products and impactful storytelling."
We use a variety of indicators to manage our performance in relation to our top corporate goals. We have defined  growth and profitability as being key targets  within finance-related areas. Our focus therefore is on improving sales, the gross profit margin and operating income (EBIT). These are the financial control parameters that are of particular significance. Moreover, we aim to minimize working capital and improve free cash flow. Our Group's Planning and Management System has been designed to provide a variety of instruments in order to assess current business developments and derive future strategy and investment decisions. This involves the continuous monitoring of key financial indicators within the PUMA Group along with a monthly comparison with budget targets. Any deviations from the targets are analyzed in detail and appropriate countermeasures are taken should such deviations have a negative impact.
Changes in sales revenues are also influenced by currency exchange effects. This is why we also state any changes in sales in euro, the reporting currency, adjusted for currency exchange effects in order to provide information that is relevant to the decision-making process when assessing the revenue position. Currency-adjusted sales volumes are used for comparison purposes and are based on the values that would arise if the foreign currencies included in the consolidated financial statements were not translated at the average rates for the previous reporting year but were instead translated at the corresponding average rates for the current year. As a result, currency-adjusted figures are not to be regarded as a substitute or as superior financial in­dicators, but should instead always be regarded as additional information.
We use the indicator free cash flow in order to determine the change in cash and cash equivalents after deducting all expenses incurred to maintain or expand the organic business of the PUMA Group. Free cash flow is calculated from the cash flow from operating activities and investment activities. We also use the  indicator free cash flow before acquisitions , which goes beyond free cash flow and includes an adjustment for payments that are associated with investments in companies.
We use the indicator working capital to assess the financial position. Working capital is the difference between other current assets – including in particular inventories and trade receivables – and current liabilities. Amounts that are received in connection with financing activities are not included in working capital.
Non-financial performance indicators are of only minor importance at PUMA as control variables.