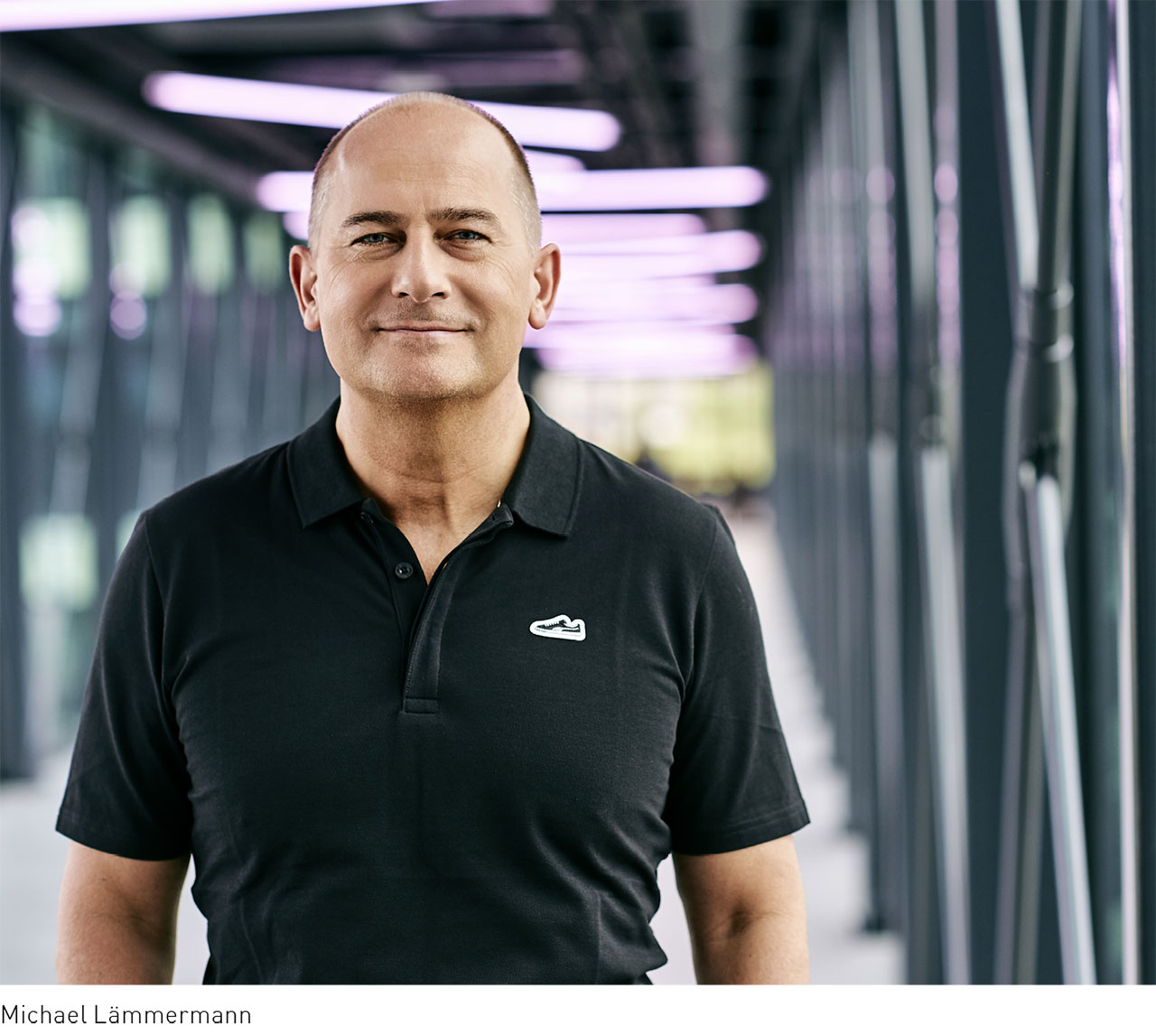 Overview 2018
2018 was an exciting and successful year for PUMA, filled with many highlights in sports and business. In the year of our 70th anniversary, we kept going full steam ahead towards our goal of becoming the world's fastest sports brand.
With our return to basketball and the signings of European top football clubs, like A.C. Milan and Olympique de Marseille, we further strengthened our ­position in sports performance, while our partnered teams, athletes and federations were very successful.
Footwear was a large revenue contributor in 2018, even though changing consumer tastes presented us with some challenges. We proved, however, that our FOREVER FASTER spirit has become deeply engrained into the way we ­conduct our business. When consumers demanded more "chunky shoes" during the year, a reemerging fashion trend from the 1990s, we reacted swiftly with our successful new style platforms Thunder, RS-0 and the RS-X. With the unique CELL Platform, we also revived a true PUMA classic from the nineties.
Our majority shareholder Kering S.A. distributed some 70% of PUMA shares to its shareholders, a spinoff which sharply increased our free float from 13% to 55%. As a result, we changed our governance structure from a monistic ­management system to a dualistic system with a Management Board ­("Vorstand") and a Supervisory Board ("Aufsichtsrat"). After the change in ownership was completed, PUMA made its comeback to the M-Dax in June 2018.
 Another highlight, both from a sports and business perspective, was PUMA's re-entry into the basketball category. With the help of Jay-Z, PUMA's Creative Director for Basketball, we rolled out an exciting campaign, which was well received by athletes, media and fans alike. Our first shoe in this category in a long time, the Clyde Court Disrupt, was quickly sold out in its market debut. We added to our credibility by signing some of the biggest names in basketball, such as Skylar Diggins-Smith, Terry Rozier, Rudy Gay, Danny Green and four-time NBA All-star DeMarcus Cousins. In addition, we contracted the Number 1 picks in this year's NBA draft Deandre Ayton, Marvin Bagley III, Kevin Knox, Michael Porter Jr and Zhaire Smith.
In football, the FIFA World Cup 2018 in Russia offered us the perfect showcase to present our brand and innovative performance products. We achieved high visibility during the tournament thanks to our four partnered national teams Uruguay, Switzerland, Serbia and Senegal and our impressive roster of players. With Uruguay and Switzerland PUMA assured its presence in the knockout stage, while with Antoine Griezmann and Romelu Lukaku two of the three top scorers of the tournament were PUMA players. Antoine Griezmann was even awarded "FIFA Man of the Match" after scoring the winning goal in the final. All our players were equipped with special editions of the football boots PUMA ­FUTURE or PUMA ONE. Furthermore, we have enlarged our players' roster with international football stars, including Barcelona and Uruguay striker Luis Suarez, Vincent Kompany (Manchester City), Axel Witsel (Borussia Dortmund), David Silva (Manchester City), Dejan Lovren (FC Liverpool) and Davie Selke (Hertha BSC).
In 2018, our Running and Training category was driven by the extraordinary ­performances of our athletes in track and field along with the introduction of first-class products. For example, the 19-year-old Cuban Juan Miguel ­Echevarria did not only win the Diamond League Meeting in Stockholm, but also the IAAF title "Highlight of the Season 2018" with his incredible long-jump of 8.83 meters. We also enlarged our portfolio by signing additional top athletes like Europe's "fastest man", French sprinter Jimmy Vicaut.
With the running shoe HYBRID, we delivered an entirely new definition of midsole technology to the market. Meanwhile, the biggest highlights of 2018 in our ­Women's category were the shoe models PHENOM and DEFY, advertised by popstar and social media influencer Selena Gomez, along with the ­announcement of supermodel Adriana Lima as an ambassador for Women's training.
Once again, the PUMA partnered teams – Mercedes-AMG Petronas, Scuderia FERRARI and Red Bull Racing – dominated the Formula One season, deciding the championship between themselves. Finally, the title was claimed by ­Mercedes and Lewis Hamilton, who also won the fifth drivers' title of his career. More good news for PUMA Motorsport was the hype surrounding their lifestyle products, which were particularly tangible on the US and French markets.
In Golf, our players Rickie Fowler, Lexi Thompson and Bryson DeChambeau continued to add excitement to the brands PUMA and COBRA Golf, with their many sporting successes. Bryson DeChambeau, for instance, caused a stir with his ONE Length irons, achieving five tournament victories with this to-date unique technology, that provides all irons with the same length.
Another milestone birthday rounded up PUMA's anniversary year: In our sportstyle category, the SUEDE, one of our greatest classics, turned 50. We marked this occasion with a string of collaborations and special editions with several designers, artists and brands. Throughout the year, new editions of the SUEDE were emblazoned with designs by fashion icon Karl Lagerfeld, rock legend Paul Stanley and cartoon character Hello Kitty to name but a few.
Inspired by Tommie Smith, who made a mark against racism and social inequality with his legendary "silent gesture" at the 1968 Olympics, PUMA launched the #REFORM campaign in Autumn 2018. With the help of activists from the world of sports, music and entertainment, among others American rapper Meek Mill, the program supports NGOs and encourages conversations around issues such as universal equality and criminal justice reform in the United States.
With the move of our employees into the new office building, the extension of our company headquarters in Herzogenaurach was completed. The new offices with space for 550 employees were designed according to an innovative design ­concept and impress with state-of-the-art equipment, light-flooded offices and flexible workplaces. A top-equipped fitness studio with the latest equipment and classrooms, as well as outdoor facilities for football, basketball and volleyball, offer our employees a comprehensive range of sports.
The consistent implementation of our FOREVER FASTER corporate strategy and our ability to react quickly and flexibly to changes and trends in market ­conditions have contributed to PUMA's strong sales growth in the financial year 2018. This shows that, with regard to increasing our brand heat and improving our product range, we are also on the right path. PUMA's sales rose in the financial year 2018 currency-adjusted by 17.6%. Therefore, the currency-adjusted sales growth in a high single-digit percentage rate prospected in the previous Management Report for 2018 and the forecast of currency-adjusted sales growth of 14% to 16%, that was adjusted upwards during the year, were exceeded. In the reporting currency, the Euro, this corresponds to an increase in sales of 12.4% from € 4,136 million in the previous year to € 4,648 million in 2018. The relatively large ­difference between currency-adjusted sales growth (+17.6%) and the change in the sales in the reporting currency, the Euro, (+12.4%) is due to the weakness of a large number of currencies against the Euro. Nevertheless, PUMA was able to fully achieve its financial targets for the past financial year.
PUMA's gross profit margin improved in the financial year 2018 by 110 basis points from 47.3% to 48.4%. This, in addition to the sales growth, significantly increased profitability in 2018. The main drivers for the development of the gross profit margin were further improvements in sourcing, higher sales of new ­products with a higher margin, and a higher proportion of our own retail sales. Other operating income and expenses increased by 11.8% in the financial year 2018 due to ongoing investment in marketing, retail and IT. In terms of sales, this meant an improvement in the cost ratio from 41.7% in the previous year to 41.5%, which also contributed to the improvement in profitability in 2018.
The operating result (EBIT) increased in the financial year by 37.9% from € 244.6 million to € 337.4 million and was therefore above the forecast from the beginning of 2018, which had originally forecasted an operating result within a range of between € 305 million and € 325 million. The forecast, as adjusted during the year, of an operating result within a range of between € 325 million and € 335 million was therefore slightly exceeded in the past financial year.
The significant improvement in profitability in 2018 was also reflected in the ­increase in net earnings and earnings per share, which increased by 38.0% compared to the previous year. Net earnings increased from € 135.8 million ­in the previous year to € 187.4 million, and the earnings per share increased accordingly from € 9.09 in the previous year to € 12.54.
PUMA's dividend policy foresees a distribution of 25% to 35% of net earnings. In accordance with this, the Management Board and the Supervisory Board will propose a dividend of € 3.50 per share for the financial year 2018 at the Annual General Meeting on April 18, 2019. This corresponds to a payout ratio of 27.9%.
The PUMA share was again included in M-DAX in June 2018, as the free float increased from just under 13% to 55% due to the reduction in Kering's shareholding and, as a result, the trading volume of the PUMA share also increased significantly. The share price developed very positively in 2018 and stood at € 427.00 at the end of the year. This represents an increase of 17.6% compared to the previous year's € 363.00. The market capitalization of the PUMA Group increased accordingly to around € 6.4 billion (previous year: € 5.4 billion).