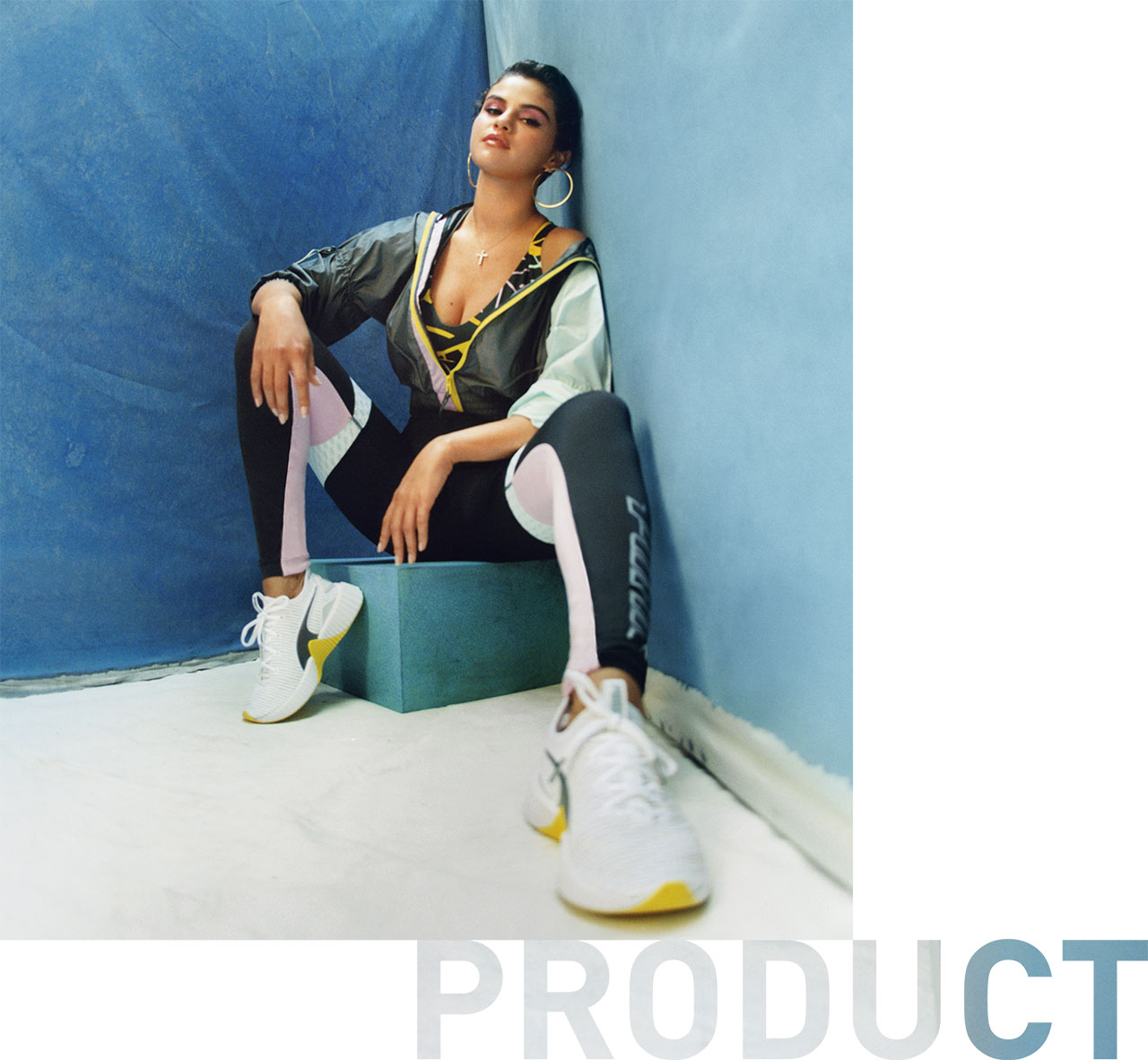 PUMA can look back on a great year in sports, filled with excitement, innovation, performance, and style.
Founded in 1948 by Rudolf Dassler, PUMA has been equipping the world's fastest athletes with innovative products ever since. Its strong reputation for fast and innovative product designs go across its Performance categories Football, Running and Training, Basketball, Golf, and Motorsport.
In addition, we keep pushing sports and fashion forward with our trend-setting Sportstyle category, which develops a range of lifestyle products that have their roots in sports.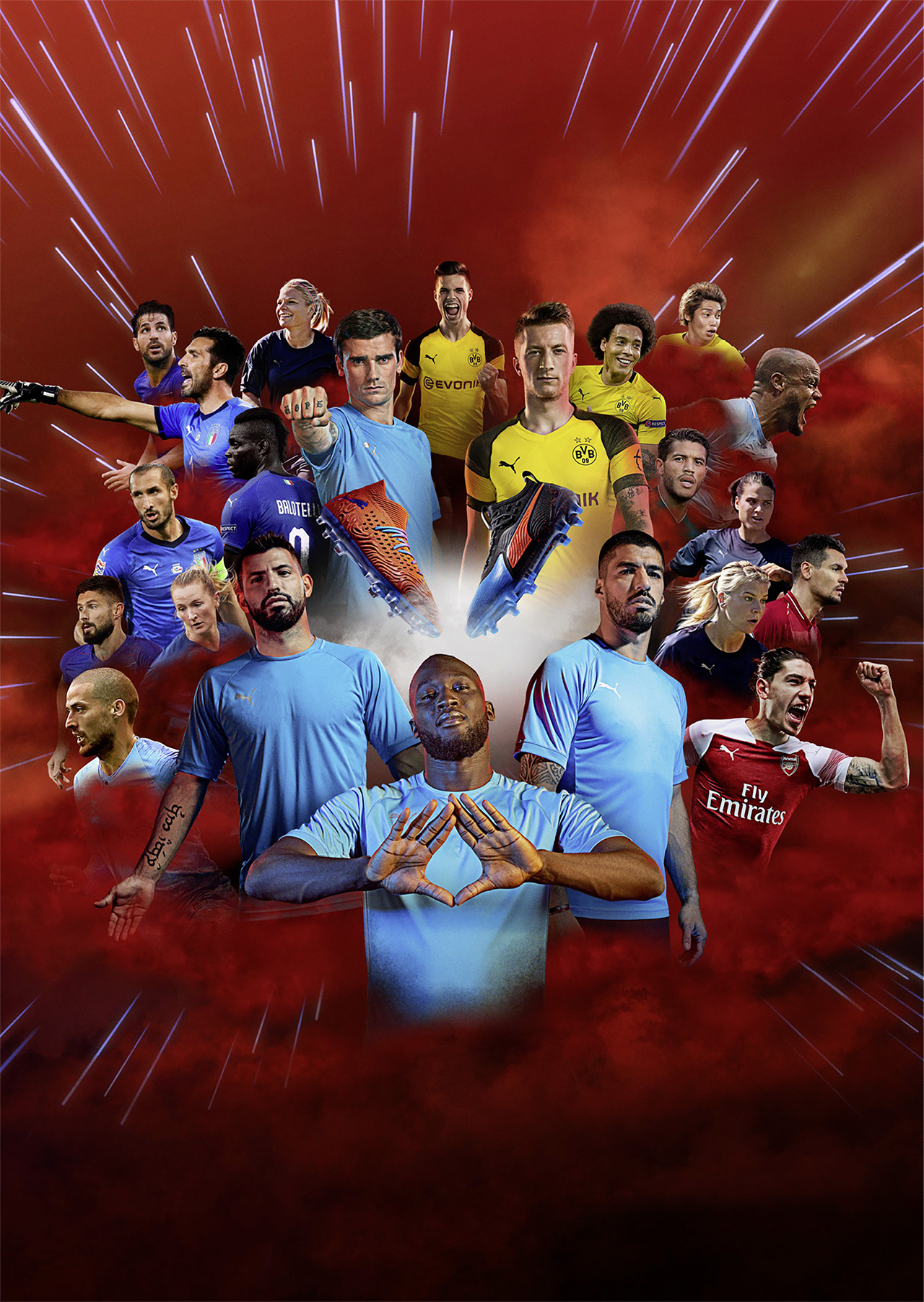 Teamsport
In 2018, PUMA FOOTBALL took its game to new levels by adding groundbreaking new products and signing new partnerships with exciting teams and world-class players. On top of this, our clubs and players enjoyed a very successful year, making waves across the world of football.
WELCOME TO THE PUMA FAMILY
In 2018, we succeeded in strengthening our position as a leading football brand, adding exciting teams and players to our roster.
European giants AC Milan, Olympique de Marseille, and Borussia Mönchengladbach joined the PUMA family, as well as Swedish top-flight team BK Häcken.
New player additions caused a buzz with the signings of Romelu Lukaku (Manchester United), Luis Suárez (FC Barcelona), David Silva (Manchester City), Vincent Kompany (Manchester City), Axel Witsel (Borussia Dortmund), and Dejan Lovren (Liverpool).
ILLUMINATING THE WORLD CUP
The undisputed highlight of 2018 was, of course, the FIFA World Cup in Russia. Of the four national teams representing PUMA, Switzerland reached the knock-out stages, while Uruguay made it to the quarterfinals.
Our individual players put up a remarkable show, above all Antoine Griezmann, who was voted "Man of the Match" as he led France to victory in the final. He was joined in lifting the trophy by fellow PUMA athletes Adil Rami and Olivier Giroud. Griezmann and newly-signed Belgian striker Romelu Lukaku were among the top three goal-scorers in the tournament.
These performances showcased our tournament footwear, the "illuminate pack." We provided both FUTURE and PUMA ONE boots with new technology and material upgrades elevated in a striking color combination.
The PUMA ONE introduced FUSEFIT technology to a football boot for the first time, delivering a more streamlined silhouette and a super-soft-kangaroo -leather upper for supreme comfort and touch on the ball. The FUTURE received an evolved NETFIT upper for even more customizable lacing options, thus improving our players' agility and reactivity on the pitch.
Bolt links up with Borussia Dortmund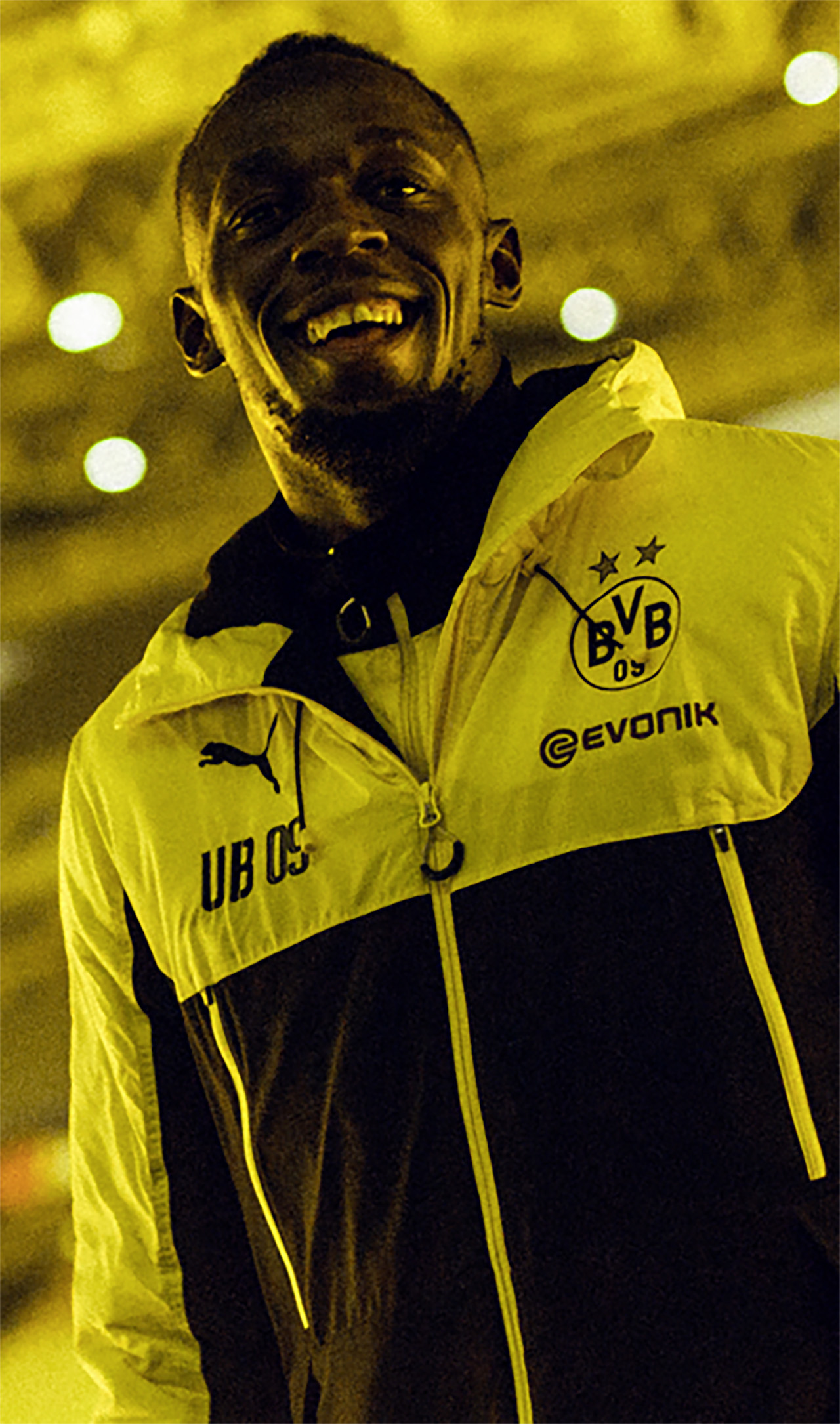 One of the biggest surprises in football in 2018 came in the form of the world's fastest man, Usain Bolt, joining up with Borussia Dortmund. Immediately following the end of his active athletics career, Usain linked up with the Bundesliga giants for a training experience. During an exhibition game at the club's training center, Bolt scored two goals and impressed with his performance to the delight of a huge crowd and international media that had gathered to see the sprint legend.
Following his BVB experience, Usain captained the World XI at 2018 Soccer Aid game played in front of 72,000 spectators, helping to raise a record £ 6.7 million for UNICEF. Usain subsequently played for Central Coast Mariners in Australia, featuring in a series of friendly games.
PUMA PLAYERS: FOREVER SUCCESSFUL
The year ended on a fantastic high for Ada Hegerberg (Olympique Lyonnais Féminin), who was the debutant winner of the women's Ballon D'Or award. In her honor, PUMA gifted Ada with her very own customized version of the PUMA ONE, engraved with the words 'Believe in Yourself' – a true inspiration to young and ambitious women in football. The entire Ballon D'Or top three consisted of PUMA players, with Pernille Harder (VfL Wolfsburg) and Dzenifer Marozsán (Olympique Lyonnais Féminin) as runners-up. In the men's category, world champion Antoine Griezmann was ranked third, while Sergio Agüero (Manchester City), Diego Godín (Atletico Madrid), and Luis Suárez (FC Barcelona) were shortlisted.
MORE HEAT COMING IN 2019
After such a successful year full of achievements, new product releases, disruptive campaigns, and new signings, it is vitally important to keep this momentum going. That's exactly what we aim to do in 2019, with even more exciting partnerships and products coming your way.
On the product side, we will bring a new upgraded version of our two football boot silos FUTURE and PUMA ONE with the release of the POWER UP pack. Under the seasonal theme of gaming, we will leverage the crossover between gaming and football to engage the modern football consumer.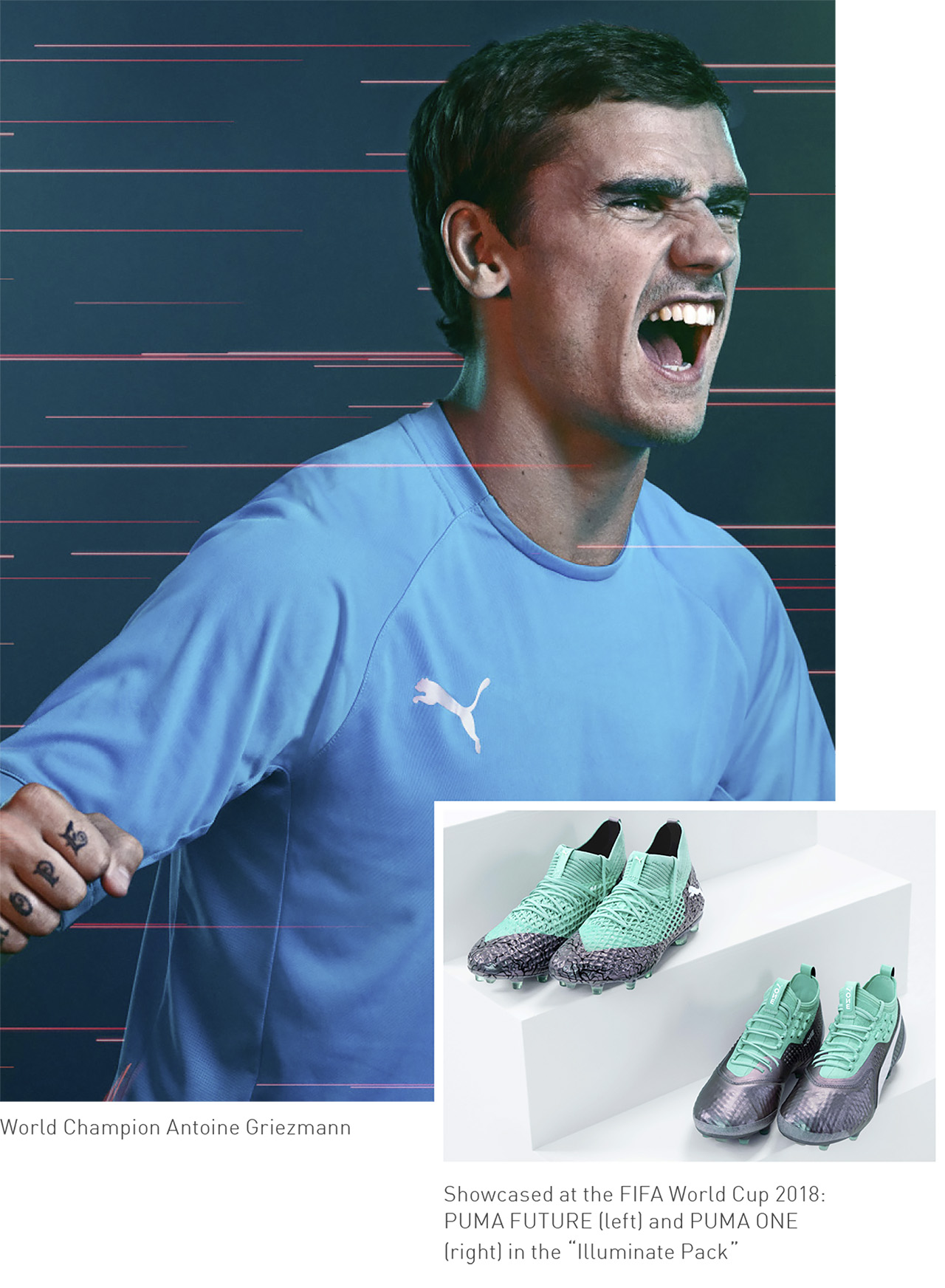 In terms of new signings, we are proud to announce that PUMA will be partnering with the City Football Group in a groundbreaking agreement. This partnership will encompass the sponsorship of Manchester City (England), Girona (Spain), Melbourne City (Australia), Sichuan Jiuniu F.C. (China), and Club Atlético Torque (Uruguay). They will be joined by Valencia CF in Spain's La Liga, completing our portfolio of title-challenging clubs across Europe's top five leagues.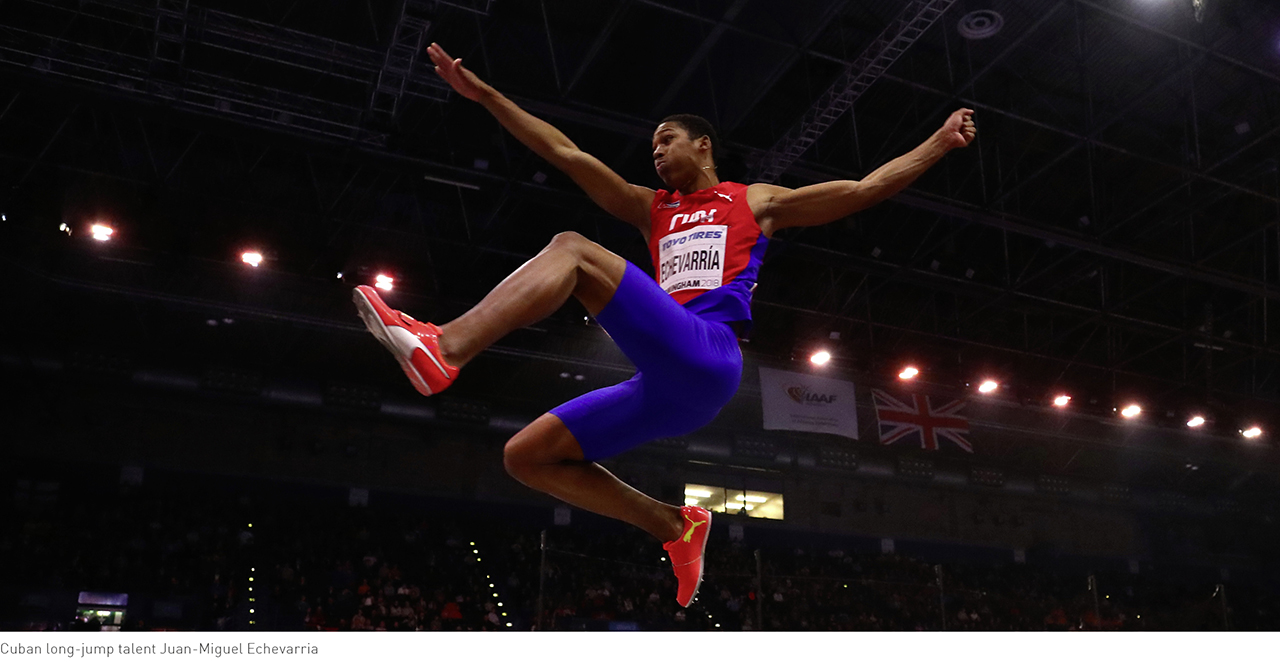 Running & Training
What an extraordinary year for PUMA's Running & Training unit, filled with numerous medals, records, and exciting new signings.
It is the very essence of PUMA to provide the fastest performance products to benefit the fastest athletes on the planet. Blending technology, style, and culture, we help athletes rule the track and become FOREVER FASTER.
HIGHER, FASTER, FARTHER
The legendary blue tartan tracks of the Olympic Stadium in Berlin were the showcase of one of the highlights of 2018's athletic year: the 24th European Athletics Championships. PUMA of course did not miss out in the competition. Our latest partner, the Norwegian Athletics Federation, reached new heights, finishing 8th in the nations' rankings – their best result in the history of this tournament – while high jumper Marie-Laurence Jungfleisch won her first international medal, getting bronze for the German team.
At the IAAF World Indoor Championships, triple jumper Will Claye won the gold medal in Birmingham, while the young Cuban long-jump talent Juan-Miguel ­Echevarria also took first place in his discipline with a jump of 8.46 meters. Later that year, he ended up the 2018 World leader in Long Jump with a result of 8.68 meters.
At the CAC Games, which took place in Colombia, PUMA athletes won a total of 16 gold medals. And during the NACAC Senior Championships in Toronto, which was co-sponsored by PUMA, additional medals were added to the collection.
Jamaican discus thrower Fedrick Dacres achieved his farthest throw, being nominated 'Athlete of the year of NACAC' after a very impressive season.
Other notable results of the NACAC Games were Jenna Prandini's gold medal in the 100 meters. Jenna was also the second female – after Merlene Ottey in 1982 – to win the NCAA 100 meters and the National Outdoor 200 meters in the same year.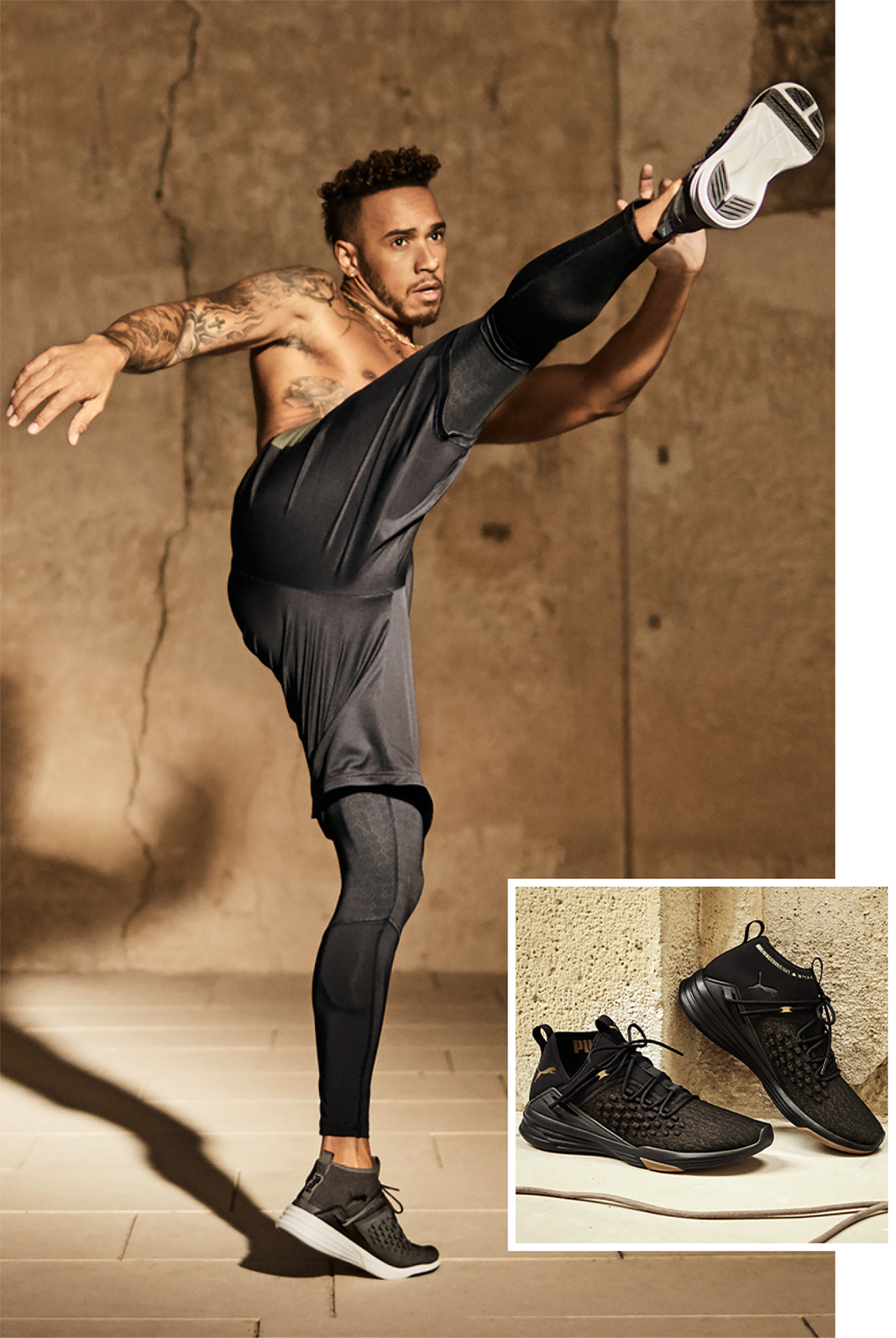 PUMA introduces HYBRID – designed for the everyday runner
Fusing technology with style, PUMA introduced the new footwear silhouette HYBRID in 2018. HYBRID reinvented midsole technology, combining two of PUMA's most performative technologies – IGNITE and NRGY. While the NRGY beads provide ultimate cushioning, the IGNITE FOAM returns all energy. Instant comfort is provided thanks to the knitted upper and its sock-like fit. This runner is a real game-changer for both men and women.
Lewis Hamilton takes 24 / 7 to the next level
Lewis Hamilton loves workouts that are not constricted to the gym. The multiple Formula One world champion was once again the face of the 24 / 7 campaign, that offers men a wardrobe that performs not only in the gym, but also on the street. PUMA and Lewis Hamilton took over Marseille for the launch of the training shoe Mantra FUSEFIT. With its aggressive rubber wrap-up, this shoe provides stability in every workout while allowing quick, agile movements. The knitted FUSEFIT upper allows customizable lacing while maintaining a sock-like feel. This shoe helps men find their sport and push themselves to the next level.
Team Faster goes to Miami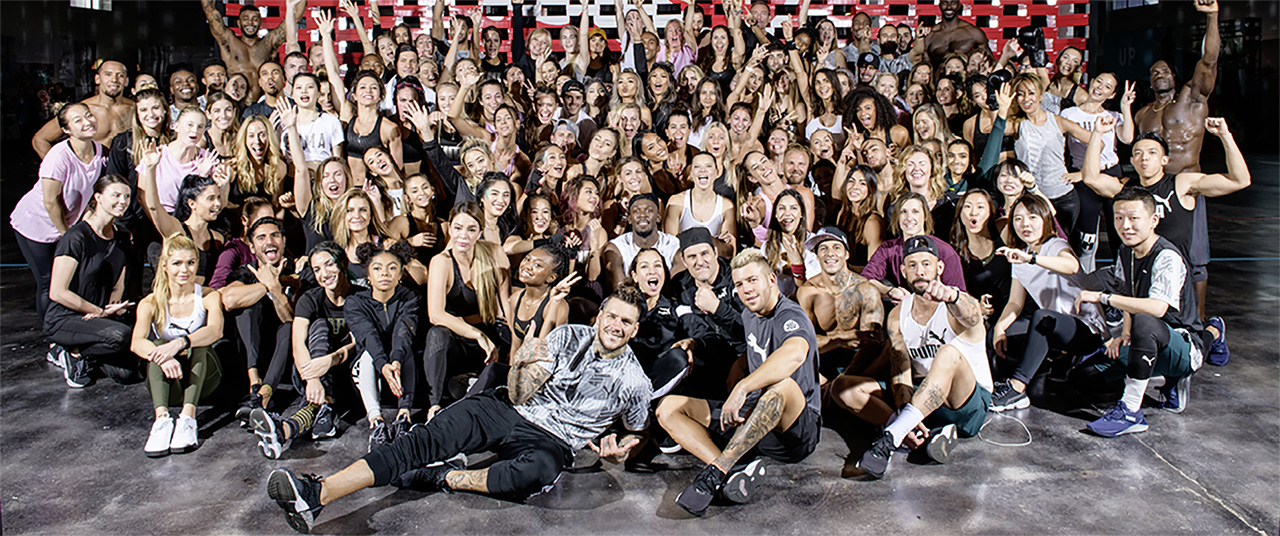 White beaches, palm trees, romantic sunsets: Miami has a lot to offer. This year, the Magic City hosted PUMA's annual "Team Faster Summit." The perfect background to welcome a new member to the team: supermodel Adriana Lima, who is not only a bad ass on the runways but also a kick-ass boxer. She was bold enough to challenge Usain Bolt in the ring. He admitted: "I might be the fastest with my feet, but she certainly is fast with her fists." Having its fastest team in town, PUMA unveiled its latest training innovations: the MODE XT for women and JAAB XT for men.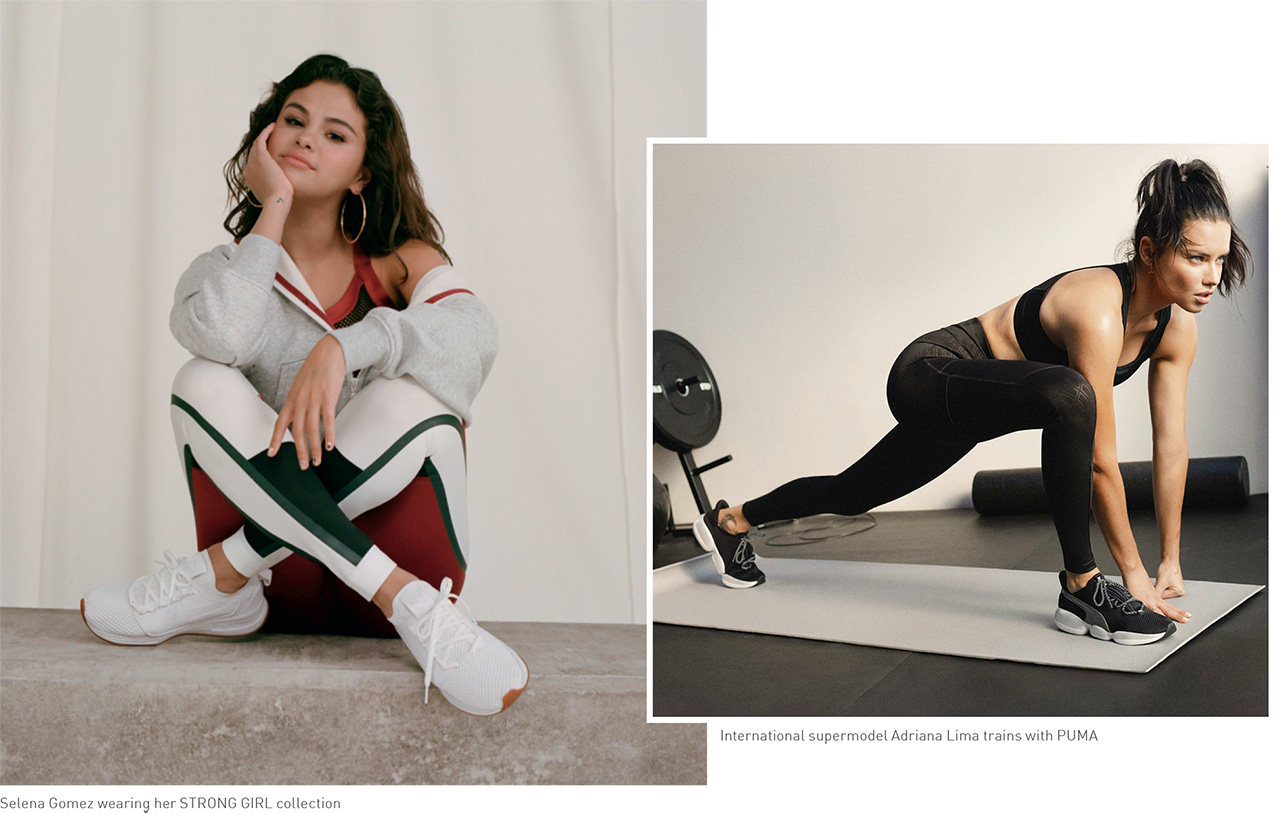 Strong Girl Selena defies the norm
As the ultimate inspiration for daring women, Selena Gomez is the muse behind PUMA's new Women's training silhouette DEFY. She bravely opposes conventions and carves her own lane without apologizing. Its platform sole, inspired by the resurgence of the chunky-shoe trend, defies training standards and goes beyond style. The platform fully supports side-to-side movement, includes PROFOAM (PUMA's energy-return foam), and provides lightweight cushioning that adds ­functionality and brings style to training.
The most anticipated collection of the year was the STRONG GIRL collection, Selena's first collaboration with PUMA and a statement of strength and confidence for today's girls. The collection comprised footwear, apparel, and accessories for bold and feminine looks. 
Blending Selena's personal style with PUMA's classic court and running shoes, the SG Runner, a new shoe designed and constructed by Selena Gomez, was one of the key pieces of the collection.
From Runway to the Gym, Adriana Lima joins the Puma Family
In autumn 2018, we were proud to international supermodel Adriana Lima as the latest ambassador for our Women's Training business. Adriana Lima is a role model to millions of women, inspiring strength, grace, and confidence. She is not only a supermodel who works out to prepare for fashion shows, but she loves sports, especially boxing. Lima takes our female consumers on her ­personal training journey, sharing her healthy and balanced lifestyle with them.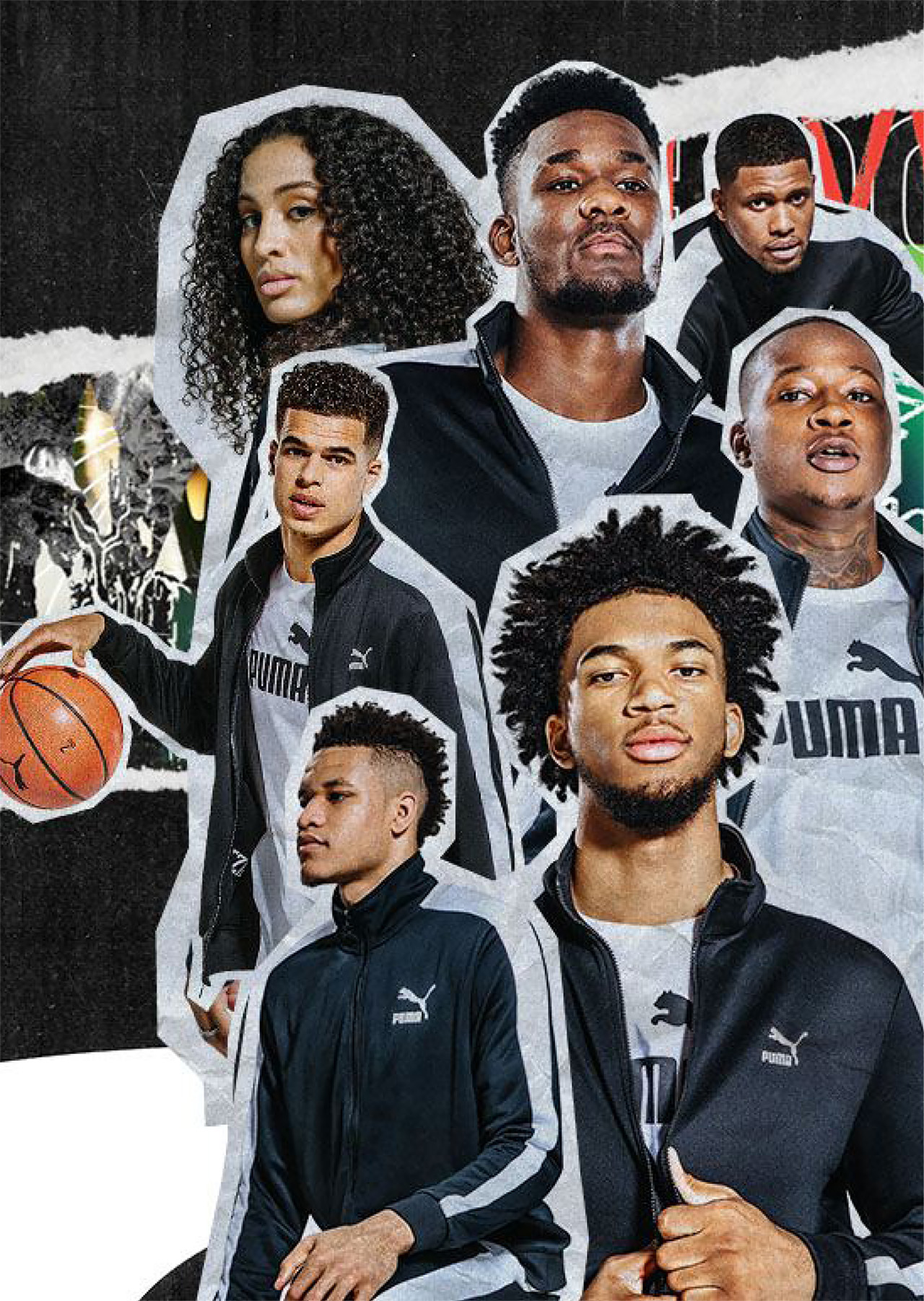 Basketball
Back to the hoops
After a 20-year absence from the Basketball world, PUMA made a sensational return to this sport in 2018. With our rich heritage, our unique approach and strong stance in culture PUMA made headlines globally, excited the world of basketball, and disrupted the U.S. marketplace.
Looking at basketball through the cultural lens
For PUMA, Basketball goes way beyond what happens on the court. Our goal is to enhance and uplift performance basketball by mixing in the cultural elements that surround the sport, breaking away from traditional lanes by putting our focus on music, art, community, entertainment and fashion.
To make this happen, we partnered with none other than one of entertainment's biggest names: cultural icon Jay-Z. Taking the role of PUMA's Creative Director for the basketball category, Jay now oversees our creative strategy, creative marketing and product design.
The PUMA Hoops Squad
To bring our strategy to life, we managed to secure some of the top players of the 2018 NBA Draft in  Marvin Bagley III (Sacramento Kings), Deandre Ayton (Phoenix Suns), Zhaire Smith (Philadelphia 76ers), Michael Porter Jr. (Denver Nuggets), and Kevin Knox (New York Knicks). We also signed partnership deals with Rudy Gay (San Antonio Spurs), Danny Green (Toronto Raptors), DeMarcus Cousins (Golden State Warriors), Terry Rozier (Boston Celtics), rounding out an extremely impressive roster of NBA talent.
We were also proud to sign the WNBA's biggest star, Skylar Diggins-Smith (Dallas Wings), and anticipate adding many more players from the WNBA in the coming seasons.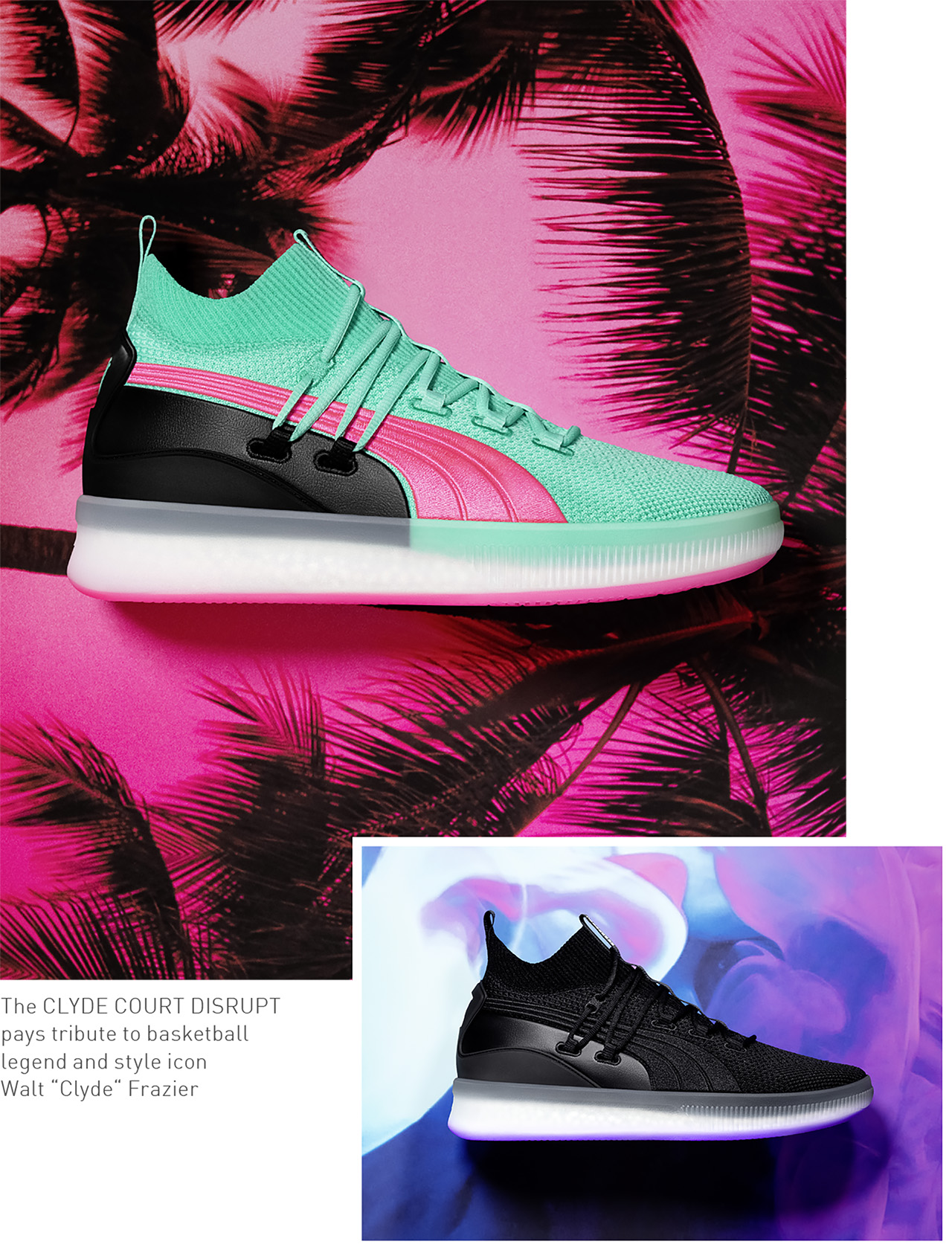 PUMA disrupts the court
Our approach of disrupting the game and conquering the hearts of basketball players and fans is epitomized by the launch of our first new performance Basketball footwear in nearly two decades: the Clyde Court Disrupt. The aggressive colorway and sleek silhouette are tribute to the spirit and style of basketball icon Walt "Clyde" Frazier. It features PUMA's latest innovations in footwear technology for an enhanced performance on the court: a lightweight knit upper paired with our new Hybrid Foam technology, which offers extremely responsive cushioning that reduces the impact of landings and enables quick movements.
The Disrupt triggered positive noise around the industry and put PUMA HOOPS into the daily conversation of basketball in the U.S. market.
We're just getting started…
For 2019, we plan to continue on our successful path. We will not only expand our footwear range, but also add apparel and accessories to our collection – to be worn on and off the court.
And of course we will have our eyes on potentially expanding our sports marketing roster in both the NBA, WNBA, and this year's upcoming 2019 draft.
Lifetime contract for Walt "Clyde" Frazier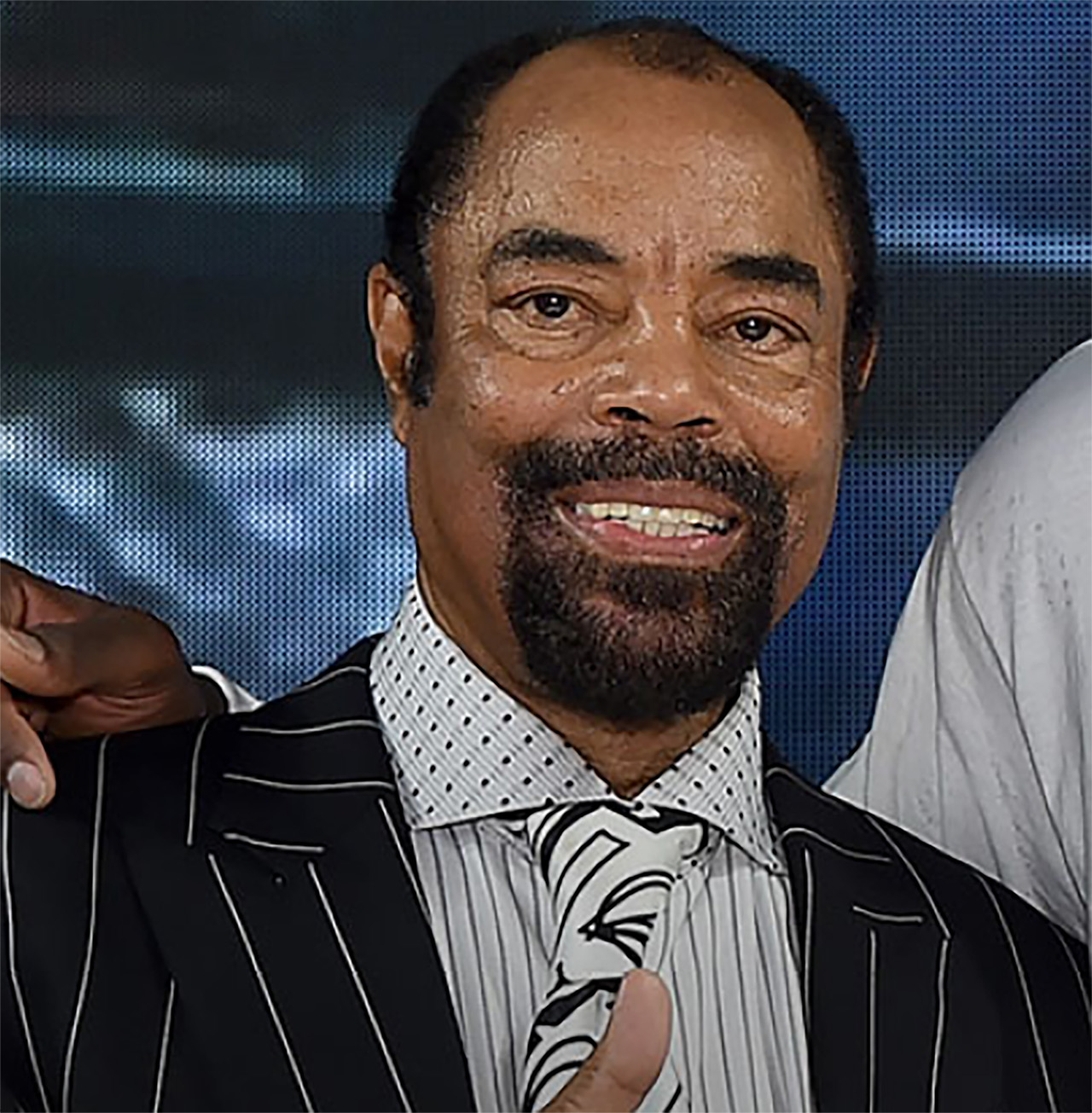 New York City, 1973, NBA shooting star Walt "Clyde" Frazier partnered up with PUMA with the aim of standing out. The result: a light low-top suede leather shoe that gave him the support and flexibility he needed to perform his signature moves. But not only that. Their ever-changing color combinations made him a style icon.
Last summer, we paid homage to our heritage in basketball and signed Walt "Clyde" Frazier to a lifetime contract.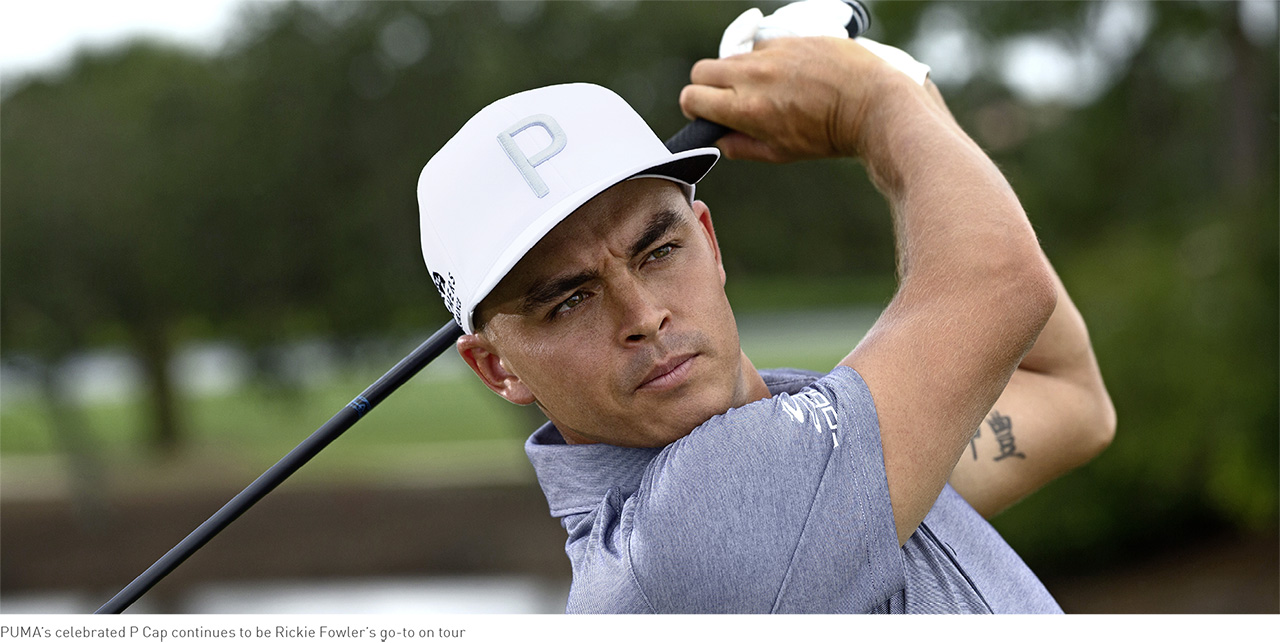 Golf
COBRA PUMA GOLF Pushes the Boundaries of Performance & Style
In 2018, COBRA PUMA Golf stood for innovation, performance, and style, ­delivering on-trend, performance-ready golf apparel, footwear, and accessories along with game-changing equipment that helped golfers play with confidence and style, all in the pursuit of game enjoyment.
Ambassadors With Winning Style
Our athletes and ambassadors are bold, stylish, and extremely talented. In 2018, they were crucial in increasing awareness, generating excitement, and providing Tour-level validation for our key products.
Rickie Fowler closed out 2017 with a record-breaking win at the Hero World Challenge, followed by a successful 2018 season that included six top 10s, and a stellar runner-up finish at The Masters at Augusta National.
Bryson DeChambeau's 2018 was one for the history books, finishing with nine top 10s, and four wins, two of them coming during the exclusive FedExCup Playoff events, catapulting him to number five in the Official World Golf ­Rankings.
Lexi Thompson closed out the year, cruising to a four-shot victory at the CME Group Tour Championship, displaying her tremendous talent, undeniable determination and unwavering drive to succeed.
COBRA Golf – Doing Things Differently
When it comes to product design and creation, COBRA Golf continues to push the boundaries of what is possible, delivering groundbreaking technologies throughout its entire product lineup.
In 2018, the brand introduced the KING F8 and F8+ drivers, featuring the industry's first CNC Precision Milled driver face, paired with revolutionary 360 Aero Technology, delivering the smartest, fastest, and most precise driver. COBRA's first fully-machined driver face utilizes a unique multi-directional CNC milling pattern that delivers the highest level of precision for superior performance.
Additionally, COBRA continued to revolutionize the golf space with the introduction of the first set of smart golf clubs, incorporating COBRA CONNECT's electronically-enabled grips in the entire KING F8 family. With COBRA CONNECT, golfers can go beyond guesswork with detailed statistics and analysis on distance and accuracy, and track improvements with every club in the bag.
COBRA continued to advance the ONE Length trend, introducing KING F8 ONE Length, the second iteration of irons in the category. Aiding in the success of the ONE Length irons, which surpassed all 2018 sales forecasts, was DeChambeau's incredible play and multiple wins, providing crucial Tour validation and awareness around the unique irons.

On-Trend & Performance Ready
The Spring / Summer'18 collection showcased fresh, fashionable patterns, a versatile color palette, and cutting-edge technical elements designed to enhance on-course performance and provide looks that turn heads whether golfers are in bunkers or at the office. 2018 also introduced new PWRSHAPETM Technology in women's bottoms, engineered to provide a smooth, slimming effect and the ultimate support. The four-way stretch fabric is soft, breathable, and provides unrestricted range of motion, while the bonded waistband and flatlock seam construction deliver maximum comfort.

More Excitement and Innovation to Come…
COBRA Golf will continue to introduce breakthrough technologies in 2019, creating buzz and excitement around its innovative equipment, including the KING F9 SPEEDBACK line up, delivering the ultimate formula for speed.PUMA Golf is on trend to continue making a splash in the footwear category with 'NXT' level golf shoes as well as on the apparel side with its highly anticipated Jackpot Pant and new FUSIONYARN Flex and ALTERKNIT Technology in its apparel.
Suede G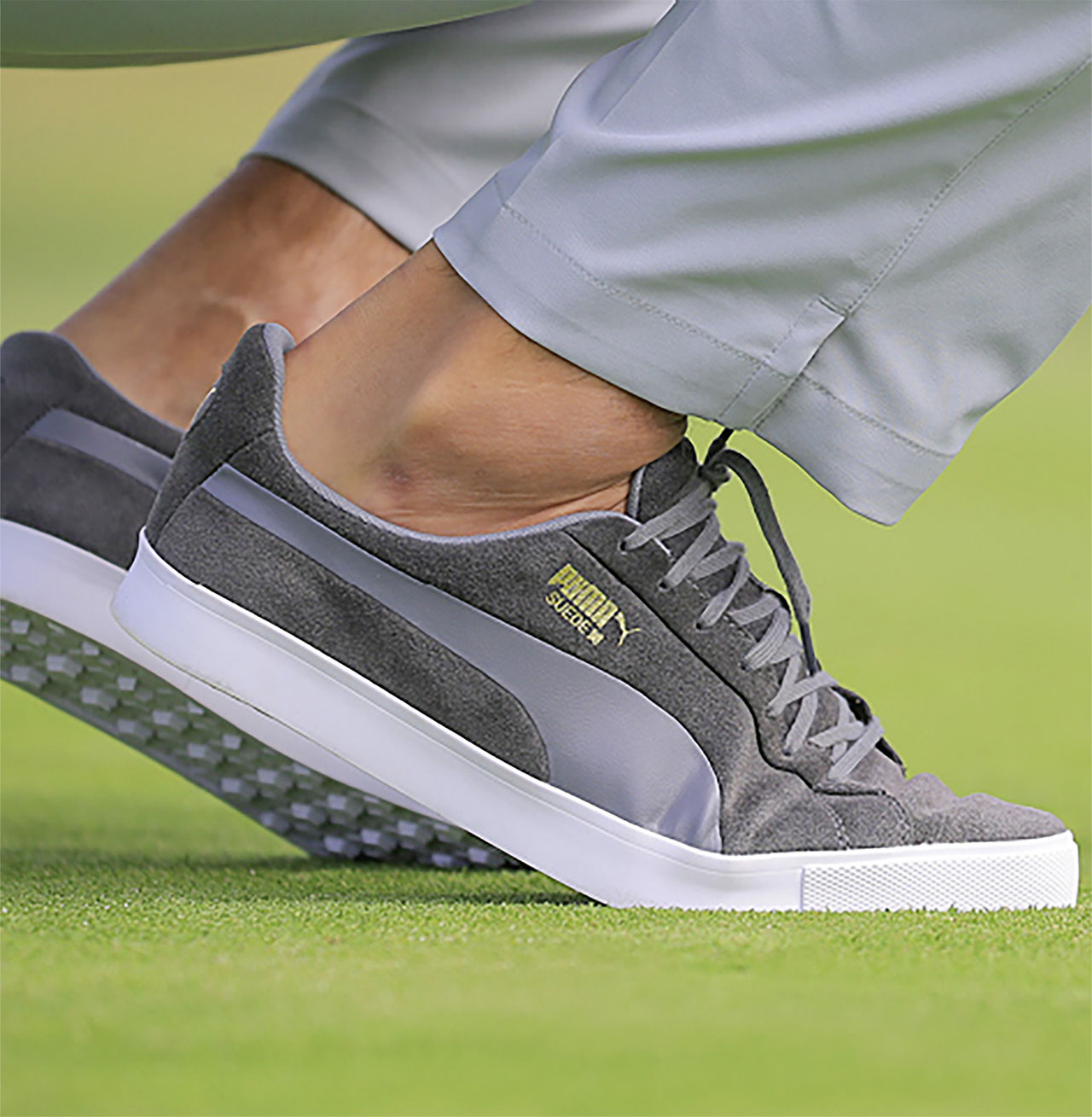 To celebrate the 50th anniversary of PUMA's iconic Suede's, the brand introduced the Throwback collection which included the Suede G, the same iconic style of a classic Suede shoe with modern performance technologies ideally suited for the golf course. Building off the retro design of the Suede G, PUMA's Throwback Collection for men and women included accessories and apparel that pay homage to yesteryear, including a polo, corduroy bottoms, P Cap, and a T7 Jacket, delivering timeless style from head to toe.
MOTORSPORT
Fast, faster, PUMA Motorsport: We look back at an incredible year of speed, passion, and pole positions.
Driven by innovation, creativity, and state-of-the-art technology, we deliver ultra-high-performance racing equipment to the world's fastest teams and drivers, giving them the confidence and safety they need to perform on the racetrack, while offering stylish apparel, footwear, and accessories to their fans.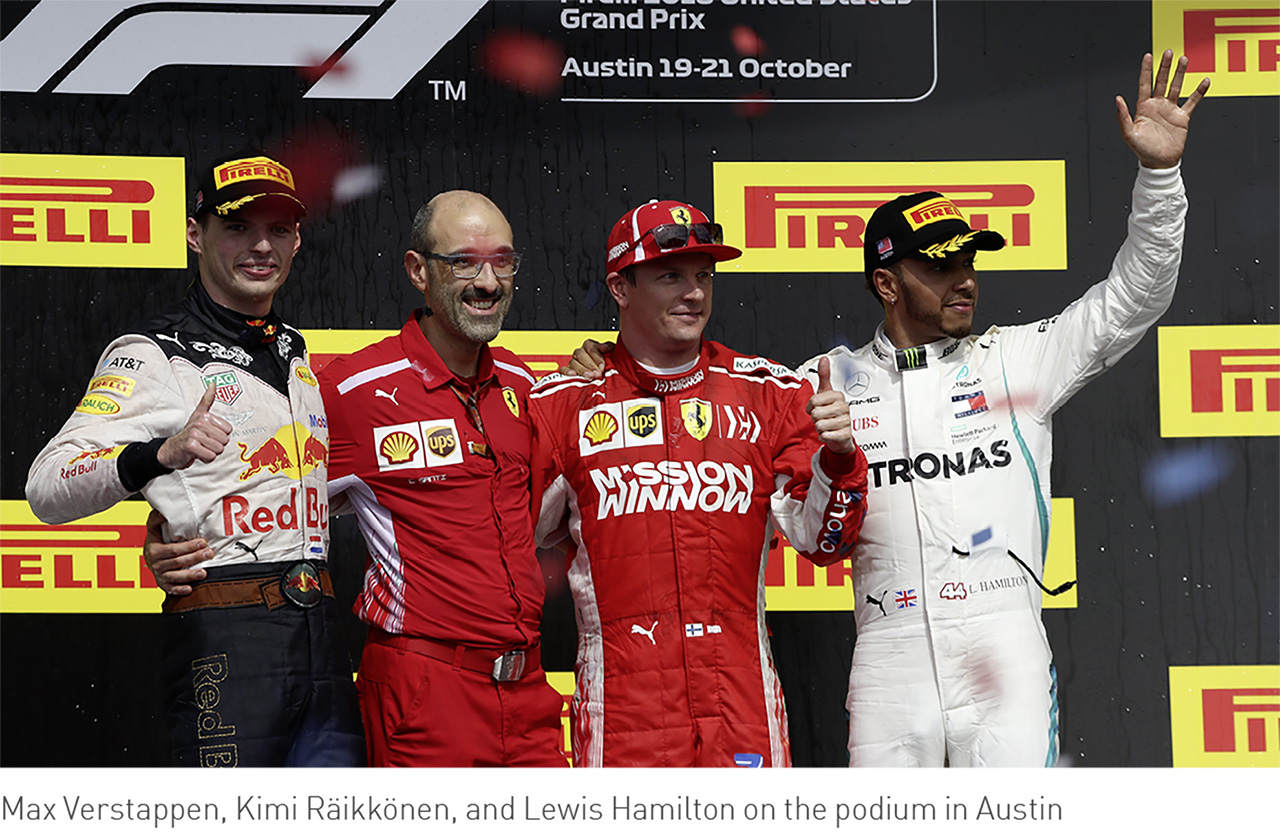 No podium without A PUMA
In Formula One, PUMA partners with the three teams that have been dominating the sport's top flight for years: Scuderia FERRARI, MERCEDES-AMG PETRONAS, and Aston Martin RED BULL RACING.
2018 marked the year in which Lewis Hamilton was crowned World Champion for the fifth time. He also spearheads our Men's training campaign 24 / 7. ­Winning eleven races this season, he also allowed his MERCEDES-AMG PETRONAS team to take the Constructors' World Championship for the second time in a row. Scuderia FERRARI and Aston Martin RED BULL RACING followed the unstoppable Mercedes team, ranking second and third respectively.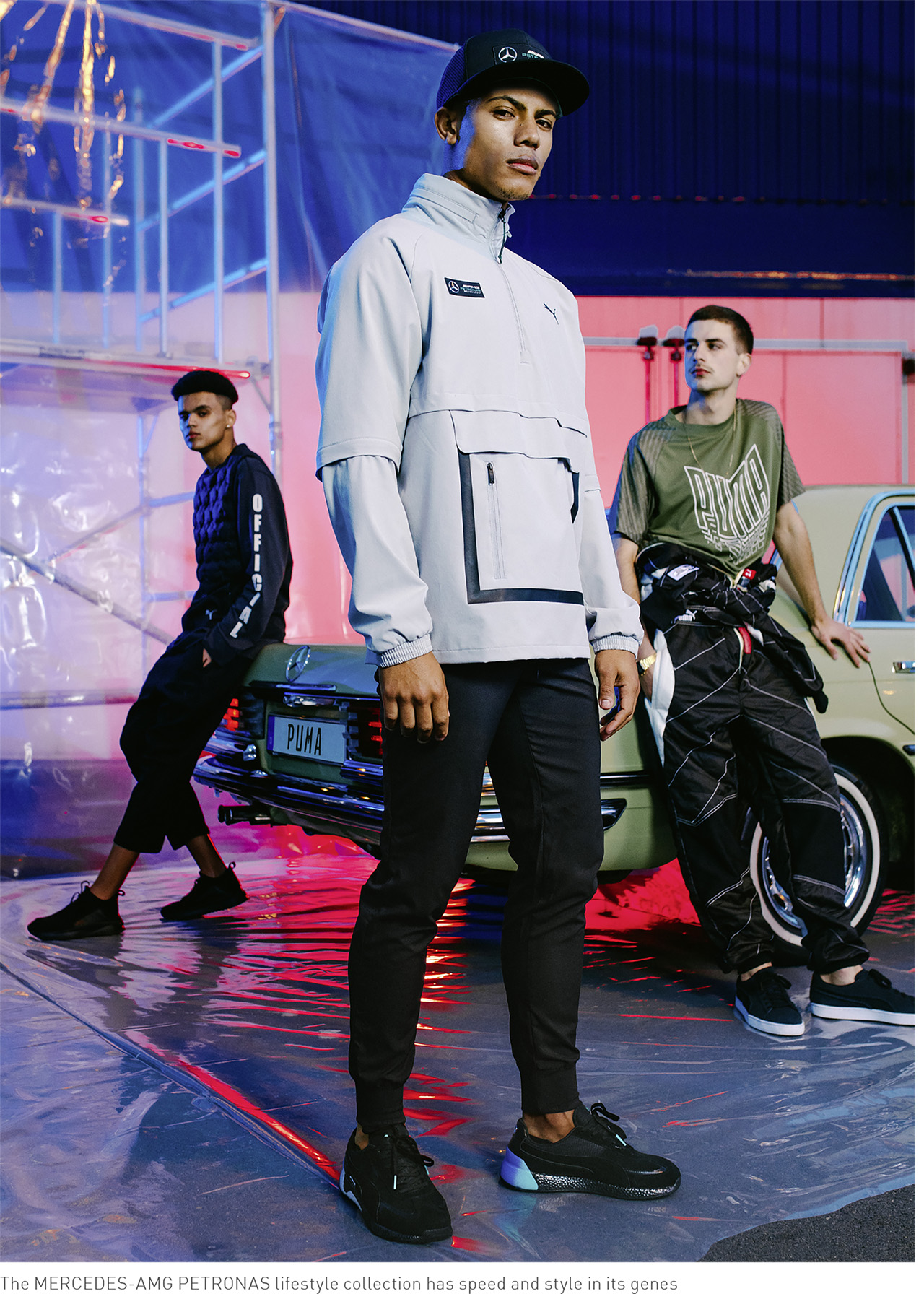 In addition, we are official suppliers of BMW Motorsport in the racing series DTM, IMSA, WEC, and Formula E, and of Team Penske in NASCAR and IndyCar, providing them with the best possible equipment to be FOREVER FASTER.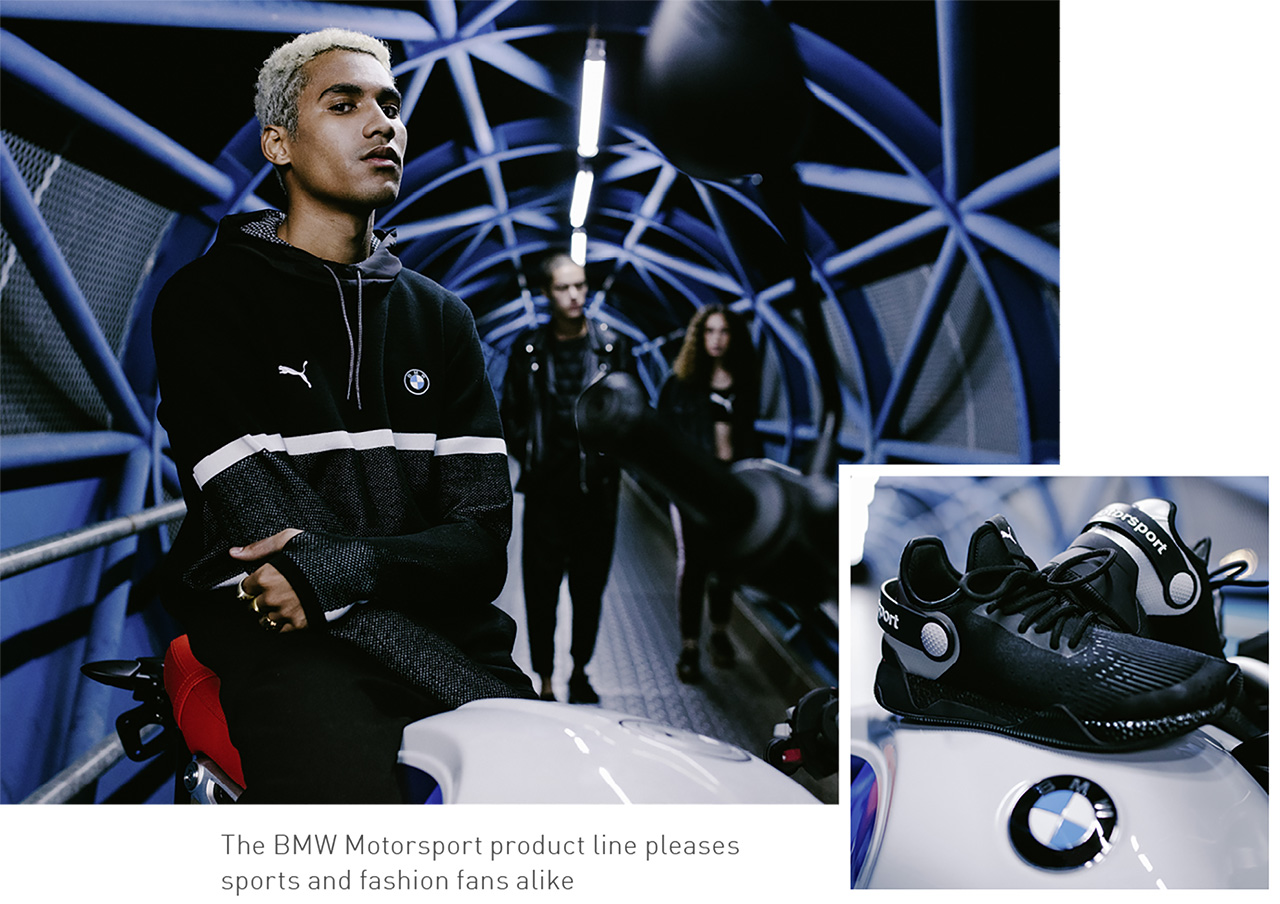 From the racetrack to the cat walk
We fuel the passion of motorsport fans across the globe with our PUMA Lifestyle product range, taking inspiration from the performance gear worn by our partnered drivers and teams. Our licensed apparel, footwear, and accessories collections leverage both the unique identity of the racing teams and PUMA's heritage in the world of motorsport.
In 2018, we experienced a true hype for PUMA Motorsport products, as excellent results were achieved across all product categories and licenses, resulting in increased shelf-space in stores and promising years ahead.
We reached a broader consumer base, going beyond the classic Formula One fan, as we benefitted from the growing popularity of BMW Motorsport and MERCEDES-AMG PETRONAS lifestyle apparel in the hip-hop scene.
We continued to push design and fashion forward, launching groundbreaking products such as the Evocat Sock LS sneaker, which brought PUMA an additional iF Design Award in 2018. Designed for the Scuderia FERRARI lifestyle range, this astonishing shoe fuses PUMA's evoKNIT technology with street style and comfort.
Moving the race forward to the future
With a form that recalls the sleekest lines on race cars, PUMA created one of the most iconic sneakers of the early 2000s: the Future Cat. Updating this asymmetrical, avant-garde silhouette with our latest technology, we brought new excitement for low-profile sneakers to motorsport fans worldwide.
Full speed into 2019
We are proud to announce a new, prestigious partner: Porsche Motorsport. Starting 2019, PUMA will become technical supplier of the Porsche work teams competing in the FIA World Endurance Championship (WEC) and the IMSA WeatherTech SportsCar Championship (IWSC). Additionally, PUMA enters a strategic partnership with Porsche Design, which features engineered products that will perform at the top level and stand for the fusion of lifestyle and performance wear.
Special race gear for a very special occasion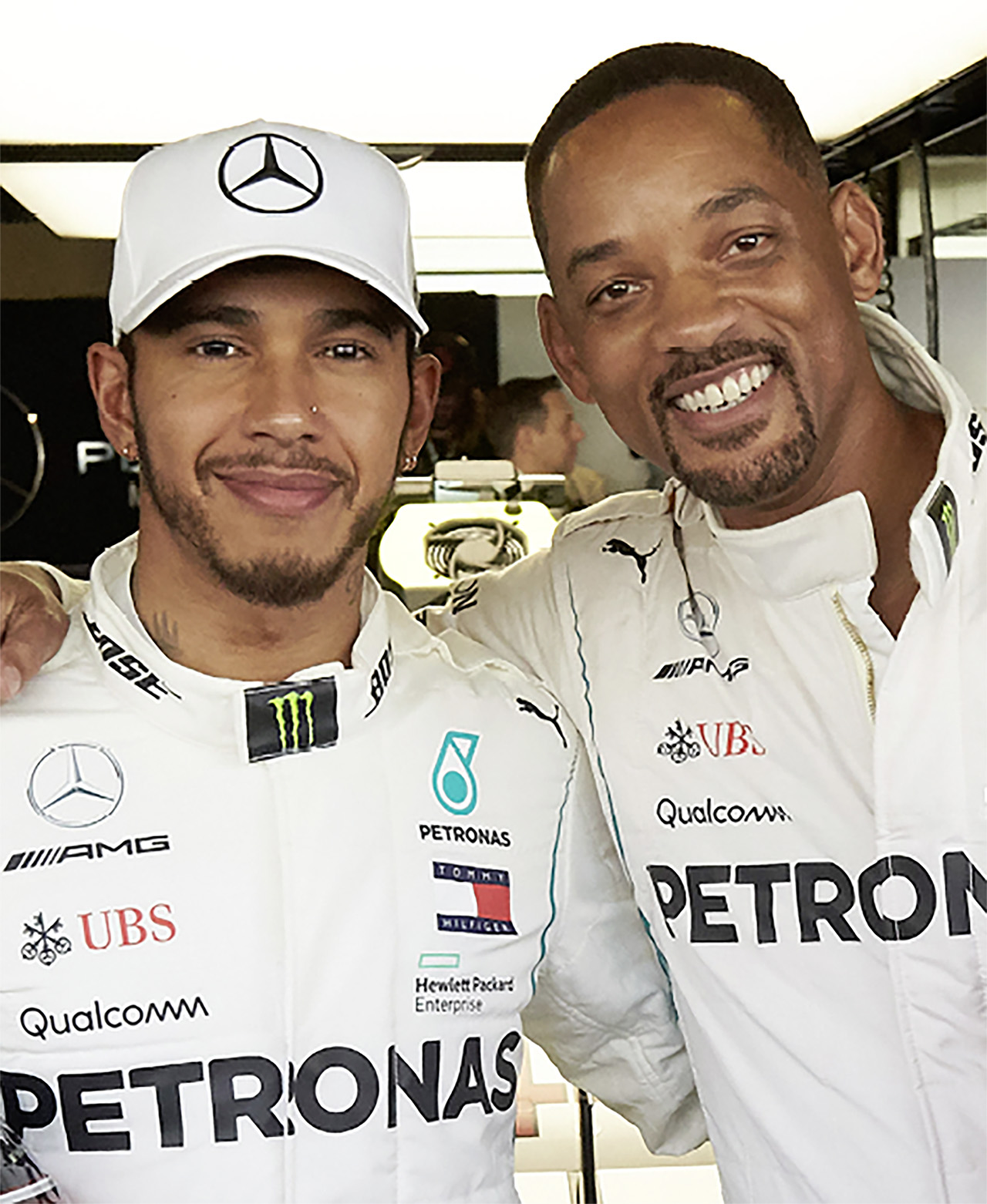 At the Abu Dhabi Grand Prix, Hollywood star Will Smith played a viral social media prank on his buddy Lewis Hamilton. Smith kidnapped Hamilton, tying him to a chair right before the race. The "Men in Black" star wanted to get a "once in a lifetime opportunity," discreetly replacing the Formula One champion to compete in the race himself.
PUMA was one of the co-conspirators, providing Will Smith full MERCEDES-AMG PETRONAS Motorsport race gear, which was specially crafted for him in Italy. Luckily, this was all a joke and Hamilton could compete and win the season's final race.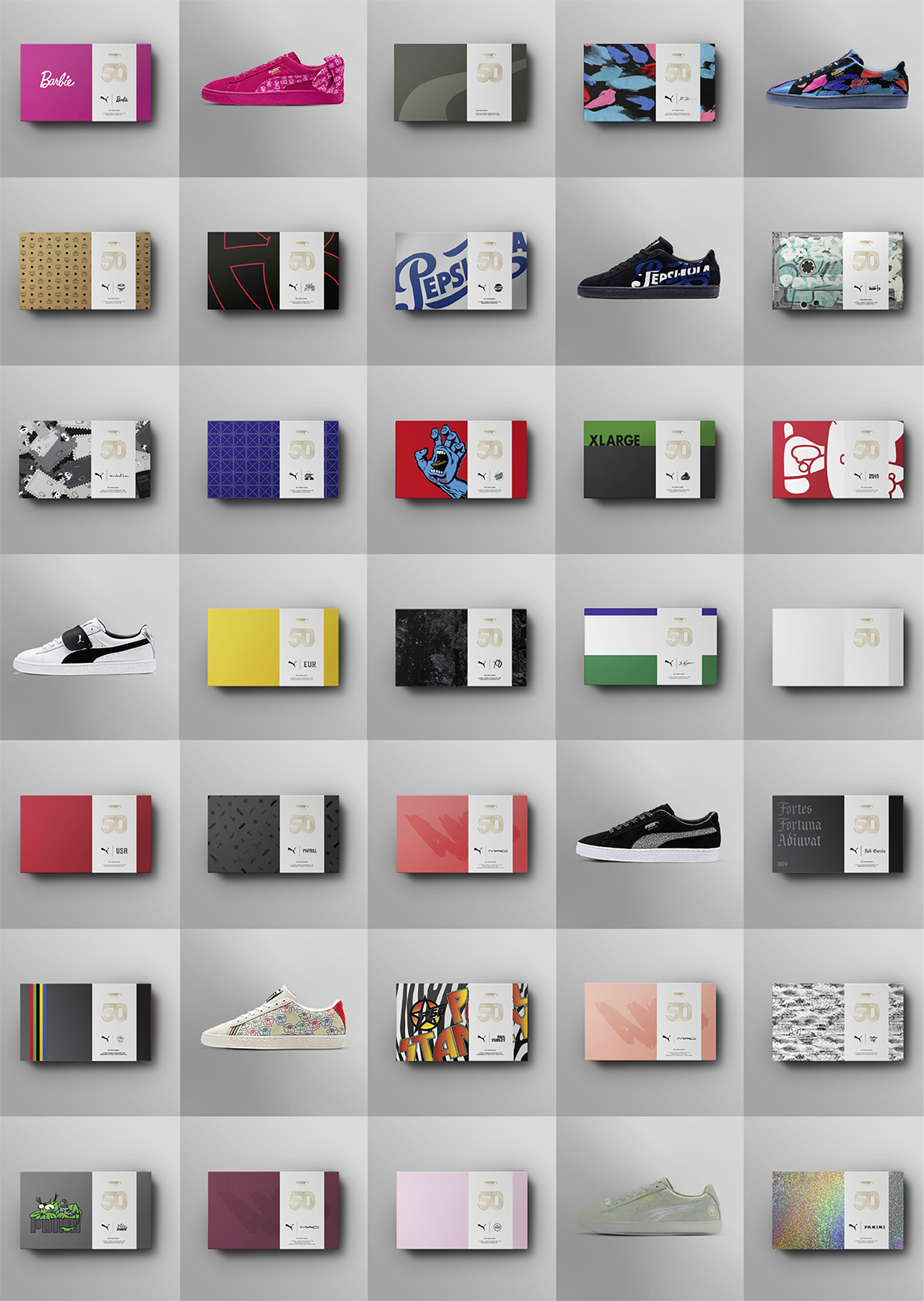 SPORTSTYLE
Anyone as passionate about sports as we are can show it even outside of the gym, field, or track.
With PUMA's range of innovative, sports-inspired lifestyle products as well as classic silhouettes, we reach out to anyone looking for an authentic style rooted in sports. Our Sportstyle designs reflect our rich sporting heritage and attitude, and the message is clear: We're always Forever Faster.
SUEDE 50 #FORALLTIME
Celebrating the SUEDE's legacy with the SUEDE 50 campaign, PUMA tapped into creatives, designers, and artists to put their spin on the iconic silhouette. From Swarovski crystal-studded sneakers to designs inspired by MCM, Pepsi, Barbie, and Hello Kitty, the Suede's 50th anniversary celebrations brought to life unique iterations of the classic silhouette under the motto #FORALLTIME. A must-have sneaker for every generation over the last five decades, the timeless classic rules the streets in style.
WHERE THE GYM MEETS THE RUNWAY
Continuing our commitment to empower women with the right products, PUMA launched street-ready silhouettes that epitomized their individuality, style, and performance. Keeping the sneaker game on point, we introduced an Archive-inspired all-new CALI for women, featuring brand ambassador Selena Gomez. Channeling West Coast vibes, the re-imagined CALI silhouette ­conquered the streets in style with its cool and understated aesthetics.
With progressive design and performance-inspired details, the MUSE ­collection launched in 2018 echoed PUMA's #DoYou campaign, inspiring women to be confident, motivated, and uncompromising in every aspect of life. Sported by brand ambassador Cara Delevingne, the sneakers epitomized ­individuality, style, and performance.
FUTRO – A MIX OF FUTURE AND RETRO
FUTRO is where we react to and influence street culture. In 2018, PUMA ­embraced the future and honored the past by resurrecting OG-inspired styles with the launch of two new Futro franchises: THUNDER and RS. Each shoe ­remixed current trends with classic PUMA details and technologies.
FUTRO is a term originally conceived by PUMA's SELECT partner ADER ERROR, and is used by PUMA as a new product classification and design ethos, guiding us as we create future street icons with our retro sport DNA.
Thunder
The brand's unconventional approach to chunky design first came to the fore with the launch of THUNDER. Inspired by the 90's running silhouette and the PUMA x McQueen ­collaboration, the sneakers payed homage to past collaborations and silhouettes ahead of their time. The exaggerated tooling, blown-up proportions, and loud color-blocking ­reserved a spot for the THUNDER in the global fashion community.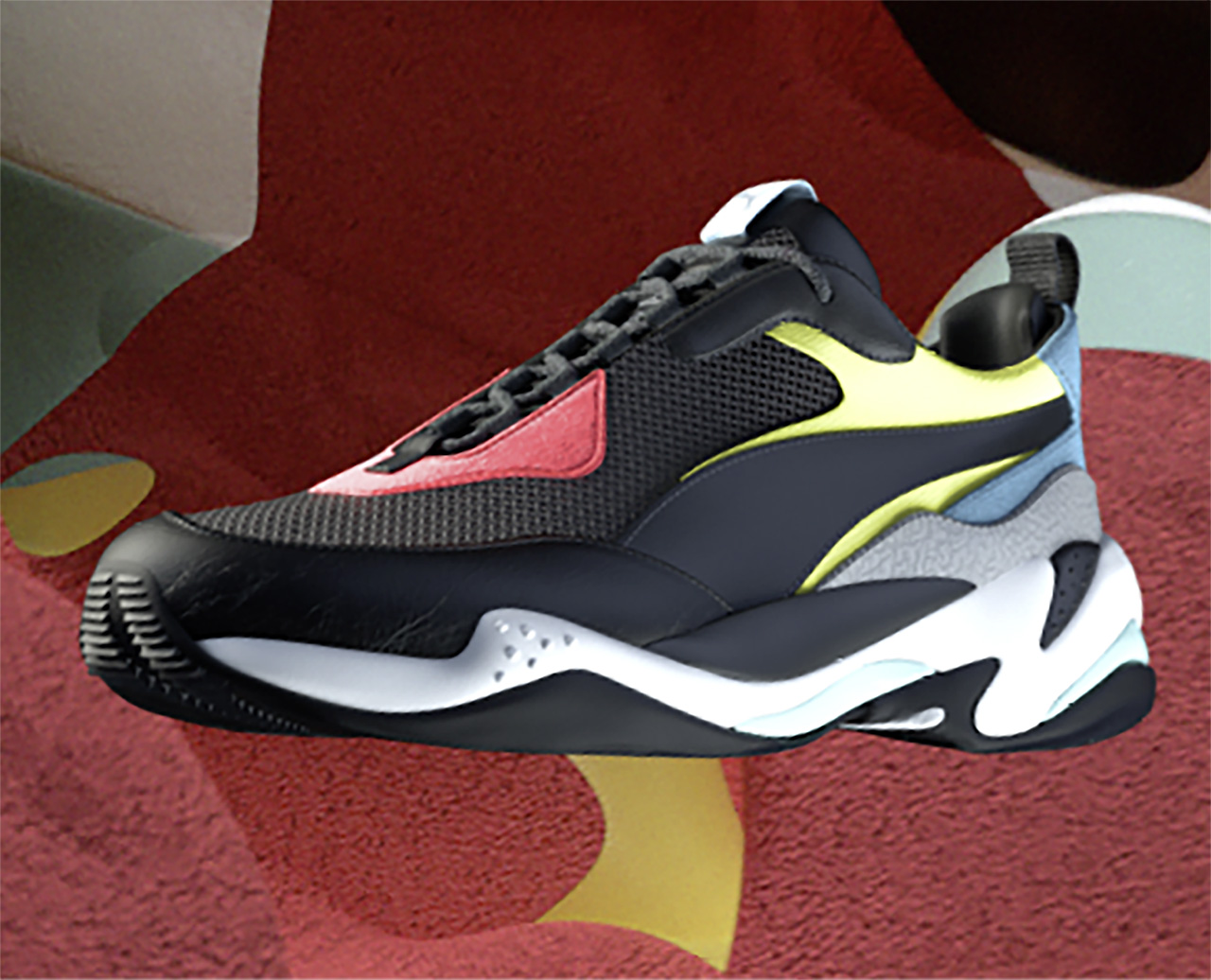 RS
This year marked PUMA's reboot of the 80's Running System (RS) range with the all-new RS-0 model. With an innovative design that evolved from the past and is ­distinctly future-looking, the sneakers were reinvented and rebooted for a new world. Later in the year, PUMA took it to the next level with the introduction of RS-X, which was all-things extreme, exaggerated, and remixed.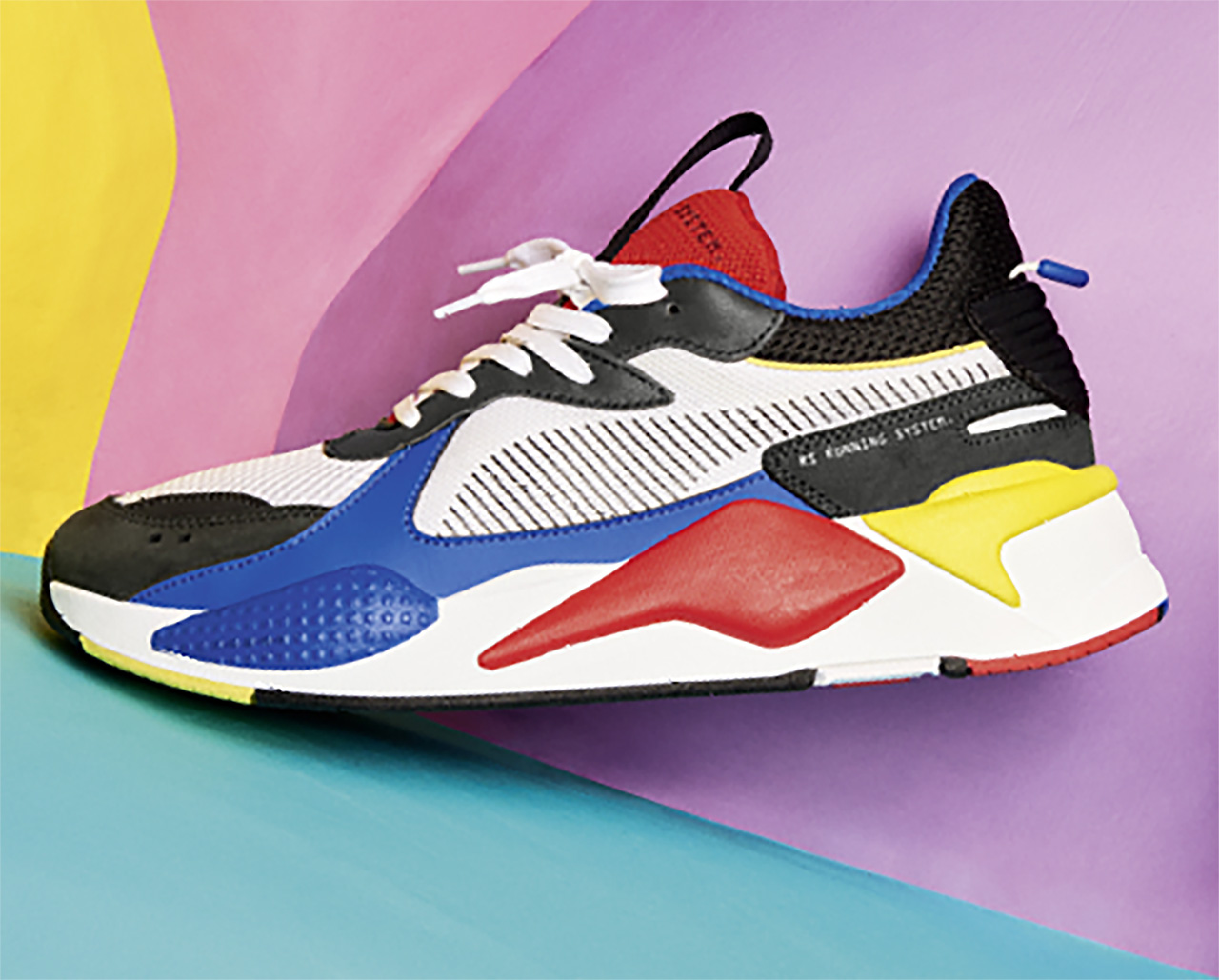 Pushing culture forward, 2018 also saw PUMA partner with powerful brands that exemplified extreme reinvention in their respective industries. From Hasbro and Mattel to SEGA, Polaroid, and Roland, the most iconic FUTRO stories were brought to life with exclusive drops that successfully broke the monotony of streetwear through innovation in design, style, and technology.
CELL – SINCE 1998
When PUMA CELL technology first arrived in 1998, it was revolutionary. Celebrating 20 years of the OG sneaker, CELL was pulled straight from the Archive in a new context that highlighted its chunky glory and throwback good looks for a new era of streetstyle. Leading the pack with two pinnacle models from the 90's, CELL ENDURA and CELL VENOM were reintroduced in 2018 as street-ready silhouettes.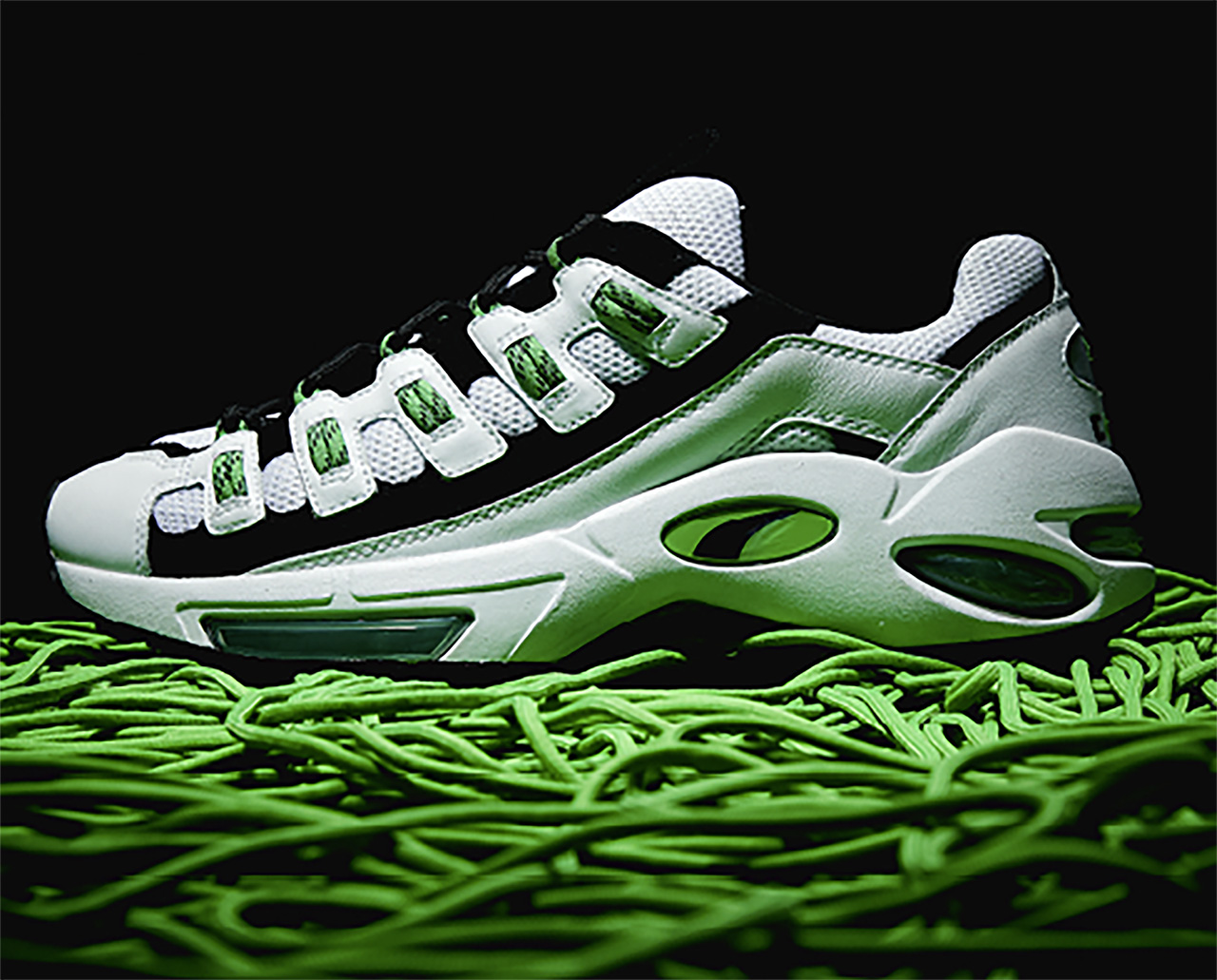 A ROSTER OF CREATIVES
Partnering with up-and-coming brands across the world, PUMA has worked with creative trailblazers like ADER ERROR to elevate sports-inspired style. In their debut collection with PUMA, ADER ERROR, as the Creative Director, put FUTRO as the main theme, bringing their forward-thinking aesthetic and fusing their fondness for nostalgia onto iconic PUMA silhouettes. With two successful drops and more in the works, PUMA x ADER ERROR capsule ­collections were all things extreme and FUTRO, perfectly fusing street ­sensibilities to sport-­inspired silhouettes. 2018 also saw PUMA work with ­designers on OUTLAW MOSCOW, ATELIER NEW REGIME and HAN KJØBENHAVN that perfectly fused runway-worthy styles with sports-inspired street wear.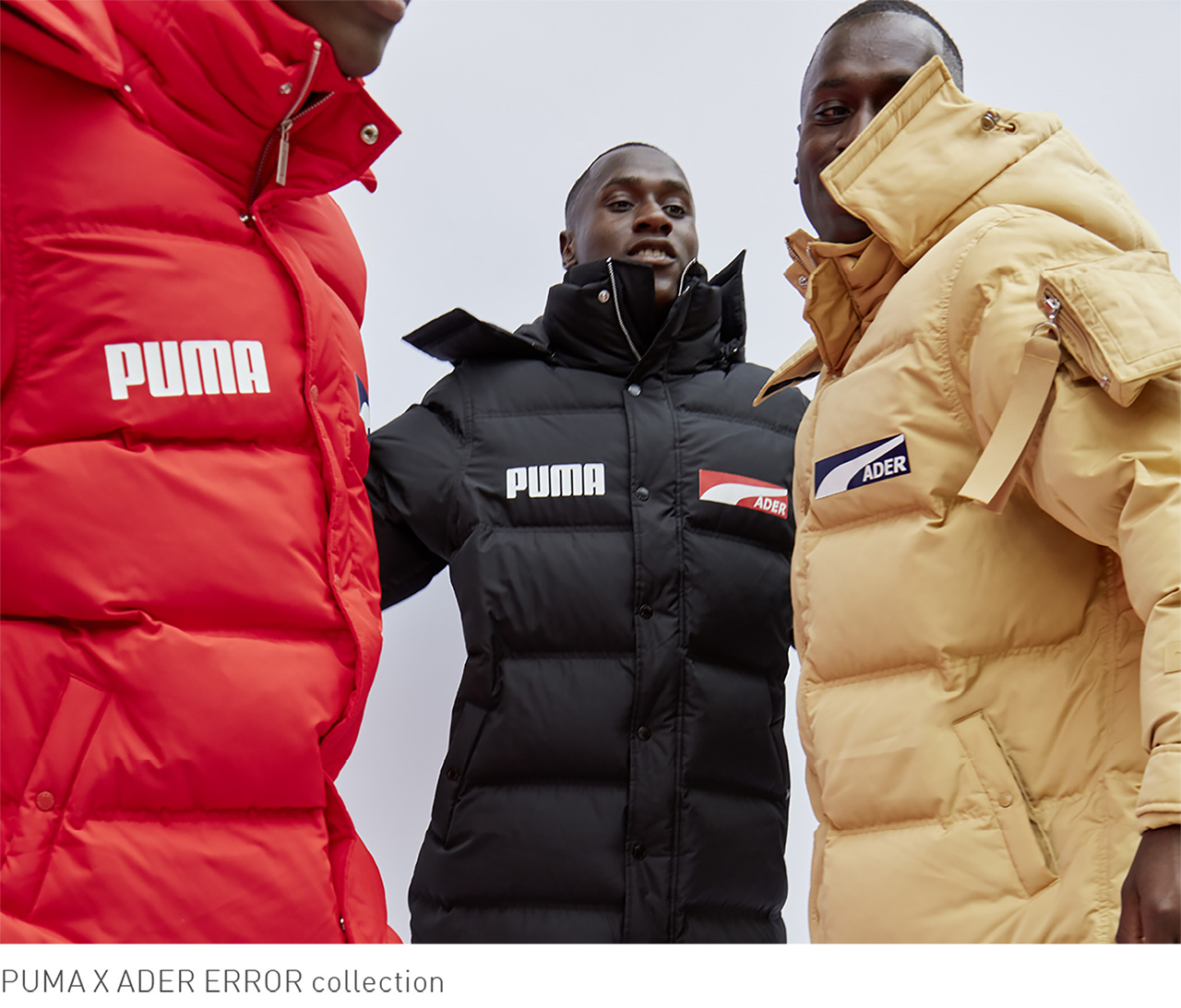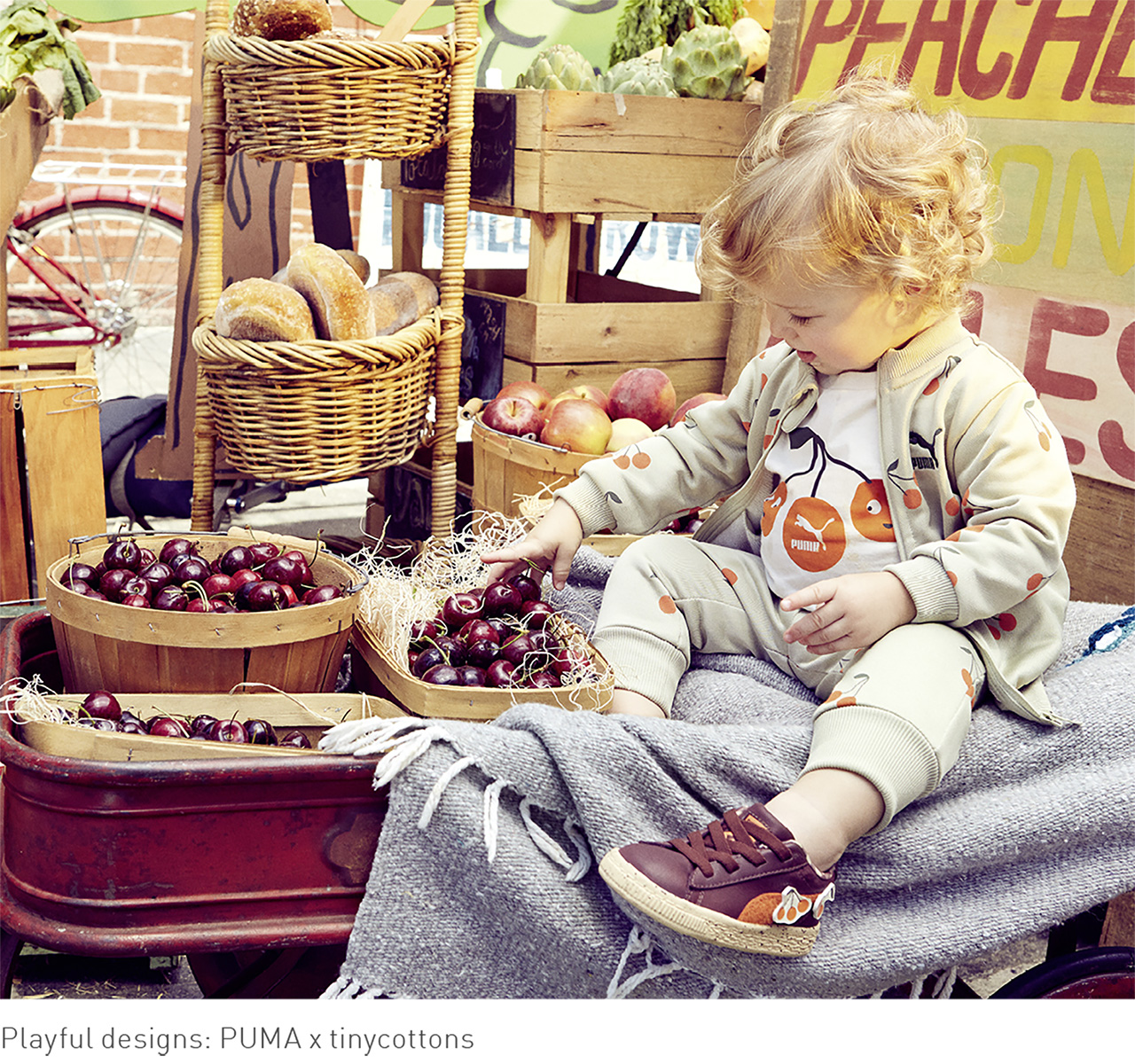 KIDS
In 2018, PUMA introduced a range of capsule collections for kids in partnership with popular brands like Hot Wheels, Transformers, and Barbie. This year also witnessed the return of successful collaborations with Justice League and ­tinycottons for a collection designed with bright colors and playful patterns that give every style a unique personality.
More exciting styles and collaborations to come…
Riding on the success of bold and futuristic silhouettes, PUMA is launching brand-new sneakers like ALTERATION and STORM, while also bringing back court classics like RALPH SAMPSON and ROMA, as well as new iterations of CELL that exemplify the brand's sport-meets-fashion approach. Continuing with FUTRO, 2019 will see new iterations of RS and CALI dropping amazing new stories throughout the year.
In terms of collaborations, PUMA will announce new and inspiring partnerships that encapsulate a vibrant mix of creative brands and trailblazers from the fashion and music industries for a modern, experiential approach to sports-­inspired fashion.
Licensing
PUMA's strategy for licensing focuses on building presence and awareness in product categories that are outside its core areas, but which complement and enhance its own products.
PUMA's licensees offer desirable and compelling products to the end consumer, while adding value to PUMA's brand strength and appeal.
PUMA partners with specialized market leaders with the aim of maintaining the highest standards of quality across all complementary product categories. These brands design, develop, manufacture, and distribute products with PUMA trademarks in line with PUMA's brand positioning, specifically targeting the PUMA consumer.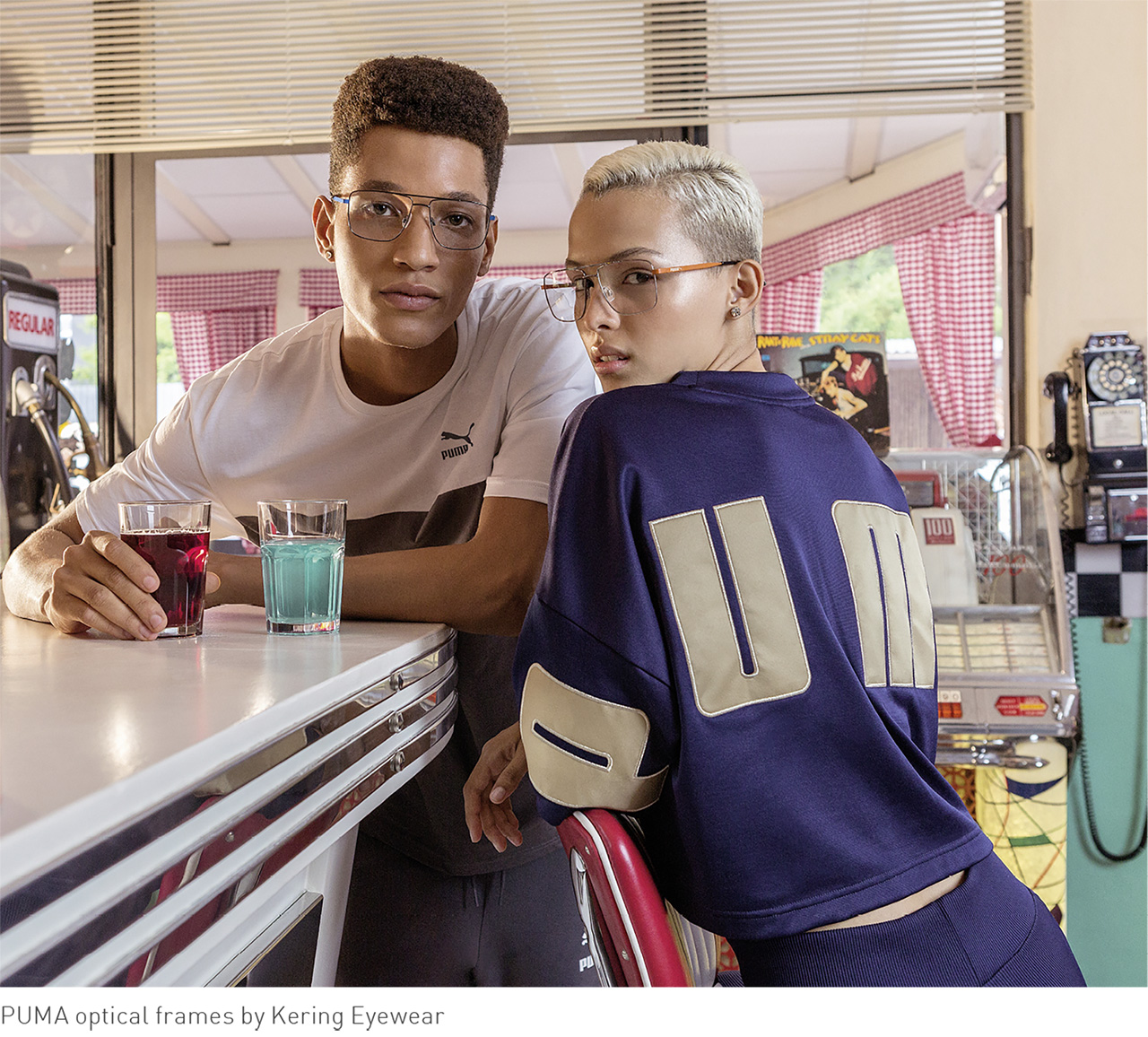 PUMA Watches by Fossil
PUMA and watch manufacturer Fossil have joined forces through a multi-year global license partnership agreement for the design, development, and distribution of PUMA-branded watches and smartwatches. The agreement is a long-term collaboration which sets both companies on an exciting journey to develop compelling products with a sporty design that can be worn for training purposes as well as for everyday activities.
The first collection of analog watches will be available worldwide in Spring / Summer'19. The products will be available on puma.com and in selected PUMA stores, as well as in selected department stores, specialty retailers, and e-commerce channels in Fossil Group's global network.
PUMA Eyewear by Kering Eyewear
Since July 2015, PUMA has partnered with Kering Eyewear for the key category of Sunglasses and Optical Frames. 2018 was a year of consolidation of the PUMA Eyewear business with specific focus on the Performance, Sportstyle, Active and Kids' categories. With its extensive distribution system in around 100 countries, Kering Eyewear has launched two seasonal collections per year since the start of the partnership.
PUMA Workwear by WATEX
PUMA workwear is a range of apparel specifically developed by PUMA's new license partner WATEX and aimed at the workwear market. The collection was introduced to the trade at A+A in Düsseldorf in October 2017 and, since then, has successfully launched at selected accounts and countries.
PUMA Safety Footwear by ISM
An established German manufacturer and distributor of safety shoes, ISM has been PUMA's partner for PUMA safety shoes for well over a decade. The PUMA safety shoe collection enjoys distribution in more than 35 countries and in 2018, ISM continued to distribute the product offer under various product lines, such as "Urban," "Technical," and "Motion".
PUMA Fragrances by L'Oréal
PUMA's license partner in the Personal Care category is L'Oréal, who in 2016 launched the first body sprays in France. Since then, L'Oréal have developed nine deodorant sprays and fragrances and extended their distribution to include mainly Germany and a few other countries in Eastern Europe and Latin America.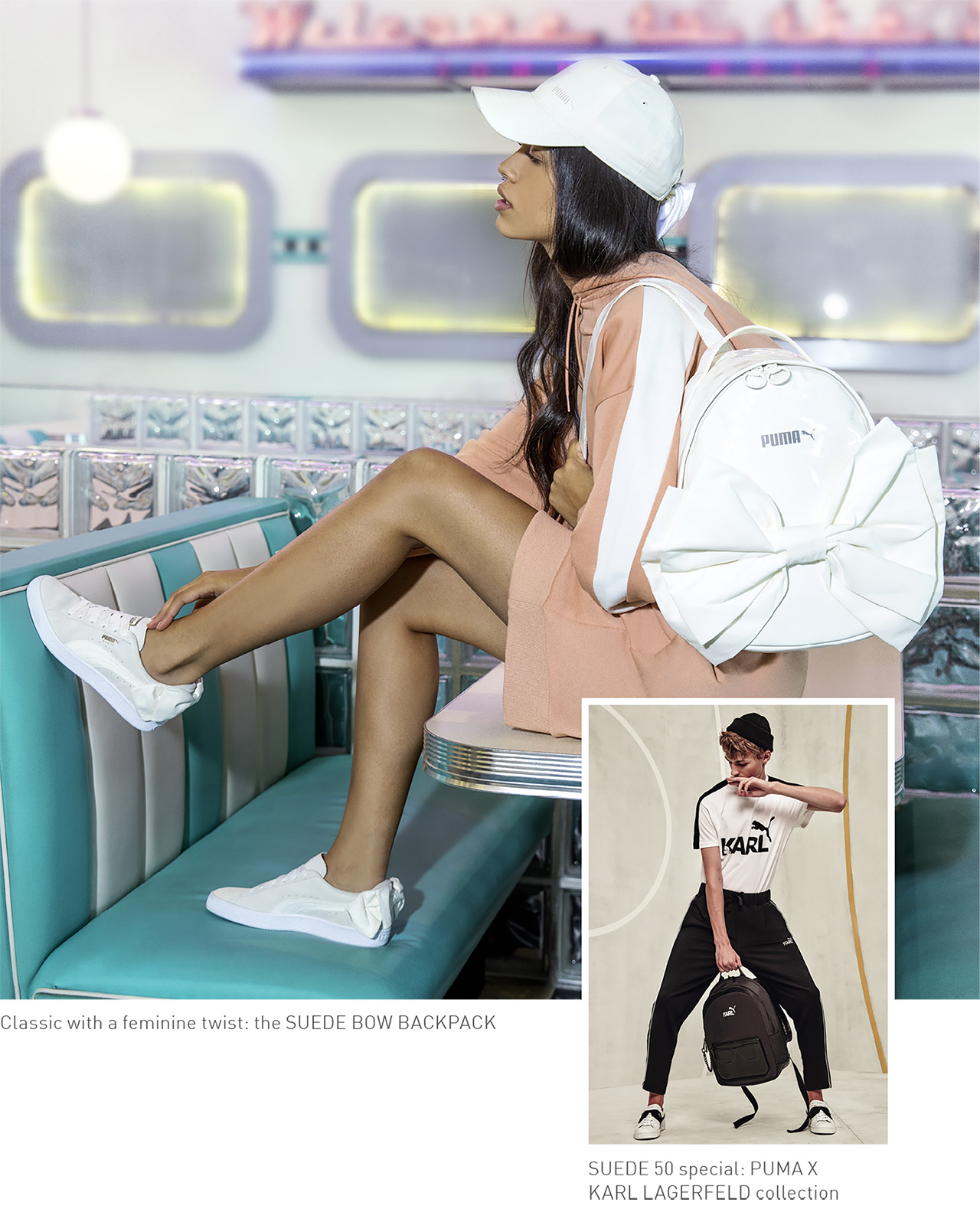 ACCESSORIES
PUMA's accessories business unit complements our product range with appealing and varied collections, covering Sportstyle, Running, Training, and Motorsport.
Our accessories combine all the attributes PUMA stands for: quality, creativity, and innovation. Our bag and headwear ranges perfectly complete every outfit, while convincing with functionality and style.
Refined accessories refine every Sportstyle outfit
The ARCHIVE SUEDE BOW WOMEN'S BACKPACK turned quite a few heads with its feminine interpretation of the classic PUMA backpack, combining an ­enchanting bow with pastel colors. Displayed in an ad campaign featuring Cara Delevingne, the SUEDE BOW backpack was an instant success and sold out immediately.
Toward the end of the year, Selena Gomez launched her first collection for PUMA. As one can guess from its name, the STRONG GIRL collection has strength stitched into every piece. With confident colors and bold silhouettes from head to toe, the collection was elevated by refined accessories, including beanies, bags and gloves.
Suede 50 boosts visibility through exciting partnerships
In 2018, PUMA celebrated the 50th anniversary of its legendary shoe, the SUEDE, with 37 unique collaborations in partnership with some of the most prestigious names from the worlds of music, fashion, street, and pop culture. Accessories rounded-up the key styles of the SUEDE 50 initiative and even rivaled the shoe in terms of popularity: The HELLO KITTY BACKPACK, the PUMA X KARL LAGERFELD SHOULDER BAG or the BARBIE caps – just to name a few – brought a lot of visibility to our accessories category and products sold out fast.
Driving performance innovation
With our STANCE HOODED BACKPACK, PUMA developed the ideal companion for street running, bringing the best of our innovation, performance, and design together, as the backpack minimizes carry stress and maximizes performance in an urban environment during the day. This backpack was awarded the industry's most prestigious prizes: The Red Dot Award for Product Design and the iF Design Award.
Worn by champions
Worn by our assets at the world's biggest sports events, our caps increasingly find their place on the podium. Golf champions Rickie Fowler and Bryson DeChambeau never compete without their stylish caps, while in Formula One, RED BULL RACING driver Max Verstappen and Scuderia FERRARI's Sebastian Vettel love to wear their Motorsport Teamwear caps throughout the season.