PUMA Group Essential Information
Commercial Activities and Organizational Structure
The company operates as European corporation, PUMA SE, with Group headquarters in Herzogenaurach, Germany. Our internal reporting activities are based according to three regions (EMEA, the Americas and Asia / Pacific) and three product segments (footwear, apparel and accessories). A detailed ­description of the various segments can be found in chapter 26 of the Notes to the Consolidated Financial Statements.
Our revenues are derived from the sale of products from the PUMA and Cobra Golf brands via the wholesale and retail trade, as well as from sales in our own retail and online stores. We market and distribute our products worldwide ­primarily via our own subsidiaries. There are distribution agreements in place with independent distributors in a small number of countries.
As of December 31, 2018, 103 subsidiaries were controlled directly or indirectly by PUMA SE. Our subsidiaries carry out various tasks at the local level, such as sales, marketing, product development, sourcing and administration. A full list of all subsidiaries can be found in chapter 2 of the Notes to the Consolidated Financial Statements.
Targets and Strategy
PUMA aims to become the fastest sports brand in the world. For this reason, we have focused on five priorities over the past few years: brand heat, a ­competitive product range, a leading offer for women, an improved distribution quality and organizational speed. Positive feedback from retail partners around the world, better sell-through as well as improved financial results in 2018 ­confirm that PUMA is on the right track. In 2018, we have added a sixth ­priority: re-entering basketball with the aim to strengthen our position on the North-­American sports market.
The PUMA brand draws strength and brand heat from its unique heritage in sports. PUMA is associated with some of the greatest sports legends: Pelé, Maradona, Usain Bolt, Tommie Smith, Boris Becker, Lothar Matthäus, Linford Christie, and many more. Today, PUMA continues to strengthen its position as a sports brand through partnerships with some of the most elite ambassadors: star strikers Antoine Griezmann, Romelu Lukaku, Sergio Agüero and Luis ­Suarez, international top clubs Arsenal F.C., Borussia Dortmund and A.C. Milan, golf stars Lexi Thompson and Rickie Fowler, the five-time Formula One world champion Lewis Hamilton, Canadian sprinter André De Grasse and the ­Jamaican and Cuban Olympic Federations.
In its Sportstyle category, that offers a lifestyle product-range, PUMA has also developed a unique way of working with cultural and fashion icons to connect with young trend-setting audiences. This has made PUMA one of the hottest sports and fashion brands for young consumers. The partnerships PUMA enters with stars like Selena Gomez, Cara Delevingne and Adriana Lima, open new doors to an authentic interaction with our target group, aged 16 to 24.
On the product side, PUMA follows a simple and catchy mantra: "Cool stuff that works". Our 2018 bestsellers, such as the running shoe HYBRID, the football boots PUMA FUTURE and PUMA ONE or the successful new Sportstyle ­silhouettes Thunder, RS-0 and RS-X, follow that principle.
The "Women's" category continues to be a priority for PUMA. Not only because the number of women who do sports is constantly increasing worldwide, but also because they are trendsetters in taking inspiration from athletic wear for their everyday wardrobe. PUMA has defined its design principle for women as "where the gym meets the runway". Our women's business has again bolstered the brand in 2018. Key styles were among others the training shoes DEFY and MUSE. With our strong standing among women, PUMA is uniquely positioned to capitalize on this growing segment within the global sportswear market.
A major highlight for us in 2018 was PUMA's re-entry into the basketball ­category. To us, it is not only the performance on the court that matters, but also the culture surrounding the sport. In addition, our return to basketball is a key building block to sharpening our overall sports performance credibility in North America and hence extend our business in other sports categories. We are ­excited that JAY-Z has taken the role of Creative Director for PUMA Basketball. In this function, he is overseeing the creative strategy, marketing, and product design for all basketball related products. With the CLYDE COURT DISRUPT, our first basketball silhouette after more than 20 years of absence, we see ­ourselves well positioned.
PUMA has continuously improved the quality of its distribution and expanded its presence in key sports performance and Sportstyle accounts around the world. PUMA remains dedicated to strengthening its relationships with key retailers by being a flexible and service-oriented business partner. Improved sell-through has further helped PUMA to gain more shelf space in our partners' retail stores in 2018. We have been able to record higher sell-through in wholesale, expand our retail store network and achieve like-for like sales growth in our own retail stores, while registering continued strong growth of our eCommerce business. Furthermore, PUMA continued to upgrade its owned-and-operated retail store network with further refurbishments. On a regional basis, we have continued to grow in Europe despite a difficult market environment, while in China sales growth has accelerated even further, underpinned by approximately 400 store openings through our partners. In North America we have received a very good response to our basketball offering so far.
In 2018, PUMA further invested into its IT infrastructure with a strong focus on Business Intelligence, Planning and IT Security. Concerning the latter, a new Security Operations Center was implemented to maximize protection from outside threats. Additional focus was put on the development of a new ERP system to be rolled-out in 2019 and the following years. PUMA's International Trading Organization, which manages global order and invoice flows centrally, saw ­further improvements in the fields of capacity management and collaboration regarding the sharing of performance data. The new product development system, implemented in 2017, was further enhanced and rolled-out to all ­divisions. Furthermore, PUMA put additional efforts into the modernization of distribution centers in various countries around the globe.
In addition to these six priorities, social, economic and environmental ­sustainability remains a core value for PUMA. In 2018, we continued to execute our 10FOR20 sustainability strategy with a focus on creating positive impact through industry collaboration. Together with many industry peers, we started to roll out a harmonized assessment methodology on social and environmental compliance for our core suppliers. Moreover, we developed an Industry Charter for Climate Action under the umbrella of UN CLIMATE CHANGE, which will come into effect 2019. We also launched a sustainability focused and carbon neutral apparel collection together with our customer ASOS. Our efforts were recognized by PUMA's return to the FTSE4Good Index for sustainable companies, as well as by winning the PETA fashion award for a vegan shoe.
The year 2018 was exciting and eventful. Thanks to our commitment to the ­FOREVER FASTER strategy and our fantastic team at PUMA we have taken a ­further and significant step of becoming the fastest sports brand in the world.
Product Development and Design
When Rudolf Dassler founded the company back in 1948, his vision was to create shoes that give athletes the speed, agility and spirit of a puma, inspiring them in competition and empowering them to win. With our mission statement ­FOREVER FASTER, we stay true to our initial purpose: As the World's fastest sports brand, we offer athletes the products that help them unleash their full potential and allow them to express their personality and style. FOREVER FASTER also stands for the rapid development and implementation of new technologies and designs: Fast decision-making and agile production pipelines allow the brand to quickly react to consumer trends and deliver relevant products to the market.
With clear seasonal creative directions and a consistent visual language, our designers, under the guidance of PUMA's Global Creative Director Torsten Hochstetter, create products that both capture the Zeitgeist and set future trends. The fusion of sport and style is what makes PUMA products desirable, as they not only meet performance needs, but also look great.
Spring-Summer 2018, for instance, was all about the FIFA World Cup 2018 and the "Euphoria" of football fans, while our Women's offer followed the principle "En pointe", inspired by the dancers of the New York City Ballet and their ­powerful grace. Our Autumn-Winter 2018 creative direction focused on concepts such as "New Skool", which thoughtfully curated and reinterpreted iconic styles of the 80s and 90s with bold geometries and modern color block.
In 2018, we introduced a broader product range to the market, mixing innovative technologies with bold styles. This mix was proven to be on point, as PUMA's improved sell-through performance and the continued positive response of ­retail partners and customers showed.
For its return to Basketball, PUMA introduced its first basketball silhouette in more than 20 years: the Clyde Court Disrupt, which was first brought to the market in an aggressive colorway in October 2018. Engineered for the court, with swagger for the street, the Clyde Court Disrupt catches the spirit and style set down by NBA icon Walt Clyde Frazier. The shoe's technical features, ­including PUMA's Hybrid Foam technology and a lightweight knit upper, provide the player with the support and flexibility they need to perform on court. Additional models followed, such as the Halloween special edition X-RAY, the PURPLE GLOW, the OCEAN DRIVE and the PEACE ON EARTH right before Christmas.

Another milestone of 2018 was the introduction of HYBRID, the latest addition to the brand's Running & Training product line. Combining two of its most ­innovative technologies – IGNITE FOAM and NRGY beads – PUMA offers an ­entirely new definition of mid sole technology. With superior cushioning and ­energy return, this running shoe is ideal for longer and faster runs.
With the launches of the THUNDER and the new editions of the Running System (RS) and CELL, PUMA paid tribute to its most iconic silhouettes of the 80s and 90s, while responding to 2018's "chunky shoe" trend.
The THUNDER, with its retro color blocking and disruptive design, was an instant success, as the first two product drops were sold out worldwide within hours.
The PUMA CELL Endura, a classic from the PUMA Archive, with its durable and resilient cushioning technology, celebrated its comeback thanks to new ­materials and state of the art production techniques. PUMA's "Future Retro" product range draws its inspiration from the past to inspire future designs.
Key styles of our Women's footwear business were the training silhouettes MUSE, PHENOM and DEFY, while the CALI and NOVA enriched our Sportstyle range.
The highly exclusive PHENOM LUX marked Selena Gomez's first design ­collaboration with PUMA. This stylish performance shoe was not only made to stand out, but also to help out: the sales benefitted the Lupus Research Alliance, the world's leading private funder of Lupus research, an autoimmune disease, from which Selena Gomez also suffers.
One of the most notable training silhouettes for Women's, the DEFY, literally defied training standards, by merging high energy return and high fashion in one shoe.
Research and product development at PUMA mainly comprise the areas of ­innovation (new technologies), product design and model and collection development. The research and product development activities range from the ­analysis of scientific studies and customer surveys through the generation of creative ideas to the implementation of innovations in commercial products. The ­activities in research and product development are directly linked to sourcing activities.
As of December 31, 2018, a total of 946 people were employed in research and development / product management (previous year: 894). In 2018, research and development / product management expenses totaled € 97.8 million (previous year: € 98.5 million), of which € 54.0 million (previous year: € 53.4 million) ­related to research and development.
Sourcing
The Sourcing Organization
PUMA's sourcing functions, referred to as the central management of the ­sourcing of products for PUMA and PUMA Group's own brand, Cobra, are merged in PUMA Group Sourcing (PGS.). PUMA's global trading entity, PUMA International Trading GmbH (PIT), with head office in PUMA's corporate headquarters Herzogenaurach (Germany), is the Group company mainly responsible for PUMA Group Sourcing. PIT coordinates product sourcing from independent manufacturers by sourcing products itself from the manufacturers and selling them to PUMA distribution subsidiaries or supporting PUMA distribution subsidiaries directly in the local sourcing of products via local manufacturers. Additionally, PIT manages ­the ­cooperation with PUMA's suppliers worldwide and oversees the production ­processes at the different sourcing sites in Hong Kong, China, Vietnam, ­Bangladesh, India, Portugal, South Africa, Brazil and Mexico. Furthermore, PIT carries out a centralized hedging against currency risks. The centralized control of these processes guarantees a high degree of transparency within the supply chain, ­reduces sourcing complexity and creates efficiencies through largely ­automated processes.
PUMA Group Sourcing (PGS) collaborates with a network of independent ­manufacturers worldwide. The aim is to offer an optimal service so as to meet global requirements for service, quality and safety, along with environmental and social aspects in the supply chain. Under the six core principles of partnership, transparency, flexibility, speed, simplicity, and effectiveness, the central sourcing responsibility allows for continuous improvements with regard to sourcing costs, sourcing flexibility and the necessary delivery reliability. This guarantees ­distribution subsidiaries high-level service and a sustainable production and supply chain. Additionally, PUMA's sustainability function (Corporate Sustainability Department, formerly PUMA SAFE) is successfully integrated into the PGS organization since 2016. This ensures that social and environmental issues and standards of good corporate governance are integrated into day-to-day sourcing activities.
In 2018, further operating improvements could be implemented in sourcing, in particular with regards to the centralization and standardization of processes and systems, capacity management, data analysis and business intelligence. In 2018, the operational improvements over the last few years have made a significant contribution to the successful handling of the significantly increased sourcing volume, especially in the apparel segment, with the existing sourcing organization setup. Additionally, PUMA Group Sourcing established a new office in Portugal to manage the local sourcing of high quality products with short lead times.
Furthermore, 2018 saw the successful continuation of the innovative financing program for PUMA suppliers. This program allows for receivables of the suppliers from goods delivered to PUMA to be paid more quickly provided they meet certain sustainability criteria. As a result, financial scope was created for new investments for suppliers. In addition, the program for suppliers also acts as a financial incentive for complying with its standards regarding ecology, labor law and ­society, as well as continuously improving them.
The Sourcing Markets
During the financial year 2018, PGS via PIT collaborated with 152 independent suppliers (previous year: 160) in 33 countries worldwide. Thus, a certain ­continuity is apparent for the supplier base. The strategic cooperation with ­long-term partners was one of the key competitive advantages in 2018 to ensure stable sourcing of a significantly increased sourcing volume, in particular in the apparel segment.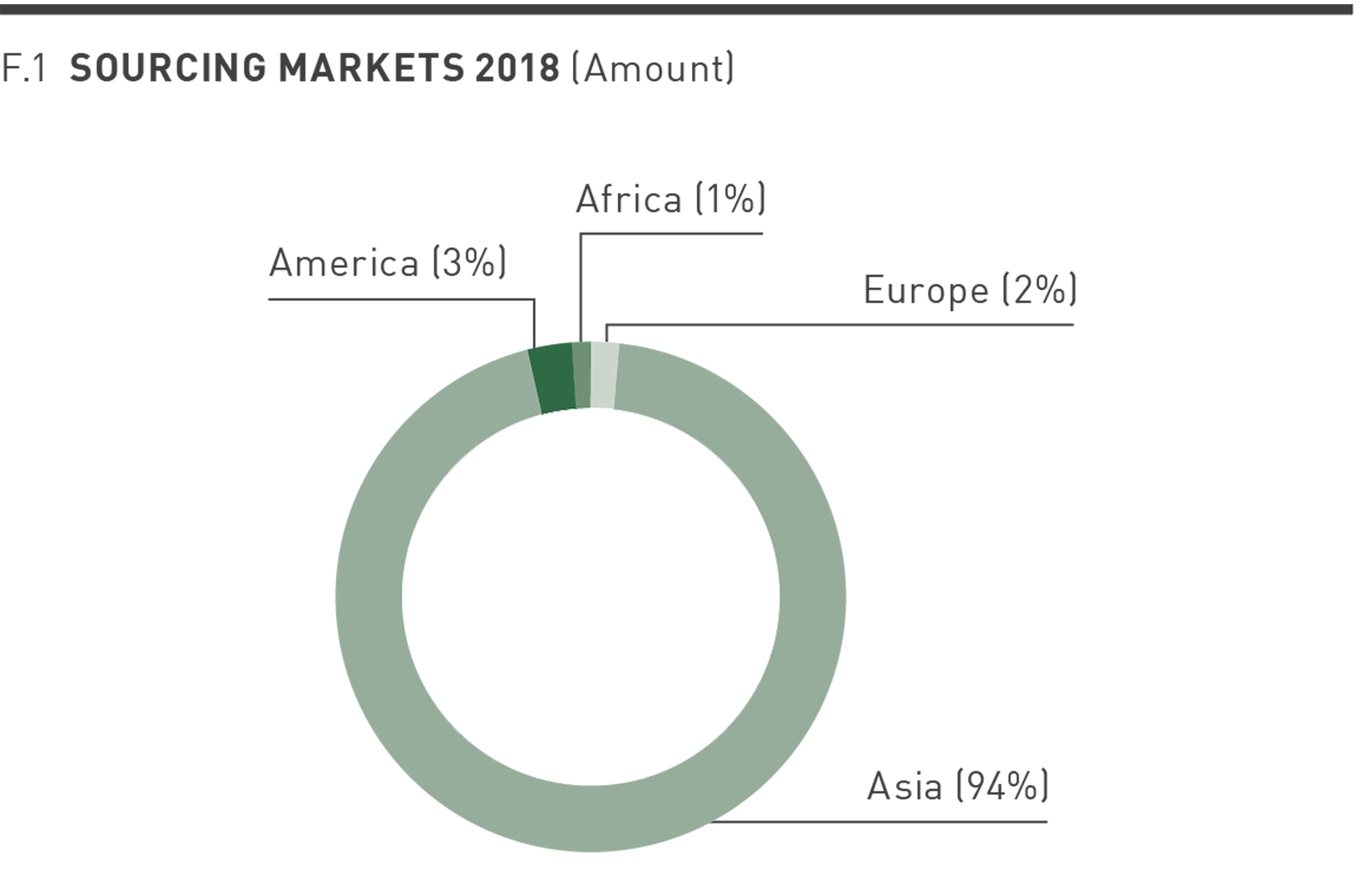 Asia remains the strongest sourcing region overall with 94% of the total volume, followed by America with 3%, and EMEA with also 3% (thereof Europe with 2% and Africa with 1%).
As a result, the six most important sourcing countries (91% of the total volume) are all located on the Asian continent. Once more, Vietnam was the strongest production country with a total of 32%. China followed at 24%. Cambodia was in third place at 14%, one percentage point up from 2017. Bangladesh, which ­focuses on apparel, is in fourth place at 13%. Bangladesh thus increased its share of the sourcing volume from 10% in the previous year to 13% in 2018. Indonesia, which focuses on footwear production, produces 4% of the total ­volume and is in fifth place. India is in sixth place at 3%.
Rising wage costs and macroeconomic influences, such as changes in the trade environment, have continued to influence sourcing markets in 2018. Such ­impacts need to be taken into account in allocating the production. This is a ­significant component of our sourcing strategy so as to ensure the secure and competitive sourcing of products and, furthermore, to successfully manage the increasing sourcing volumes due to the positive company development.
Employees
Number of employees
The global number of employees on a yearly average was 12,192 employees in 2018 compared to 11,389 in the previous year. This increase resulted mainly from the retail area due to the increased number of own retail stores.
Personnel expenses in 2018 increased overall by 0.9% from € 549.1 million to € 553.8 million. On average, personnel expenses were € 45.4 thousand ­compared to € 48.2 thousand in the previous year.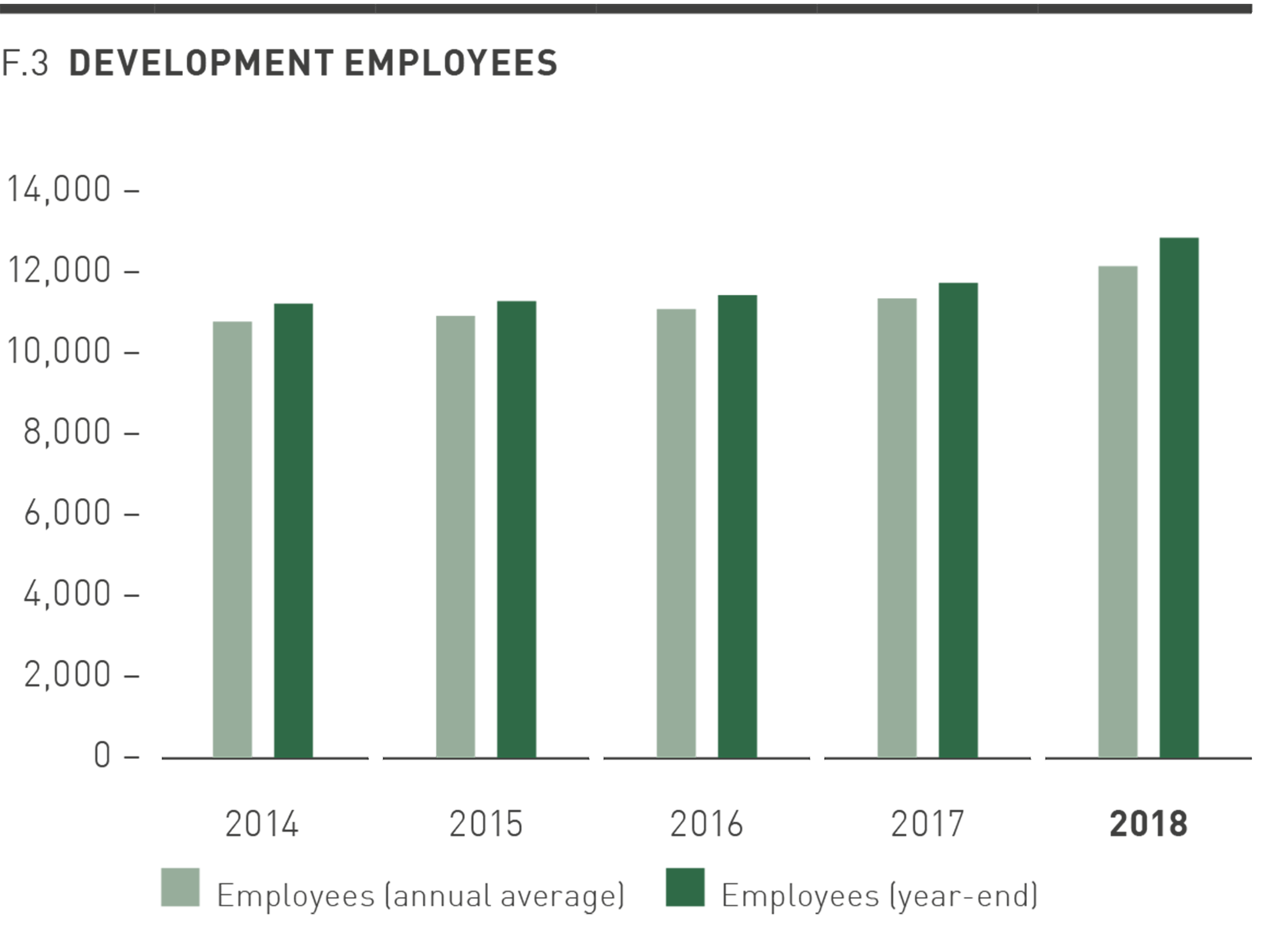 As of December 31, 2018, the number of employees was 12,894, compared to 11,787 in the previous year. This represents a 9.4% increase in the number of employees compared to the previous year. The development in the number of employees per area is as follows: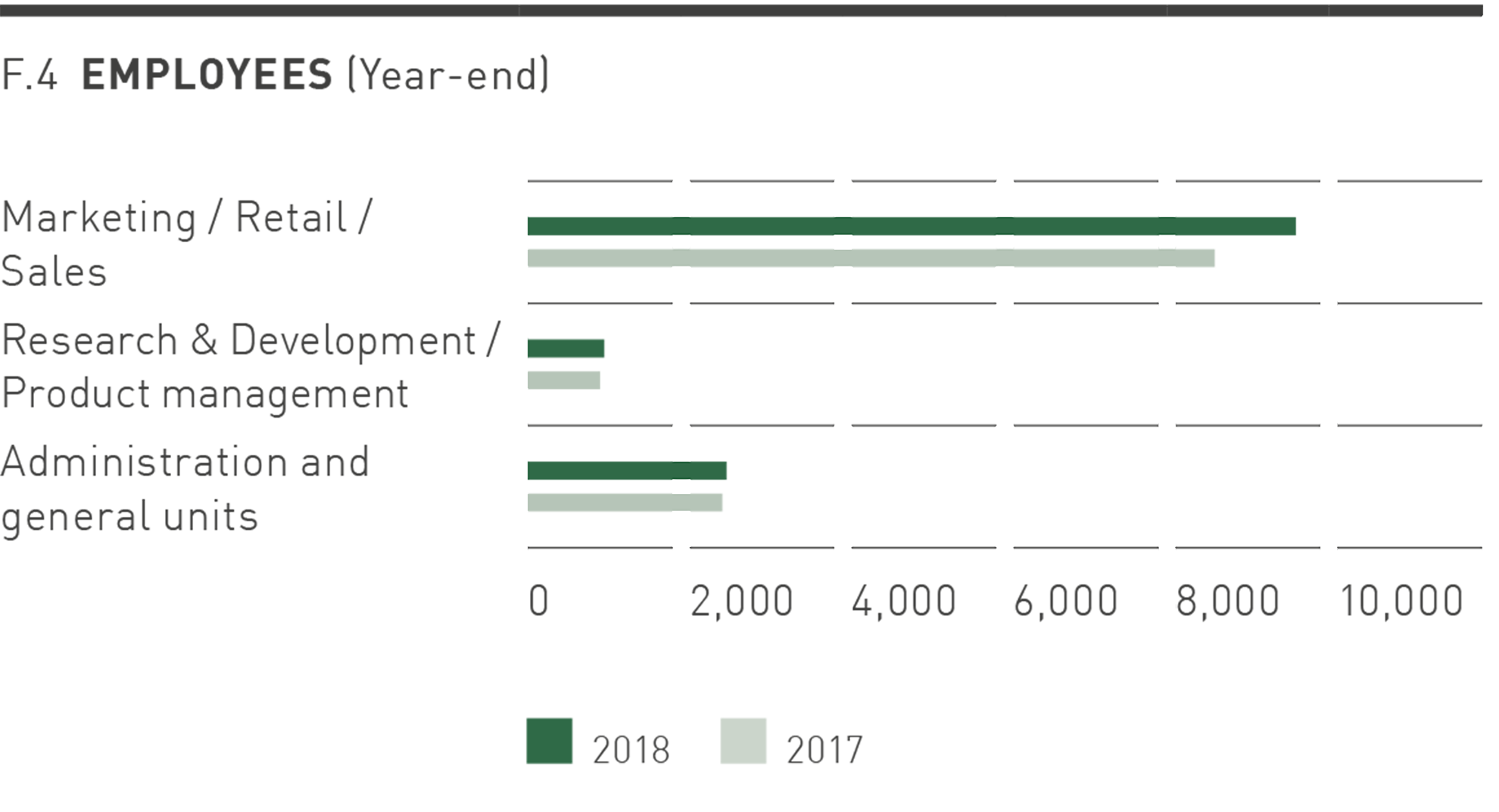 Talent Recruitment and Development
Our employees are our most important capital for our business success. They are at the center of our human resources strategy which focuses particularly on talent recruitment and development. Against the backdrop of our unique company culture, we provide workplaces worldwide that are aligned with ­modern and agile work methods and ensure the wellbeing of our employees.
In order to continue to expand our position in the market, it is essential that we have highly qualified and motivated personnel and are perceived as an ­attractive employer. Our diverse recruitment activities allow us to recruit ­external talent in advance, appropriate to the target group, via various ­channels, including in particular through a proactive direct approach, thereby boosting our workforce. In addition, we have expanded our activities at ­colleges and universities nationally and internationally to identify ­potential future employees even earlier.
The digitalization and related simplification and acceleration of business ­processes made further progress in 2018. After we globally introduced "Workday", a leading Human Capital Management System, in 2017, we expanded the system this year by adding the "talent and performance", "time recording and absence management" and "learning" modules. This gives us a worldwide system for recording working hours as well as vacations and other absences in Workday. The learning module functions as a platform for all e-learning courses and on-site training. The training module also provides employees with the ­option of creating learning content and sharing it with colleagues.
Our aim is to help each of our employees to develop, in an international ­environment as well, and at the same time successfully and sustainably keep them loyal to our company. As a central component of current competitiveness, this allows us both as a company and as an employer to maintain a dynamic ­environment and to be able to keep up with market changes. Based on the Workday software, a systematic succession plan is created as part of talent ­management in addition to the performance assessment and target-setting. Talent available in the company is identified in the annual employee interviews and fostered using individual development plans. This type of talent management means that we can offer our employees attractive career and development ­opportunities and secure forward-looking succession planning at the same time.
The continuous professional and personal development of our employees also guarantees that our workforce has the necessary skills to ensure steady growth and market expertise. In our efforts to provide adequate entry-level and ­development opportunities to talented individuals at all levels, we also promote the systematic training of our professionals and managers as well as a range of different training and dual-track (combined work-study) programs. The range of training we provide includes a number of online or offline training courses and workshops that are standardized or personally tailored to individual needs. The continuous development of our PUMA training programs ensures that our employees always have innovative and diverse opportunities to add to their ­qualifications, acquire new skills and build on existing expertise. This approach helps employees achieve their personal goals and helps the company achieve its goals as well.
In particular, we also offer a large number of seminars with the aim of ­developing employees and managers over the longer term, giving them the opportunity to apply their newly acquired knowledge in practice between the individual ­modules and then to discuss this with other seminar participants. Our internal leadership program, consisting of several modules, comprises the ILP ("International ­Leadership Program") and ILP2 seminars. These contain a number of measures to equip employees with the required skills and knowledge to be able to lead their team. They include intensive training and coaching, including interactive learning, roleplay simulations and best practice learning, as well as joint ­projects. The focus is therefore particularly on "Mindful Leadership" as well as agile work methods.
Using Speed Up and Speed Up², we carry out human resources development programs for employees on various levels. Various groups consisting of top ­talents are given intensive preparation for the next step in their careers by taking on interdisciplinary projects and tasks, targeted training courses, mentoring, and coaching as well as rotating between jobs. 
Increased visibility to upper ­management, the creation of cross-function cooperation and establishing a strong network are also important components of this program.
Compensation
We at PUMA offer our employees a targeted and competitive compensation system, which consists of several components. In addition to a fixed base salary, the PUMA bonus system, profit-sharing programs and various social benefits and intangible benefits form part of a performance-based compensation system. We also offer long-term incentive programs for the senior management level that honor the sustainable development and performance of the business. In 2018, the bonus system was standardized worldwide and made even more transparent. Incentives are now exclusively linked to PUMA's corporate goals.
Management System
We use a variety of indicators to manage our performance in relation to our top corporate goals. We have defined growth and profitability as being key targets within finance-related areas. Our focus therefore is on improving sales, the gross profit margin, and operating result (EBIT). These are the financial control parameters that are of particular significance. Moreover, we aim to minimize working capital and improve free cash flow. Our Group's Planning and ­Management System has been designed to provide a variety of instruments in order to assess current business developments and derive future strategy and investment decisions. This involves the continuous monitoring of key financial indicators within the PUMA Group and a monthly comparison with budget ­targets. Any deviations from the targets are analyzed in detail and appropriate countermeasures are taken should such deviations have a negative impact.
Changes in sales are also influenced by currency exchange effects. This is why we also state any changes in sales in Euro, the reporting currency, adjusted for currency exchange effects in order to provide information that is relevant to the decision-making process when assessing the revenue position. Currency-­adjusted sales volumes are used for comparison purposes and are based on the values that would arise if the foreign currencies included in the consolidated financial statements were not translated at the average rates for the previous reporting year but were instead translated at the corresponding average rates for the current year. As a result, currency-adjusted figures are not to be ­regarded as a substitute or as superior financial indicators, but should instead always be regarded as additional information.
We use the indicator free cash flow in order to determine the change in cash and cash equivalents after deducting all expenses incurred to maintain or ­expand the organic business of the PUMA Group. Free cash flow is calculated from the cash flow from operating activities and investment activities. We also use the indicator free cash flow before acquisitions, which goes beyond free cash flow and includes an adjustment for incoming and outgoing payments that are associated with shareholdings in companies.
We use the indicator working capital in order to assess the financial position. Working capital is the difference between other current assets – including in particular inventories and trade receivables – and current liabilities. Amounts that are received in connection with financing activities are not included in ­working capital.
Non-financial performance indicators are of only minor importance at PUMA as control variables.
Information regarding the Non-financial Report
In accordance with Sections 289b and 315b of the German Commercial Code (HGB), we are required to make a non-financial declaration for PUMA SE and the PUMA Group within the Management Report or present a non-financial ­report external to the Management Report, in which we report on ­environmental, social and other non-financial aspects. PUMA has been publishing ­Sustainability Reports since 2003 under the provisions of the Global Reporting Initiative (GRI) and since 2010 has published financial data and key sustainability indicators in one report. In this context, we report the information required under Sections 289b and 315b of the HGB in the Sustainability chapter of our Annual Report. The Annual Report for the financial year 2018 will be available from April 18, 2019, on the following page of our website: ­
https://about.puma.com/en/investor-­relations/financial-reports
Furthermore, significant sustainability information can be found on PUMA's ­website under Sustainability at any time:
http://about.puma.com/en/sustainability