George, Formula 1 is so competitive that the difference between pole position and last place is just a few seconds. With such a small gap, what distinguishes a good driver from a great driver?
What distinguishes a good driver from a great driver is handling pressured situations. I think every single driver in Formula 1 is capable of winning races or putting it on pole position. But when that time comes and the pressure is on, that's when it really makes the difference. Obviously, not everybody is able to achieve it and you obviously need the talent, but you can't have the talent without those other factors. So you've got to keep working hard and keep practicing.
Arne, would you say the difference between good and great in business is as tight as in Formula 1?
I think good and great in business is not measured in seconds as it is in Formula 1. I think the difference between good and great in business is probably the attitude. Great companies have the attitude of constantly changing, challenging themselves and constantly transforming their own operations. This attitude makes a company great. The moment you stop seeking that excellence is the moment you stop being great.
George, what do you feel when you go for a flying lap in qualifying. How do you focus on getting everything right for that one lap?
When you know you've got that one shot, you need to have the confidence. You need to have the confidence with yourself. You need to have the confidence in the machine beneath you, the tires, the engine, the car. And if you tick those boxes and you feel like you've prepared enough for that moment, it's quite a calming position to be in. You're crossing that line and these next 60 to 90 seconds can define the whole weekend. And it's such a beautiful feeling when you come out of that last corner and you're flat out and you know you've done a good lap and you're waiting to cross the line and hear from your engineers who say: "You're on pole position!" or "You've got a good result!". But you need to have that confidence in yourself, and you need to have that confidence in the car beneath you.
Arne, what would you say is the equivalent in business of a flying lap in Formula 1?
I think every day is a "flying lap day" at PUMA because every day we try to be faster than the competition and try to outperform them. But joking aside, I think that such a showdown moment in business are probably product launches for us. We prepare the perfect product lineup, we prepare the marketing, we prepare the distribution. And obviously it all needs to fall into place at this one moment in time when we launch a product to really create the biggest noise and the buzz with the consumer. So probably our flying laps are the showdown moments when we launch a product.
George, in Formula 1, the smallest of errors can play a large part in your race. How do you balance risk with the need to be faster than your competitors?
I think you're always balancing risk and reward. And that balance changes for us depending on the circuit you race. Like on a track like Monaco, where you make a mistake by five centimeters and your whole weekend can be ruined compared to a circuit such as Silverstone, where it's a bit more open, a bit more run off, fast and flowing. You can afford to really risk a lot and you have to manage that. You need to recognise that position you're in and recognise when you've got the opportunity to risk a bit more when you know the rewards will pay dividends.
Arne, how do you balance risk and reward in business?
I think PUMA or a business is less prone to errors than Formula 1. I mean mistakes happen and that's okay, because we have the attitude and also the ambition to be the fastest sports company in the world. That also means we need to empower our employees to take a lot of decisions. And when they take their own decisions, obviously mistakes happen. But as long as they're making more good than bad decisions, it's good because we are progressing. I think we have also built up that culture of "Let's talk about the failures, let's talk about the bad decisions" to make sure that the future decisions are getting better. But mitigating all these risks would significantly slow us down and would not make us a better company.
George, the focus in F1 is on the individual drivers, but there's a huge team behind you which prepares the car. What can you as a driver do to ensure the team works like a well-oiled machine?
Within Formula 1, you've obviously got 20 drivers, but within Mercedes there are 2,000 people back in Brackley and Brixworth building the car, building the engine. And we wouldn't be able to perform at the level we are without all of those people. I'm sure it's exactly the same at PUMA. You have that huge team and you need them around to be strong. You need people to be working hard, innovating continuously, moving forward. I think it's easy when there's success to stand still and say everything's good and continue on the same path. But if you're staying on the same path, you're not moving forward. And you need to keep on pushing those boundaries because the sport is always evolving. Innovation is always moving forward. I guess we need to be at the forefront of motivating the people staying positive. And ultimately, when you're in the race car, just drive as fast as possible.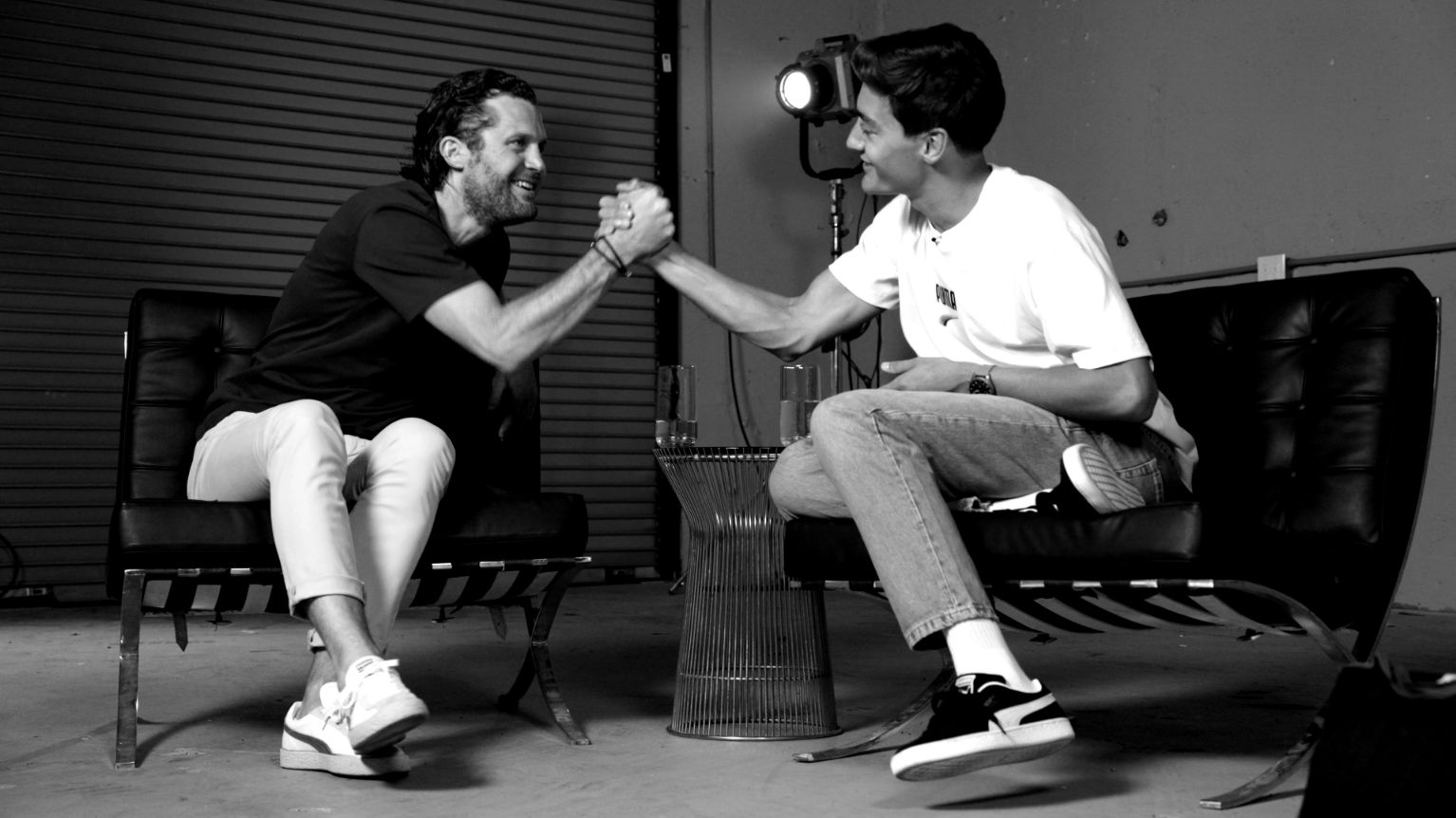 Arne, how important is such teamwork for you at PUMA?
I totally agree with you, George. There's one sentence which has accompanied me along my career: "Nobody is perfect, but a team can be." And that's a belief which has always been a driver for me. I look to have people around me who complement me and we as a team are very successful. At PUMA, we have 20,000 employees and everybody is doing their best to move the business forward. We are all driven by this one motivation to make PUMA greater and faster than ever before. I think this is an ambition for which everybody gets up in the morning.
George, how do you continuously motivate yourself and your team week in and week out?
I think the motivation is easy, especially after getting a taste of success and then going through a period of less success. I'm driving myself every single day to have that feeling again, that feeling of crossing the line, seeing what it means for everybody. And that's the same I know for the 2,000 people who work for the team. They want that feeling of victory and success again. So that's what drives me, what drives all of us every single day when we wake up.
Arne: I think that the perfection of your sport is just unbelievable. I mean, I'm always fascinated about the precision every single employee is putting into their work. It's like a Swiss clock. It's just unbelievable and really fascinating to watch.
George: Like a big jigsaw puzzle.
Arne, there are so many external factors in business which can upset a perfect plan. How do you cope with such situations?
The last three years of COVID have already taught us that a plan is only as good until reality hits the ground. It was important for us as a business to put the plan aside, show the agility, look at the new parameters and take the right decisions based on a new reality. Of course, we need plans which are our northstar and are giving us direction where we need to go. But we always need to have the agility to say: "Are the situation and the parameters where we started off still the same?" And then we also need to have the flexibility to adapt to it.
George, what is your strategy to cope under the pressure you have to get the result across the finish line?
I think literally, as you were just saying, you have your plan, but you also need the plan to be adaptable and expect things to change. If you put so much preparation in to achieve this one goal with this one strategy, you're going to fail because there's always something that's thrown up that was unexpected. So for me, it's learning to be adaptable, being ready to change. And that's what allows us to perform on such a high level.
Arne, what is your secret to keep cool if there's a lot of pressure on you to perform?
Go for a run. That's it for me. I think everybody has their own secret, but for me it's going for a run to get my head free and release some steam. And then, after a nice shower, I go back to work and I'm ready to perform.
George: I think sometimes the simplest things are the best ones. I have seen so many people overcomplicating situations, but sometimes just getting out of the house, getting out of the office, going for a run, going for a walk, clearing your head, is all it needs.
Arne: I think sports in fresh air, outdoors is the best thing you can do. Have some proper sleep, have some good food and then you're all set.
George: Also for your mind. I think so many people have associated running or training and fitness with physical health. But for your mental health, getting outdoors, training, running – it's massive. At least for me.
Arne: Same here. I'm a much happier person when I can do my sport regularly. It's good for the mind.
Thank you both so much for this interview!